A new decade is upon us and we once again get to experience the roaring '20s. In some ways this is so fitting for Lake Tahoe because the culture of this area is based on the premise that life is meant to be enjoyed. Live life to its fullest is the motto for the majority of Lake Tahoe locals.
For an area that is all about immense enjoyment — and knowing that the same level of enthusiasm that was present a century earlier — it seems only fitting to roll into this new decade with a gathering of 20 ways you can enjoy Lake Tahoe (listed in no particular order).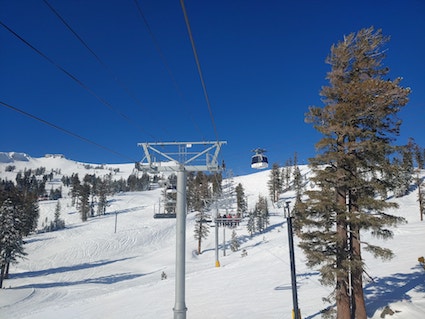 Ski Resorts: Surrounding the ever-changing blues of Lake Tahoe are various ways to enjoy your ski or snowboard experience with a touch of class. From Heavenly to Northstar, Squaw Valley to Homewood, each ski resort (as well as the smaller ski areas like Diamond Peak, Tahoe Donner, Sugarbowl and Kirkwood) offers its own version of lift-accessed winter enjoyment. The majority of the ski resorts offer discounts for new skiers or snowboarders as well as deals on multi-day tickets or lodging during slower times in the season.
Backcountry Skiing: The backcountry that surrounds Lake Tahoe encompasses the mountains around Truckee as well as the lake. There are all levels of difficulty available, making the area great for both the experienced backcountry rider as well as the newbie. To help make your excursion that much more simple, there are guide companies that can help you access the goods via skinning or cat skiing.
Snowmobiling: If visiting a resort or going backcountry skiing doesn't interest you but you are still feeling like getting out into the mountains, then one of the most exciting ways is to experience the rush of snowmobiling. There are guide companies that will set you up with a machine and take you on incredible tours around the basin for a fair price. If the kids are excited to try their own snowmobile, there is a miniature loop course with smaller version snowmobiles especially suited for children available at Squaw Valley at the base of the Far East lift.
Snowshoeing: A quieter and more tranquil way to experience the mountains of Lake Tahoe is by snowshoeing. There are fun and interesting tours that allow you to experience snowshoeing in unique ways, like a full-moon outing or sunset excursion. You can get out and experience snowshoeing on your own or with one of the local guide companies or at one of the ski areas.
Cross Country Skiing: For those who enjoy skate skiing or cross-country skiing, Lake Tahoe is overflowing with opportunities to enjoy this health-enhancing pastime. If this is your cup of tea, a few places to hit up include Tahoe XC in Tahoe City, Tahoe Donner Cross Country Ski Center in Truckee, Kirkwood Cross Country and Snowshoe Center in South Lake Tahoe and the Royal Gorge, located near Sugarbowl.
Sledding: With all of the skiing and snowboarding around, it's understandable that Lake Tahoe has a nice selection of places to sled as well. A few areas that deserve mentioning include Mt. Rose Highway, Granlibakken Ski & Sled Hill and the Truckee River Regional Park. If going tubing is more your style, there are tubing parks located at ski areas like Squaw Valley, Boreal or Northstar.
Beach Time: Whether it is summer or winter, another favorite aspect of life in Lake Tahoe is getting to spend time on a beautiful, sandy beach surrounded by healthy forests and clear water. The beaches can be especially mesmerizing in the winter if you enjoy having the place to yourself, as it is not so uncommon to find yourself alone, enjoying the serenity of Lake Tahoe beach time.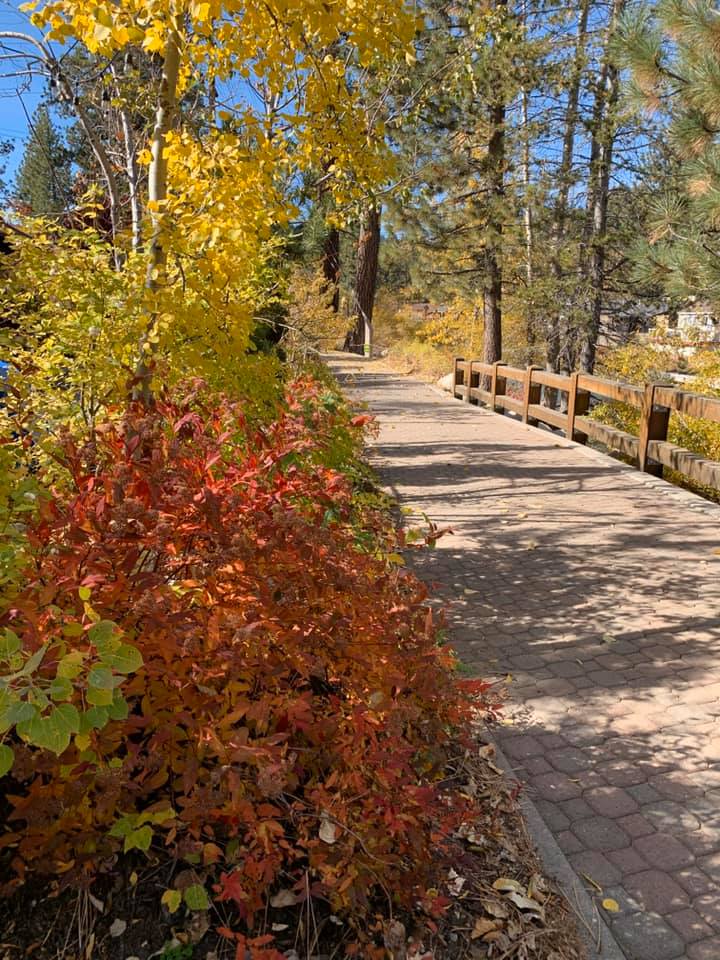 Bike Paths: Lake Tahoe has its fair share of well-maintained paved bike paths that help people have a safe place to walk or ride a bike despite the amount of snow on the ground. A few areas that tend to be clear in the winter include the Squaw Valley bike path as well as those in Tahoe City, South Lake Tahoe (main city area near the casinos) and Truckee (the path coming from Truckee River Regional Park).
Dog Sledding: I wrote a few weeks back about the opportunity to enjoy the pleasure of dog sledding. Although there aren't as many companies offering this special experience as there were in the past, I highly suggest putting it on your to do list.
Horse Drawn Carriage: One of the most magical experiences that you can have in Lake Tahoe is experiencing the grandeur of the area via a horse-drawn sleigh in the winter or carriage in the summer. Lucky for all of us, there is a local company that has been facilitating rides for decades – Borges Sleigh and Carriage Rides. This is another experience that definitely deserves to be on the bucket list.
Live Music: Lake Tahoe is blessed with a huge selection of places to see live music. For bigger shows, South Lake Tahoe tends to be the arena of choice. For concerts that are more intimate, the Crystal Bay Club, as well as a plethora of bars throughout the area, are great locations to hit. A few places worth mentioning include Moody's and Bar of America in Truckee as well as Fat Cat and Za's in Tahoe City. If you are visiting in the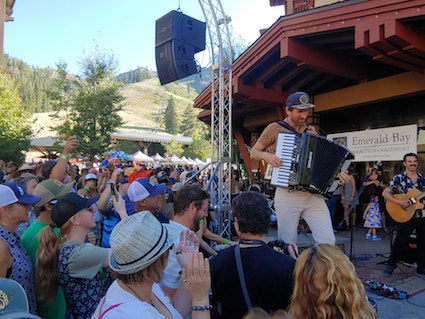 summer, the parks take over the music scene with free weekly concerts offering great outdoor fun for the entire family.
Fine Dining: Lake Tahoe is not just about the outdoors. It is also rich in incredible cuisine. No matter what township you choose to spend your time in, there is a gourmet dining experience that awaits you. One aspect to the dining scene that is especially fun is the emergence of the Farm to Fork movement. Keep an eye out for upcoming dining events that highlight the talented local farmers and chefs.
Lively Nightlife: Beyond live music, Lake Tahoe also has a nice selection of nightlife options. There are breweries, bars, taprooms and wine tasting rooms throughout the basin, each offering its own ambiance, flavoring and specialty. If you are looking for the super late-night scene, South Lake Tahoe has a huge selection of bars that take the party to sunrise.
Festivals: Maybe one of the best aspects to Lake Tahoe is the never-ending opportunity to get out and enjoy the community. There are festivals to enjoy in both the summer and winter. To keep up to date on the ever-changing list, keep an eye out here.
Kid-Friendly Things To Do: In today's age of cell phones and living in front of a computer screen, Lake Tahoe can help kids connect with Mother Nature. There are activities for all ages, with businesses focusing on helping infants all the way up to the teens get out into nature.
Hiking in the Mountains: Hand in hand with backcountry skiing, hiking in the mountains is one of those Lake Tahoe experiences that really allows you to feel the bliss that comes from being immersed in Mother Nature. Luckily for us all, there are all intensities of hikes available, from easy 10-minute wandering paths to multi-day, overnight excursions. 
Rock Climbing: Lake Tahoe is a mega stomping ground for those who enjoy rock climbing. There are sport and crack climbs that offer options for every ability, with Donner Summit offering the biggest spectrum of climbs. Lake Tahoe is a superb place to hone your skills and ready yourself for bigger and more intense climbs throughout the world.
Mountain Biking: Another outdoor sport that Lake Tahoe has plenty of is mountain biking. Due to the hard work of the mountain bike community, both the north shore and south shore of the lake are enhanced with banked-cornered, tacky dirt trails that touch upon both the needs of the cross-country mountain biker as well as the downhiller.
Wellness: With so many things to do that require physical exertion, it is necessary to balance out all that intensity with self-care. There are world-class spas and massage centers on both sides of the lake. A favorite place for massage that I have been frequenting for more than two decades is Lighthouse Massage in Tahoe City, but that is not to say there are not exceptional places in other locations as well. Another way you can engage with wellness in Lake Tahoe is by experiencing yoga. There are a number of excellent studios that offer exceptional classes. A few that deserve attention include The Yoga Room in Tahoe City, Yoga Om Studio & Collective in South Lake Tahoe and Namaste Holistic Healing & Yoga Center in Truckee.
Shopping: Maybe one of my favorite aspects of Lake Tahoe is the diverse handmade treasures that come from our local artisans. There are shops throughout the basin that highlight handcrafted treasures, such as Handmade at the Lake in Kings Beach and the Wildwood Makers Market in South Lake.
Please be sure to visit our Daytime and Nightlife sections to learn about other fun ways to enjoy make your 2020 your best year yet.
Happy 2020! May your days be filled with roaring laughter, incredible joy and meaningful connection. We'll see you in Tahoe!
Photos: Tahoe.com