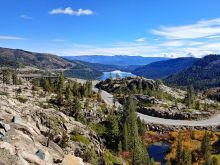 This has been an exceptionally beautiful fall. The weather is spectacular, and the air is crisp and clean.
November is a time for enjoying the serenity of the trail system, participating in entertaining organized events and taking in Lake Tahoe at a more relaxed pace. One of the reasons November is one of my favorite times of year is because of the lack of crowds, which creates a more laid-back atmosphere. 
To give appreciation to such a magical time of year, I gathered a few exciting aspects of things to come in November.
Get on the trail network
The best facets of November, in my humble opinion, include the fact that the trails are less crowded and the temperatures are perfect for both hiking and mountain biking. Examples of great hikes in the fall include Five Lakes Trail in Alpine Meadows, which is great for getting the legs and lungs ready for the upcoming ski season. Another great option for taking in the grandeur of Lake Tahoe is the Mount Rose Summit Trail, which gives you 2,000 vertical feet of hiking in a 10-mile, out-and-back excursion. The views are well worth the energy expended. For those who enjoy exercising with two wheels under you, a few trails that deserve attention in South Lake Tahoe are the newly created Angora Ridge Trail, which offers stunning views of Fallen Leaf Lake, or the Mule Deer Trail, giving a more simple version of appreciating the South Lake Tahoe single-track system. Another new way to get out and enjoy is the two-lane cement bike path that runs along the rim of Lake Tahoe from Incline Village. This 3-mile excursion is a perfect outing for the entire family. It runs from Tunnel Creek Cafe (where you can get scrumptious treats) to Sand Harbor (where you will find magnificent views of the west shore of Lake Tahoe).
Get ready for fun
November is packed full of great ways to enjoy mingling with the community. Take for example the Passport to Dining fundraiser, happening on Thursday, November 7, from 6 to 9 p.m. Now in its 15th year, it is a coming together of more than 30 different local restaurants in a showing of gourmet mastery. A fundraiser event for both the North Tahoe Business Association and the Sierra Community House, this gathering offers not only a plethora of delightful tastes, but also the opportunity to be a part of a fantastic silent auction and raffle.
Another exciting local get together is the Lighting of Heavenly's 43-foot Christmas Tree on Saturday, November 23. An absolute favorite community event, this free way to celebrate the holidays is an opportunity to enjoy the festive spirit in a beautiful place. The event also includes caroling, music and a special appearance by Santa Claus.
Get ready for the lifts
If you enjoy skiing and snowboarding, then November is probably your favorite month because it means one thing: The ski areas are opening! With snow guns giving us the white stuff – even if Mother Nature is slow to – there are multiple ski resorts with upcoming opening days in November. For example Squaw Valley/Alpine Meadows has an expected opening day of November 15. Northstar is estimating November 22 to be their first day for operations. On the south side of the lake, Heavenly is also expecting a November 22 opening day, whereas Kirkwood will begin spinning their lifts on November 27. Sugarbowl is saying that November 29 will be the beginning for their 2019–20 operations.
Please be sure to keep your eye on our Daytime and Nightlife sections to learn about all of the upcoming events to keep you entertained this holiday season and beyond.
Wishing you a wonderful entry into the holidays, filled with Tahoe beauty!
Photos courtesy of Tahoe.com.