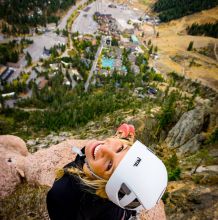 One of the true treasures of living and experiencing Lake Tahoe is her immense natural beauty. From the stunning colors of Lake Tahoe that change with the weather to the granite spires that decorate the Sierra Nevada, Lake Tahoe has aspects to her beauty that are unique and special to her alone.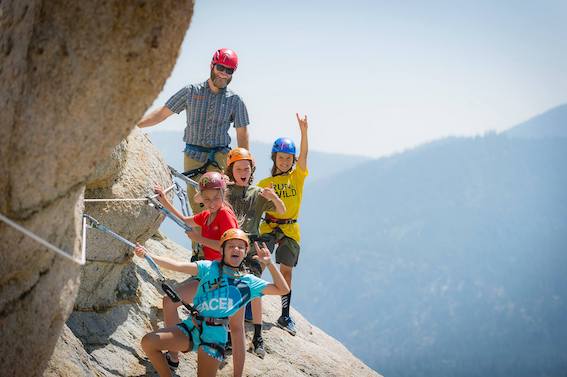 Luckily for visitors and residents, a local company is paying homage to the spectacular natural beauty of Tram Face, located in Squaw Valley. Alpenglow Expeditions has created Tahoe Via Ferrata, a specialized guide company taking people up the massive and greatly desired Tram Face. This is a new guided experience that many people have only fantasized about through the years. Tram Face beckons climbers with its sherbet-colored rock walls and cartoon-like granite boulders that seem to be suspended in space. But few have actually climbed it. 
So it is only fitting that we chat with those who have created this amazing experience. I was able to talk with Tahoe Via Ferrata Manager Sam Kieckhefer about where the idea came from, what makes this the best guided experience for this coming summer and what you can expect on a Tahoe Via Ferrata adventure. Here's what he had to say.
Please explain to readers the concept of Via Ferrata.
First built more than 100 years ago to facilitate foot travel through exposed mountainous terrain across the Alps in Europe, these adventure attractions are now popping up across the world. Fun for everyone ages 10 and older, this is a perfect experience for outdoor enthusiasts and adventurous people. Experiencing a Via Ferrata is a perfect introduction to rock climbing without the pure vertical nature, technical skill and movement techniques required in traditional rock climbing. Via Ferrata brings hikers to exciting new places!
How did Alpenglow Expeditions come up with creating a Via Ferrata guiding idea?
Many of our guides, including our founder and CEO Adrian Ballinger, guide extensively in the Alps. In the world's greatest mountain ranges, bad weather is inevitable, and when the weather was bad they would invariably head to some of the famous Via Ferratas scattered throughout the Alps. These days were often some of the most fun days, and the goal is to bring that fun to Tahoe!
What are the three most important things for a person to know before they join one of your adventures?
1) Via Ferrata is all about fun! The Tahoe Via Ferrata is a fully guided adventure with no prior experience necessary. Participants are connected to a steel cable the entire time. 
2) All required equipment is provided. Just bring food, water, closed-toe shoes and a positive attitude!
3) The Tahoe Via Ferrata is the only Via Ferrata in the Tahoe area!
Can you share a favorite experience from climbing Tram Face?
The Tahoe Via Ferrata gives climbers a new perspective of Olympic Valley, home of the 1960 Olympic Games. Looking down on The Village at Squaw Valley from the top of Tram Face is an experience few have seen from this perspective!
What advice do you have for a person who might be fearful of this type of activity?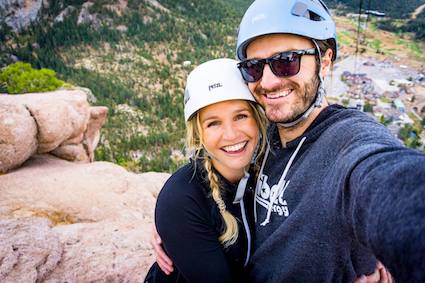 Try it! There are multiple options for climbing, and the Alpenglow guides are great at working with climbers to overcome their fears. Almost all climbers have ended up finishing the routes!
What's the best way for someone to sign up for the Via Ferrata experience?
Visit tahoevia.com and sign up for a Via Ferrata Adventure. This is a 4-hour experience with about 2 hours of climbing.
To learn about other events and activities to pair with your Tahoe Via Ferrata experience, please visit our Daytime and Nightlife sections.
Photos by Tahoe Via Ferrata