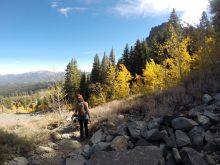 Lake Tahoe is good for you.
What do I mean by that?
Well, according to published studies, good ol' Mother Nature is incredibly beneficial for improving one's health. One particular study released in 2018 by the University of East Anglia found that, "spending time in, or living close to, natural green spaces is associated with diverse and significant health benefits. It reduces the risk of type II diabetes, cardiovascular disease, premature death and preterm birth and increases sleep duration." Another fun fact found from the study is that those enjoying the beauty of a natural setting have lower levels of salivary cortisol, a known reflector of stress that causes damage to the body over time.
Knowing that getting out into the stunning landscape of Lake Tahoe is good for you, I have put together seven of my favorite ways to enjoy the grandeur of our amazing outdoor environment. I can honestly say as I come into nearly 30 years of enjoying this spectacular land, that Lake Tahoe truly does do a body, mind and soul good. May you and your loved ones feel her loving touch.
Hiking
Studies have shown that hiking has uniquely fantastic benefits that typical exercise – like going to the gym – doesn't give you. Enjoying time wandering the single-track trails of the Sierra Nevadas offers a deeper level of healing and wellbeing. It not only gets the body oxygenated, but also utilizes the mind at the same time, helping you to improve cognitive skills as well as increase creativity and improve your ability to create happy relationships. Hiking also helps you connect with the trees of the forest. Japanese studies have shown conclusively that walking in a forest – otherwise known as forest bathing – is incredibly beneficial in creating overall health. I've mentioned some amazing trails in various blog posts through the years. Tahoe is blessed with an abundance of hiking opportunities that go from the basic beginner trails to multi-day overnight camping adventures as well as all levels of excursions, from perfect outings for the entire family (including Grandma) to heart-pounding all-day epic adventures. 
Biking
Those who love a non-motorized, two-wheeled form of transportation will be happy to know that riding a bike is showing itself as a top contender for enjoying health and happiness. Research has proven that cycling helps to strengthen our oh-so-important heart muscle as well as lowers our resting heart rate and reduces the level of fat in our blood stream. Researchers have also shown that people who choose to use bikes as their mode for transportation help their lungs two-fold, strengthening them through exertion as well as limiting their exposure to pollution (something that car commuters deal with at a higher rate). Luckily for us, one of the greatest road rides in the country is the circumnavigation of Lake Tahoe. When it comes to mountain biking, Lake Tahoe ranks up there as a place worthy of being on the bucket list. Whether you enjoy downhill riding, bike parks or cross country, the area is full of impressive rides. One tip though: Try to hit the dirt in the spring before the dust starts flying.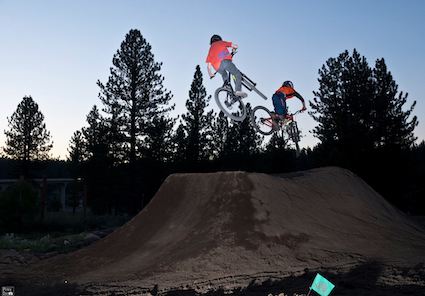 Launching air at the bike park makes for a good time for any kid. Location: Truckee Bike Park Photo by Mike Schwarz of The Backcountry
Swimming
Swimming is one of those magical aspects of being alive. The buoyancy and ability to be unshackled by the chains of gravity is a gift from the gods. Not only have researchers proven that it is a great way to support our joints (especially when burdened by disease such as osteoporosis), but also it is a wonderful way to lower blood pressure for those with hypertension. It also helps expand the lungs through air retention. The area is riddled with swimming spots – Lake Tahoe, Donner Lake, hundreds of mountain lakes that lie throughout the Sierra and the Truckee River. Another great way – and maybe my favorite way – to get splashing is to rent a paddleboard and feel the joy and serenity that comes from paddling, diving in, swimming a bit and then moving on. It truly is a meditation in motion.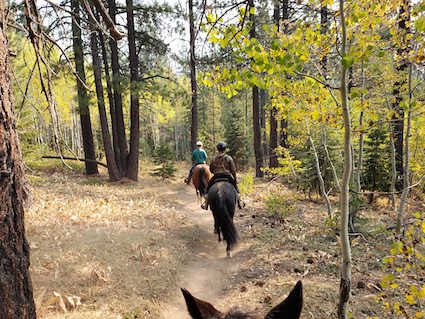 Enjoying the serenity of horses in a lovely forest. Photo courtesy of Tahoe Donner Equestrian Center
Horseback Riding
Horseback riding helps to strengthen core stabilizing muscles and improve balance and overall stability. But studies also show another incredibly interesting benefit associated with riding horses for children: "Riding horses improves the ability of children to respond with an appropriate action depending on the situation (Go reaction) or use self-control appropriately (No-go reaction), possibly through the activation of the sympathetic nervous system." If you are looking to enjoy the heartwarming adventure of riding a horse, I recommend two fantastic guides in our area. Zephyr Stables, situated in South Lake Tahoe, offers daily tours that provide stunning views of the High Sierra Mountains and are guided by friendly, knowledgeable and courteous cowboys and cowgirls. Tahoe Donner Equestrian Center, located in Truckee, is another fantastic way to connect and interact with horses. Offering access to 3,500 acres of beautiful open mountain space in Tahoe Donner, riders enjoy 100 kilometers of forested trails that meander through meadows, mountain forests and the Euer Valley. 
Rock Climbing
Rock climbing is one of those activities that engages the entire body. When something takes this much demand from the body, it also creates a demand on the mind. This translates to a release of endorphins and a feeling of serenity. This applies to all ages, but studies have found that rock climbing is one of those activities that is proving to be highly effective for youth, maybe due to it forcing a person into being fully in the moment and not allowing for one's attention to be elsewhere. Rock climbing is a popular activity for all ages throughout the basin with some hot spots for sport and crack climbing at Donner Summit or sport and bouldering problems on the West and East shores of Lake Tahoe. We are even blessed with world-renowned rock climbing guides and guide companies that will take you and your entire family out to teach you the ropes.
Paddleboarding
I mentioned earlier that paddleboarding is one of my favorite ways to enjoy swimming in our beautiful lakes. But what I truly love about paddleboarding is the meditative state that it brings to the mind. Research studies are proving that just a few minutes of bringing our mind into that meditative state has profound positive affects on our health and happiness. What better way to make that happen than by getting out and paddling around Lake Tahoe, Donner Lake or even the Truckee River? There are various places around the basin that rent paddleboards as well as some that offer guided excursions that make it easy to introduce the family to the sport. If you are looking to take your peaceful state even deeper, check out paddleboard yoga (otherwise known as SUP yoga), where the serenity and balance of paddleboarding meets the one-pointed focus and strengthening of yoga ... a perfect combination. 
River Rafting
River rafting isn't just an activity for those who enjoy adventure. It's also an activity that has shown itself beneficial for those suffering from PTSD. River rafting is another one of those activities that helps you get out of your head and into the moment. And that moment is all about fun! River rafting is an amazing activity to do with the entire family, especially in the Lake Tahoe area. Not only does the area have class IV rapids, but also the opportunity to approach things at a slower pace and make it more about the time of connection than the adrenaline of a fast-moving river. Tahoe-based rafting companies like IRIE Rafting Company, for example, make it their top priority to create super-fun, safe outings that match what you and your family want. Whether you are looking for that memorable, multi-day family adventure or a half-day mellow float, the tranquility of enjoying time on the river is there for you and your family in Lake Tahoe.
Be sure to check out all of the fun events happening around Lake Tahoe by visiting our Daytime or Nightlife sections.
Top photo by Shanie Matthews