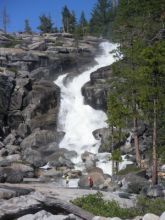 With springtime upon us and the immense amount of snowfall that accumulated this winter, one thing is for certain: the waterfalls are immense! If you are lucky enough to be in Lake Tahoe right now, then you need to stop and check out the powerful vibes that come from spring snowmelt. It is quite a sight to behold.
To help you, here is a list of eight waterfalls that are fantastic in showcasing the mighty power of water in the Sierra Nevadas.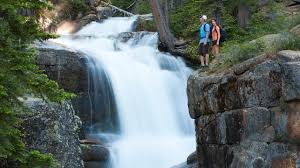 Shirley Canyon: Located at the base of Squaw Valley, Shirley Canyon is a meandering of hiking trails that leads you to the top of the Cable Car. The beginning of the trail parallels the robust mountain stream that is the dumping grounds for all of Squaw Valley's snow from Granite Chief to Silverado. This leads to an amazing succession of waterfalls that are simple to visit and enjoy. Many of the waterfalls have small sitting areas that offer a lovely place to enjoy the mist that will cool off the perspiration from the walk up.
Eagle Falls: Located on the West Shore, Eagle Falls is a superb place for enjoying the spectacular backdrop of Lake Tahoe. Nestled within Emerald Bay, Eagle Falls offers lower and upper falls to experience. Lower Eagle Falls is a mile walk in and offers a look at a double-drop of 60 and 90 feet of water. The upper falls is a quarter-mile farther and a little more strenuous of a hike. Bring water and a little food and plan for extra time to enjoy the serene setting.
Cascade Creek Falls: For those who enjoy the stunning visual effect of spring flowers, Cascade Creek Falls is deserving of a visit. A mile trail meanders through wildflowers and a lush fernland, and Cascade Creek Falls lends to a serenity that is hard to match. The trailhead is located off of Highway 89 at the Bayview Campground (not far from Eagle Falls).
Horsetail Falls: Situated off of Highway 50 in South Lake Tahoe, Horsetail Falls is one of those waterfalls that catches your eye. With a drop of 800 feet and vibrant blue water that comes out of Pyramid Lake in Desolation Wilderness, this waterfall has a special energy in her own right. Located about 7 miles west of Echo Summit on Highway 50, Horsetail Falls is easily accessed from the road.
Glen Alpine Falls: Another waterfall that is easily accessed by car, Glen Alpine Falls is a succession of waterfalls that leads to Fallen Leaf Lake. Located off of Fallen Leaf Lake Road, which is a turn off of Highway 89, the parking for the trailhead is directly across from Lily Lake. This is a wonderful waterfall series for picture taking.
Fontanillis Lake Falls: Not necessarily one that has an easy approach, Fontanillis Lake Falls is, nevertheless, a waterfall that is highly deserving of attention. With a 150-foot drop that descends from Fontanillis Lake to Upper Velma Lake in Desolation Wilderness, this waterfall is a superb way to enjoy late spring and early summer in Lake Tahoe. One important point: Be sure to obtain a wilderness permit at the Eagle Falls trailhead for a day hike to avoid fines.
Bassi Falls: For those who enjoy a little four-wheeling adventure with their waterfall viewing, check out Bassi Falls. A waterfall that has a drop of a little more than a hundred feet, this fall is accessed by a 5-mile 4x4 road that is in the Crystal Basin area of the El Dorado National Forest. Situated just east of Pollock Pines, off the first dirt road that you find after heading north on Ice House Road, this waterfall is fantastic in the spring and early summer, but not much to look at come summer.
Hawley Falls: A 4-mile, out-and-back hike, Hawley Falls is easily accessible for those in South Lake Tahoe. A moderate trail, this is a fun adventure from spring to late summer. Also great for mountain biking, horses and dogs, the trail can be pretty active in busy summer months. For the safety of the pooches, dogs must be kept on leash.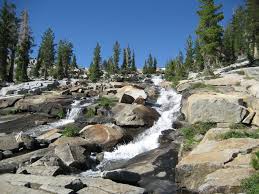 This is just a small example of the fun in Lake Tahoe. Please be sure to visit our Daytime and Nightlife sections to learn more.
Photos courtesy of Tahoe Daily Tribune, Squaw Valley, Dead.net, Mapio.net