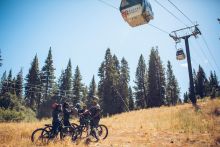 With the concerns of increasing COVID-19 cases in the Tahoe/Truckee area, the importance of social distancing is so important. To help visitors out, this post is dedicated to activities around Lake Tahoe that support social ditstancing.
Here are six ways to help keep yourself and our community safe during these changing times. Click the headers for links to additional information.
A fun activity for the entire family is to rent a raft and float the mellow Truckee River. The launch is in Tahoe City, and River Ranch is the final destination. To help in keeping to the 6-foot distancing requirement, it's best not to stop at the places of congregation that you are sure to pass while along the journey. Be sure to bring plenty of sunscreen and water as it can be a slow meander that can take four to five hours.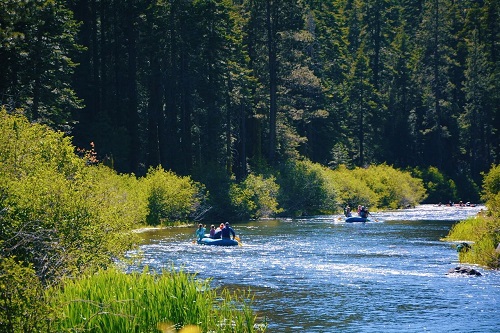 Everyone loves Tahoe's miles upon miles of paved bike paths. Great for walkers, rollerbladers and bikers, the paths frame the lake and offer incredible views whether you're enjoying your excursion on the south or north side of the lake. Incline Village recently put in a new segment of paved trail that offers access to some of the best beaches Lake Tahoe offers. To get a parking spot, be sure to arrive early as parking is limited; note that tickets are given out to those that don't abide by the parking rules.
Forest bathing is a term from Japan that refers to slowly walking in the forest, taking in the smells, sounds, sights and entire environment. Studies on forest bathing prove that it is a fantastic way to assist our bodies in remaining healthy and vibrant ... and that's vital in these times. To help your health, Lake Tahoe has a plethora of amazing hiking trails that allow you to feel the healing effects that the wilderness offers. A few of my favorites include Sugar Pine Trail in South Lake Tahoe, Eagle Rock on the west shore, the Spooner Summit Trail on the east shore and Mount Rose Meadows off Mt. Rose Highway. 
Lake Tahoe has amazing mountain biking trails. A few areas that deserve your attention are the downhill biking at Northstar, any section of the 165-mile Tahoe Rim Trail or the Flume Trail on the east side of the lake that offers some of the best views of the Lake Tahoe Basin.
A treasured way to get away from it all and have your own peace and quiet is to rent (or buy) a kayak or paddleboard and experience Lake Tahoe in serenity. There are quite a few small beaches that are not accessible by foot or car, making a small boat a literal treasure for accessing your own piece of heaven.

For those who enjoy reel fishing or fly fishing, Lake Tahoe has you covered. There are fantastic fishing holes all throughout the basin. If venturing out on your own sounds like missed opportunities in the making, Lake Tahoe is blessed with talented fishing guides who are experienced in knowing where to find that trophy fish you're dreaming about.
Please be sure to check out our Daytime and Nightlife sections to learn about other socially distant and safe activities. Wishing you all vibrant health.
Photos courtesy of Truckee River Rafting, Northstar and Tahoe Sportfishing