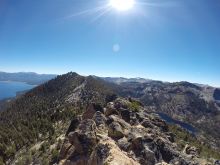 By no means are we in the clear with the COVID-19 virus. But that doesn't mean that the entire Lake Tahoe basin isn't making the best of the situation.
Restaurants, outdoor recreation areas and beaches are open for all to enjoy. Social distancing, mask-wearing and frequent hand washing are mandatory, but beyond these precautions, the enjoyment vibe is high throughout the area. In fact, in many ways, Lake Tahoe is finding that silver lining of enjoying life despite challenges. It's a lesson for all of us to practice in life. To help with ideas on how to keep yourself safely entertained, I thought I would offer five ways to take advantage that all that Tahoe life has to offer. Enjoy. Breathe deep. And smile through your eyes ... it will give sparkle to your experience.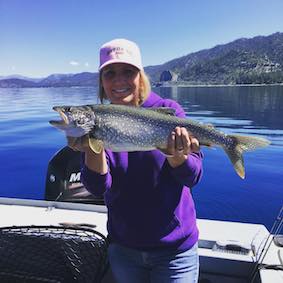 Go deep into the mountains
One of the most magical aspects of Lake Tahoe is the opportunity for hiking. Numerous incredible multi-day hikes surround the area. Not only does getting out into the deep mountains give you the benefit of getting your heart beating and respiration up, helping to strengthen your immune system, but it also helps your mind. From Desolation Wilderness to Mount Rose, there are all levels of hiking excursions available to get out and away from people. If hiking into Desolation be sure to pick up a permit before heading out. The permit is available here. If doing a shorter day excursion is your cup of tea, a few highly recommended favorites include Shirley Canyon in Squaw Valley, Five Lakes in Alpine Meadows and Paige Meadows located outside of Tahoe City in Tahoma. If driving is more up your alley, check out Woods Lake or Frog Lake near South Lake Tahoe. Both are secluded, precious woodlands that are known for bringing a smile to the face. Click here for more hiking information.
Get above it all 
If you want to see the spectacular views that Lake Tahoe provides in all of her glory, you must see the area by air. Checking things out with a lofty view will also be a great way to get away from the crowds. A few options at your disposal include rising above it all in a hot air balloon with Lake Tahoe Balloons. A guide company with roots dating back to 1992, they provide tours for up to 12 guests that begin on the lake and take in Emerald Bay, Cascade Lake, Fallen Leaf Lake, Desolation Wilderness and, on a supreme day, even Yosemite.
If you would like to get your adrenaline involved, you can see Lake Tahoe while spinning upside down with Sky Combat Ace, a stunt plane service that lets you decide how exciting you would like your ride to be. They'll even allow you to co-fly the plane while executing flight acrobatics. For those who would like to try paragliding, Uprising Paragliding, based out of Truckee, offers guided trips.
If paragliding sounds fun, but you want a little more power behind your experience, check out Hang Gliding Tahoe. Soar above the azure water of Lake Tahoe enhanced with the N66PH Evolution Revo Powered Hang Glider. Piloted by master Paul Hamilton, the experience is reminiscent of riding a high-speed motorcycle, but high in the sky and with no traffic. Paul also offers flight lessons and captures your experience on video so you have it to treasure forever.
Get out on the water
A fantastic way to get away from other people and have your own island of paradise is to get out on the water. Whether using a kayak, a paddleboard or a rented water ski boat, getting out on Big Blue is a majestic experience that helps everyone feel healthier. If checking the water out by yourself sounds more dangerous than fun, there are great guide services that can assist you in providing a private outing on Lake Tahoe.

Go for a ride
One of my favorite ways to experience Lake Tahoe's beauty is by bike. Why? Because there are so many options! For example, circumnavigating Lake Tahoe on a road bike is maybe one of the best big day rides on the West Coast. Our plethora of singletrack trails are manicured and ready for speed for all levels of mountain bikers. And the paved bike paths that frame Lake Tahoe offer a way to make it family-friendly. Bike shops rent top-quality bikes for all ages and for various time frames, making things that much more simple. 
Go fishing
Have you ever dreamt of learning how to fly fish? Or catching your own huge fish from the waters of Lake Tahoe? As I mentioned a few weeks back in my interview with Joby of Mile High Fishing Charters, Lake Tahoe is open to fishing. This includes both the streams and rivers as well as our mountain lakes. If you don't know the area and need a guiding hand, Lake Tahoe is rich in experts of the rod. From Mile High Fishing Charters to Tahoe Sportfishing, from Tahoe Fly Fishing Outfitters to Reel-Lentless Fishing Charters, there is a guide for every style of fishing desired.
Please be sure to check out our Daytime and Nightilife sections to learn about events happening around the lake.
Photos courtesy of Mile High Fishing Tours, Lake Tahoe Balloons, Shanie Matthews