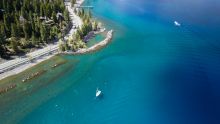 Spring has sprung in Lake Tahoe, and it's so beautiful. The sounds of chattering chickadees, the sight of blooming daffodils, the melting away of this season's snow – all of these are lovely reminders of the changes happening all around us.
With the shifting in seasons, the opportunity to enjoy a new face of Lake Tahoe emerges. Knowing there are so many activities to partake in (and knowing that deciding which ones to do can be half the battle), I thought it important to chat about some of the springtime must-do activities that you need to put on your hit list. Because as Robin Williams so eloquently stated, "Spring is nature's way of saying, 'Let's Party!'"
1. See the views
Tahoe is blessed with amazing scenery. Whether in South Lake Tahoe or North, it is safe to say that you are going to enjoy stunning vistas somewhere along the line. One trail in particular really serves up the jaw-dropping views: The Tahoe Rim Trail. A single-track trail that comes back into play come late spring, the views that this adventure offers are mind-blowing. This is one hike (or mountain bike ride) that all people should check out at least one time in their lives. See more about the trail and Tahoe hiking here.
2. Enjoy a paddle
A fantastic aspect of spring in Lake Tahoe is that paddling adventures come back into play. From kayaking to paddleboarding, the opportunity to feel the tranquility of Lake Tahoe lies within the meditative action of blissfully paddling around Lake Tahoe or Donner Lake. I highly recommend trying a paddle at either sunset or sunrise when the energy is absolutely amazing. There are incredible guide companies to help out with this adventure if paddling is a new activity for you.
3. Experience Lake Tahoe corn
There is a magical aspect to Lake Tahoe's snow in spring that doesn't happen everywhere. It becomes what is known as corn. Corn is a snow surface that makes everyone feel like they are a world-class skier and makes even the steepest of slopes fun to descend. Corn is a magical combination of snow that has the proper water content due to freezing nights and warm spring days. Although climate change has changed this a bit – as well as the increase of cloud seeding – it is still a beautiful phenomenon that is special to Lake Tahoe. The best place to try skiing or snowboarding on magical corn is in the backcountry, where ski traffic is minimal. Connect with one of the amazing ski guide companies to learn where and when to go to get the goods.
4. Get the bike ready
Beyond skiing, Lake Tahoe is known for road-riding and mountain-biking trails. From beginner to incredibly advanced rides, there are a plethora of bike trails that will get the excitement level up and the smiles wide. If you are looking for a warm-up situation to get your wheels under you on dirt, check out the Immigrant Trail in Truckee. Or for paved adventures try the bike paths that venture through both Lake Tahoe and Truckee. If you are looking for harder trails, a few recommendations include Mr. Toads Ride or the absolutely incredible Flume Trail. 
5. Explore Emerald Bay's Heritage Trail
A few years ago the Emerald Bay State Park took excitement to a whole new level with the opening of their underwater maritime heritage cultural trail. A scuba diver's paradise, this underwater adventure takes you through sunken ships that lay in their original resting place, some dating back an entire century. This is considered to be the nation's largest and most diverse collection of sunken small craft still lying in their original place of burial. 
6. Visit a world record holder
Did you know that you can visit an actual aspect of the Guinness Book of World Records when you visit Lake Tahoe? It's true! Just outside of the D.L. Bliss State Park is the world's highest elevation lighthouse. Situated on Rubicon Point, the lighthouse offers a stunning viewpoint of Emerald Bay, Fannette Island as well as the Nevada coastline of Lake Tahoe. You also will get a special above level view of the deepest and clearest water that Lake Tahoe has to offer.
7. Go Italian in Squaw Valley
Have you ever wished that you could experience the outdoor climbing world of Italy? Then you need to check out Alpenglow Expedition's Via Ferrata. An exciting adventure of climbing, hiking and scrambling, this day outing takes you on an ascent of an 800-foot vertical cliff while you enjoy stunning views. This adventure is for all athletic and climbing abilities and gives you access to a part of Squaw Valley – Tram Face – that many only dream of.
8. Get your roller coaster ride on
When it comes to fun, there is one place you can't go wrong: a roller coaster. Thankfully Heavenly Resort has provided this much-needed fun machine in the form of outdoor adventure, the Ridge Rider. A roller coaster that not only gives you the thrill factor, it also offers stunning views and an up-close-and-personal feel with the natural surroundings. A must-do for sure!

9. Enjoy the wildflowers
One of the things that I love the most about springtime in Lake Tahoe is the wildflowers. From the shores of Lake Tahoe to our miles worth of single-track trails, there are so many opportunities to be immersed in the beauty of spring flowers. Here's a bonus tip: Check out Commons Beach when the lupine begins to flower. There is a large field of lupine to the right of the park and along the shoreline of the lake that blooms when the conditions are right – it will absolutely amaze you.
10. Try SUP yoga
With the warming temperatures comes an incredible way to increase flexibility, calm the mind and support the nervous system by utilizing the combination of yoga and a paddleboard. It might sound scary or bewildering to combine the two (falling in sounds a bit daunting, doesn't it?), but try it out. The result is life-changing. Ask about local kayak and SUP rental companies or at yoga studios.
11. Cast a line
Springtime marks the beginning of fishing in earnest. Whether you enjoy fly-fishing or fishing from a vessel on Lake Tahoe, opportunities abound to enjoy the serenity of fishing. There are a variety of guide companies that are talented at knowing where and when to go.
Interested to learn about more fun and exciting things to do in Lake Tahoe for springtime? Be sure to check out our Daytime and Nightlife sections to learn more.
Photos from Tahoe.com