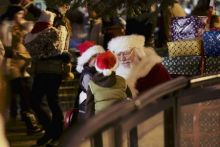 It's that wonderful time of year when we get to visit with the jolliest man of all, Santa Claus. This aspect of the holidays brings a smile to young and old alike, and because we are all so good here in Lake Tahoe, Santa makes appearances around the basin often.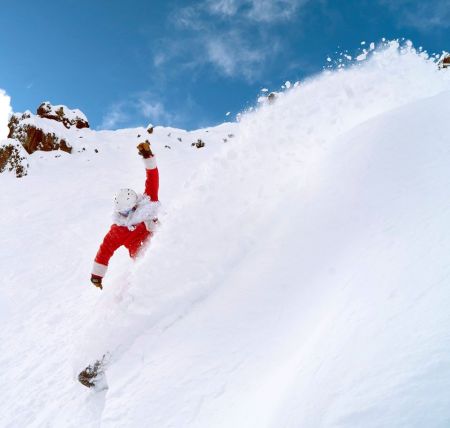 I wrote a few weeks back about meeting up with Santa at Mountain Hardware in Truckee or by cruising the lake with him on the M.S. Dixie II. But there are many places where Santa will be taking a pause to visit during his busy schedule. To make things simple, here's a lineup of ways you can spend some time with good ol' Saint Nick.
Santa is making his first stop at the Truckee-Tahoe Pet Lodge to help our beloved four-legged family members get their Santa time in, too. An all-day celebration on Wednesday, December 18, from 7:30 am to 6 pm, the festivities include a picture with the jolly man or if you prefer, a photo in front of a winter wonderland instead. Each party-goer gets a gift bag, a framed memory and lots of doggone fun. Price for the event is $25.95, in addition to daycare or lodging.
A five-day holiday celebration offered by Squaw Valley, this festival is also a hot spot for Santa sightings. Offering a number of ways to enjoy time with the cheerful man, Merry Days & Holly Nights is living up to its name. You can enjoy storytime with Santa on Thursday, December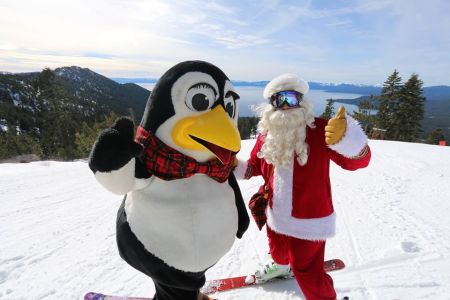 19, and Friday, December 20, at 3 pm. On Saturday, December 21, and Sunday, December 22, he comes by at noon as well as at 3 pm to share storytime. His final visit for the festival is on Monday, December 23, when he is excited to share a yummy brunch with all the kids; book an 8:30 am ord 11 am seatings.
A holiday celebration throughout the Tahoe area for the entire month of December, Northern Lights is one stop that Santa Claus is excited about because he can spend some time with his good friend Penguin Pete. Diamond Peak will be the meetup place, both on Monday, December 23, and Tuesday, December 24, from 11 am to 1 pm. The jolly duo will be handing out stickers and treats to all kids, young and old alike.
Heavenly Village will be one of Santa's first stops for enjoying breakfast with his favorite kiddos. There will be pictures and personal time with Santa and Mrs. Claus at the Fire and Ice Restaurant on Saturday, December 21, beginning at 9 am. Delicious pancakes (one of Santa's favorites) will be served. Entrance costs $10. 
Santa will also be spending some time skiing with those who would like to join after breakfast on Saturday, December 21, from 11 am to 2 pm. He will continue cruising the slopes with good girls and boys off and on until December 24, so keep your eye out. He will also be offering photo opportunities and have special gifts in his bag for those who ask.
Santa Claus will be stopping by the Lake Tahoe Golf Course on Sunday, December 22, to enjoy breakfast. There will be two seatings to enjoy some quality time with Santa, starting at 9 am and then again at 10:30 am. Beyond the tasty breakfast, there will be pictures with Santa available for free. You can also make your own holiday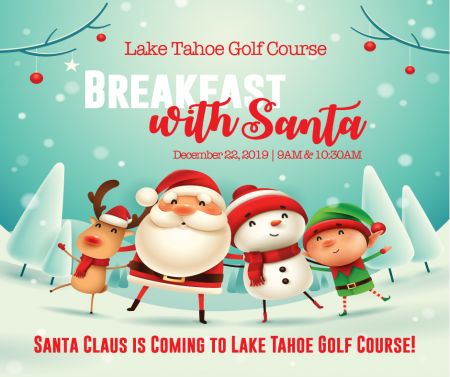 ornament and leave a special letter for Santa's eyes only. This event tends to sell out, so reservations are required. RSVP at (530) 577-0788 or email kkapsoff@laketahoegc.com. Adult tickets cost $30, and children's cost $15.
If you can't make breakfast with Santa at Heavenly or Lake Tahoe Golf Course, not to worry. You can also enjoy morning time with Santa at a delicious brunch buffet at Northstar on Tuesday, December 24. From 8 to 10 am you will have the opportunity to share storytime with Santa as well as enjoy other fun activities and a photo opportunity. Be sure to buy tickets for this event in advance. 
Santa's second-to-last pit stop in Lake Tahoe is at Sugarbowl, where he will be taking you and your loved ones on a tour of the ski slopes. While enjoying the mountain, he will take last-minute gift requests as well as spread his cheer wherever he goes. Santa will be skiing on Tuesday, December 24, from 9 am to 12 pm, with a meet up to start the day in the Village Base Area.
A final way to get your Santa time in will be on Christmas morning at Tahoe Donner. Santa will share a final breakfast, starting at 10 am, and follow it up with some turns on the slope for a half-day of skiing. The lifts open at 11:30 am.
Please be sure to check out all of the fun Christmas and Hanukkah events as well as other enjoyable ways to experience the holidays in Lake Tahoe in our Daytime and Nightlife sections.
Wishing you happy holidays! 
Photos: Tahoe.com