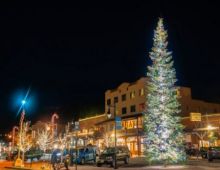 With Thanksgiving behind us and Christmas and New Year's in our near future, it is safe to say that the holiday cheer and festivities have increased throughout the Tahoe Basin. From tree-lighting ceremonies and Santa Claus meetups to choral concerts and sharing our blessings with others, there are so many wonderful ways to get out, mingle and be merry.
Be sure to check out these seven fantastic events that are full of holiday glee. Click on the names of the events for more information.
For those who love the spirit of Truckee, Festive Fridays is a great way to interact with local businesses while saving money and finding gifts for the entire family. Happening on December 6, 13 and 20, Festive Fridays brings multiple bonuses to the community. Merchants keep the stores open later than usual (7 to 8 p.m.), and there is a fun scavenger hunt, special free parking, celebratory beer, wine and spirits, and a raffle for gift cards. Events run in various businesses and are held from 4 to 7 p.m. throughout Truckee. To learn more visit the Truckee Downtown Merchants Association.
A fun event for the entire family, this is an opportunity to not only meet with Santa Claus, but also make homemade ornaments. Mountain Hardware & Sports in Truckee hosts this creative gathering on Saturday, December 7, from 11 a.m. to 2 p.m., and it's a wonderful way to let your inner artist shine while getting to enjoy the company of Santa Claus and his darling wife, too. To help commemorate the experience, photos will be emailed to participants after the event.
A good way to find one-of-a-kind Christmas gifts is South Lake Brewing Company's third annual Indoor Christmas Market. Held on Saturday, December 7, from 12 to 6 p.m., this is your opportunity to meet the small business owners and local craftspeople of Lake

Tahoe. The market highlights artisans who make handmade treasures such as handmade soaps, locally created apparel, pottery, hand-styled bags and canvas totes, handmade jewelry and wood carvings. The Oven will be serving up delicious food, and of course there will be tasty beer available as well. 
If you enjoy the sublime experience of listening to a well-trained orchestra and chorus, you must put the Tahoe Symphony Orchestra's Winter Fest on your hit list. An evening showcasing the production of Handel's Messiah as well as all-time favorite seasonal carols, this is a special event for all ages. There are two dates for the Tahoe area: Saturday, December 14 at 3 p.m. at Harrah's Showroom in South Lake Tahoe and Saturday, December 21 at 3 p.m. at The Chateau in Incline Village. It is recommended to purchase tickets in advance.
Give back to the community in a way that can save a life. Lake Tahoe Community College in South Lake Tahoe is hosting a much-needed blood drive on Wednesday, December 11, from 11 a.m. to 3 p.m. This time of year finds hospitals in short supply of blood due to people being busy and preoccupied with the holidays. Help make sure the blood bank is ready to assist those in need by simply donating a small pint of blood. Be sure to arrive having had a good meal prior, and please remember your ID. 
Merry Days & Holly Nights is a festival extravaganza. A two-week line-up of festivities hosted by Squaw Valley | Alpine Meadows, this holiday celebration is a collection of orchestra performances, farm-to-table dinners, ice gardens, horse-drawn sleigh rides, Jazz for the Holidays, moonlit snowshoe tours, a New Year's celebration as well as other exciting events. It starts on Thursday, December 19, at 9 a.m. and runs all the way until Saturday, January 4. 
Experience the best of the holidays in Lake Tahoe by cruising the lake on the M.S. Dixie II while enjoying the company of Mr. and Mrs. Santa Claus. The family-friendly boating excursion happens on Saturday, December 21, from 12 to 2 p.m. There will be professional photography, holiday music and yummy treats to enhance the trip that much more. The cost is $68 for adults and $15 for children. Be sure to reserve a spot ahead of time.
Also be sure to visit our Daytime and Nightlife sections to learn about other fun holiday events on the calendar around Lake Tahoe all month long.

Happy holiday season! We hope to see you in Tahoe!
Photos by Tahoe.com