With Thanksgiving upon us, it is a great time of year to think about those who could use a helping hand.
This week's blog post is dedicated to eight nonprofits in Lake Tahoe that make our world a better place, in gratitude for the wonderful deeds that these organizations do. May we all come together during this time of thanks to show them our support.
Happy Thanksgiving!
Photo: TINS involves youth while banding Nashville warblers at their banding station. Local students observe the birds up close to learn about migration, bird topography, bird banding and more. Photo courtesy of TINS
Give Back Tahoe
The Give Back Tahoe platform is a one-stop shop for learning about all the Tahoe-Truckee nonprofits. It acts as a guide to easily find the association that you want to volunteer for or donate to. The platform is open during the "giving season" and opens up nonprofits' eligibility to win sponsored challenge grants from the Tahoe-Truckee Community Foundation, assisting them in finishing their year strong. Since 2014 this program has raised more than $2.5 million of unrestricted funds for the nonprofits of Tahoe and Truckee to use. Anyone, anywhere with an internet connection and a credit card can donate to the cause, making this the easiest way to give back. There is a $5 minimum gift, and givers have the opportunity to give to more than one organization at a time and place the donation in the name of a deceased loved one if so wished.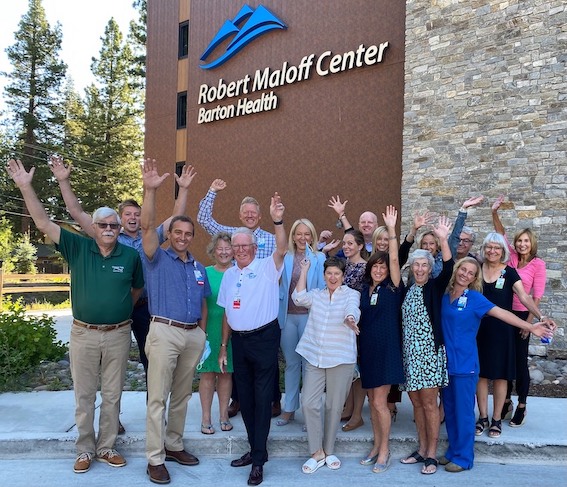 Excitement abounds with Barton Heath Foundation's free CPR/AED training for their Heart Safe Community program. Photo courtesy of Barton Health Foundation
Barton Health Foundation
Barton Health Foundation is dedicated to advancing healthcare in the Truckee-Tahoe communities through the power of philanthropy. Their vision is to positively impact the health of our community one individual at a time by providing exceptional care. Their passion is creating health equity. They believe everyone in the community has the right to health access, creating a fair and just opportunity to be as healthy as possible. In the past the generosity of donors has created the ability to support and uplift programs such as the Robert Maloff Center for Orthopedics and Wellness, the Level III Trauma Center, the Family Birthing Center, the Barton Community Health Center, construction of the heli-pad, support for other nonprofits in the community that engage in healthcare-related initiatives as well as aid for community members who were adversely impacted by the pandemic or Caldor Fire.
Achieve Tahoe
With the mission of providing affordable, inclusive physical and recreational activities that build health, confidence and independence, Achieve Tahoe has been creating a better world for more than 50 years. Started in 1967 by Jim Winthers, a World War II veteran of the 10th Mountain Division and Director of the Soda Springs Ski School, his humble beginnings assisted a group of Vietnam veterans with disabilities, teaching them to ski and enjoy the peace of the mountains. Achieve Tahoe was also monumental in starting the journey of creating adaptive sports equipment that has furthered the ability for all to enjoy the great outdoors. Achieve Tahoe is a proud founding chapter of MoveUnited (formerly Disabled Sports USA), helping to pioneer the adaptive sports world. Today this amazing organization provides year-round outdoor recreation for people with cognitive, sensory and physical disabilities, with a focus on health, confidence and independence.
Sierra State Parks Foundation is dedicated to supporting education, interpretation, restoration and preservation of the Lake Tahoe-Donner California State Parks. Established in 1968, this impressive association works closely with the California State Parks to fund tangible aspects that improve the visitor experience in the Lake Tahoe-Donner California State Parks. The way that they do that is through organizing activities such as nature talks, historic house tours, Junior Ranger programs, educational programs and historic preservation. It is also the goal of SSPF to play a critical role in filling the gap of where state parks falter, assisting in providing staff, volunteers, funding and partnership to the California State Parks in the Lake Tahoe-Donner area.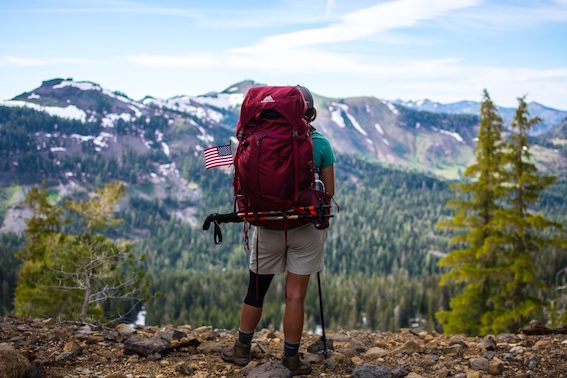 Veterans are celebrated daily at the TRTA, where their volunteer base is full of remarkable men and women who have served our country. Photo courtesy of Garret Gilbert
Tahoe Rim Trail Association
One of the greatest trails in our basin is the Tahoe Rim Trail. The Tahoe Rim Trail Association (TRTA) is a nonprofit dedicated to maintaining and enhancing the trail network as well as inspiring stewardship and preserving the natural beauty of the Lake Tahoe region. The trail is considered to be an iconic part of this special area and offers a 165+ mile single-track trail that allows access through hiking, horseback riding and mountain biking. The trail circumnavigates the ridges of the Lake Tahoe Basin, crossing six counties, four national forests, three wilderness areas, two states and one state park. Designated as a National Recreation Trail and a part of the National Trails System, this nonprofit assures access to one of the most precious ways to engage in the beauty of Lake Tahoe.
Clean-Tahoe.org
Clean-Tahoe.org is a nonprofit that is dedicated to the eradication of littering and improving the visual environment of both the north and south shores of Lake Tahoe. They do this through proper litter and trash management as well as public education. With roots that date back to 1988, this nonprofit was initiated by local citizens concerned with the growing litter and illegal dumping problems that were becoming all too evident in the basin. Their support has created trash programs, community education as well as community cleanup days. 
Otherwise known as TINS, the Tahoe Institute for Natural Science is a member-supported nonprofit that educates youth and adults on our natural history, conservation and the ecosystem of the Tahoe region through entertaining science programs, education and outreach. With humble beginnings that date back to 2010, TINS was created by locals who adored the area and knew that educating visitors on the special beauty of the area will help to preserve it. TINS has promoted beautiful stewardship of the Tahoe area, helping to create a deeper understanding and appreciation of the region's natural resources.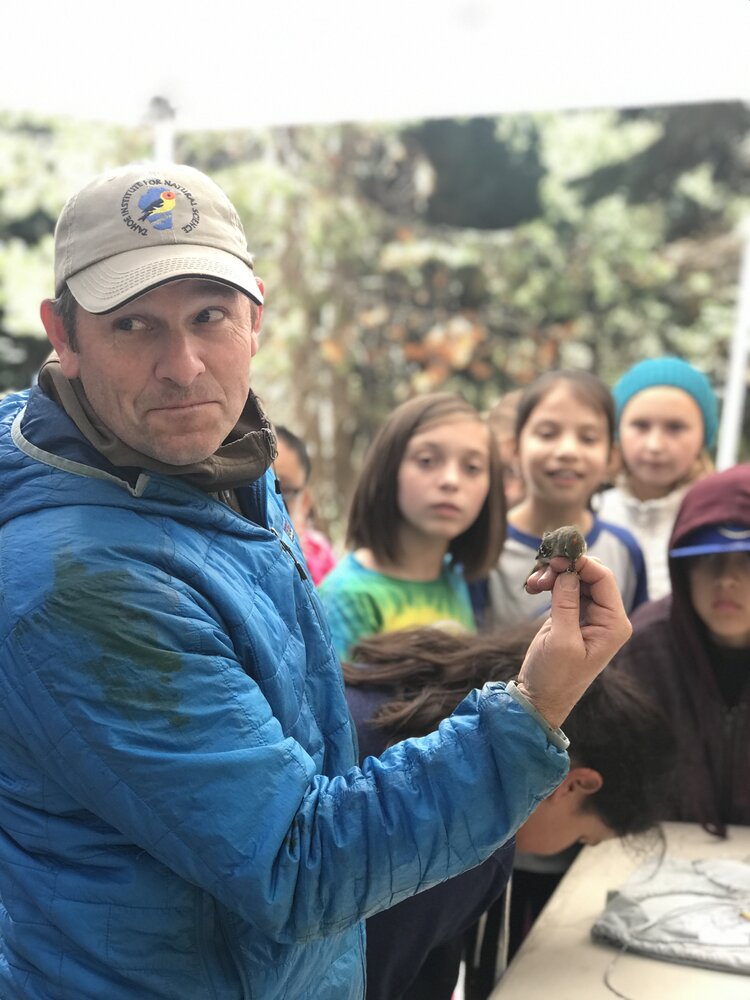 TINS Co-founder and Executive Director Will Richardson spreading the good word about our feathered friends in Lake Tahoe. Photo courtesy of TINS
Live Violence Free
A nonprofit located in South Lake Tahoe, Live Violence Free is an organization committed to promoting a violence-free community through education and advocacy in addressing serious challenges such as domestic violence, sexual assault and child abuse. With a dedicated commitment to safety, Live Violence Free assists those in need by empowering them, giving respectful support and promoting peace in the community through the action of non-violence for a better life. To make this happen Live Violence Free offers shelter, counseling, housing assistance, legal support and advocacy of victims of domestic violence, sexual assault and child abuse by providing culturally and linguistically responsive services in which victims are respected and empowered to make the best choices for themselves.
To learn about events that support these great organizations or to find out about other fun activities happening around the basin please visit either our Daytime or Nightlife sections.