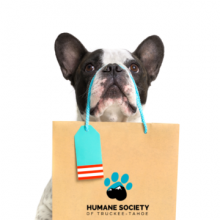 For nonprofits in the Tahoe area, COVID-19 has made fundraising nearly impossible. This runs across the board. From The Boys & Girls Club of North Lake Tahoe to the Humane Society of Truckee-Tahoe, each nonprofit has had to forge new ways to fund the positivity they bring to the community. 
To keep up with the times, the Humane Society of Truckee-Tahoe (HSTT) is taking its game online. In collaboration with local designers and artists, they have created a new, sleek, streamlined and secure online store.
The virtual storefront is packed full of amazing, one-of-a-kind merchandise. Selling apparel and accessories that make life just a little sweeter, the online store is not only a place to find that special gift, but also a fantastic way to lend a helping hand to a local nonprofit that has won the Best of Truckee-Tahoe 17 out of the last 18 years. It is safe to say they are a beloved part of our community.
For those who don't know much about this amazing nonprofit, the Humane Society of Truckee Tahoe was founded in 1994 by a small group of volunteers. Not long after its creation, the Humane Society and Town of Truckee joined forces in assisting animal welfare through rescue, protection and adoption. Over the last two decades, it has developed into a positive partnership that bore the region's first public animal shelter in 2013. Now they have two facilities and both act as 100% live shelters, saving all of the community's adoptable homeless pets as well as other rescue animals from overcrowded shelters elsewhere.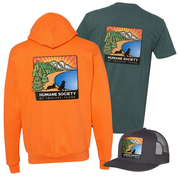 With the inauguration of the online store, the nonprofit is excited about opening up to a larger audience. HSTT is also incredibly proud to be collaborating with local businesses like Rise Designs to create animal-centric artwork. Rise Designs, for example, will be creating original illustrations featured on t-shirts, sweatshirts and hats as well as screen printings of their art, all of which is done in their South Lake Tahoe studio.
Maybe one of the most popular collaborations is with FiftyFifty Brewing Company, based out of Truckee. Their partnership brought about the incredibly delicious Leg Lifter Ale, a specialty beer being produced for the last eight years, with all proceeds assisting HSTT and their care for homeless pets. The connection of a love for beer and a love for pets also brought to reality a favored clothing line that features the iconic logo designed by Truckee's own POND Collective.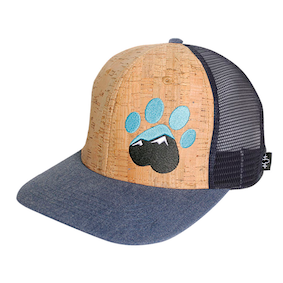 Other noteworthy businesses getting involved include MOBO Law and Aegis Insurance. These two forward-thinking companies are creating supportive services in the form of pro bono professional support and event sponsorships to aid in the eradication of homeless domestic animals in the Tahoe area. This brought about the creation of HSTT's popular Paw Print Cork Hat. Designed by Tahoe Heartbeat Apparel, these fun hats bring to light the absolute love and adoration that we have for the pets of Lake Tahoe.
But maybe one of the products most anticipated is HSTT's own trademark merchandise created in collaboration with locally owned POND Collective and Reno-based production talent SWAG | Blue Moon. Now 15 years in the making, HSTT's signature line of t-shirts and tanks are a favorite part of any local's wardrobe, and I can say from experience, it's a great way to get a fun conversation going. You honestly can know in your heart that when you wear a HSTT tee that you are a participant in spreading HSTT's life-saving mission far and wide.
Check out all of the amazing merchandise here. Your look and your heart will be happy you did.
Be sure to check out the events happening around Lake Tahoe by visiting our Daytime and Nightlife segments.
Photos courtesy of the Humane Society of Truckee-Tahoe