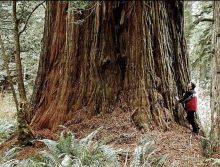 From the shimmering azure water of stunning Big Blue to the snowcapped peaks that surround her sandy shores, it is safe to say that Lake Tahoe has it going on when it comes to jaw-dropping natural allure. Healthy and robust forests also are one of the aspects that helps Lake Tahoe be the stunner she is. The trees in Lake Tahoe are something special! And now even more than we thought, thanks to Big Tree Hunter Michael Taylor.
When it comes to the biggest trees, Lake Tahoe is now considered a home to the giants, thanks to the findings of Taylor. This past October, before the falling of the first snowflakes, Taylor discovered that South Lake Tahoe gives the nurturing needed for the second and third tallest sugar pines to thrive. He discovered them in Tahoe National Forest, and they measure in at a whopping 267.5 feet and 267.15 feet. To give homage to these masters of the forest, Taylor named the 267.15-foot tree Redonkulous due to its 10.5-foot diameter tree trunk (measured at 4.5 feet above the ground).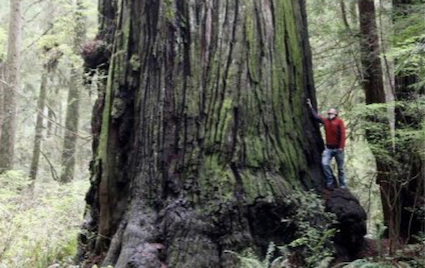 Lake Tahoe is a happy home for sugar pines. In a blog post I wrote a while back, I discuss three of the pine trees in the area: the Jeffrey, lodgepole and sugar pine. We have other species of pine trees beside these three as well, but it is the glorious sugar pines that bring a sense of omnipresence to our magnificent forests. With their amazing 2-foot long pine cones and their Amazonian appearance, it is only fitting that Taylor discovered Tahoe to be home to some of the tallest of the giants. It is such a flourishing environment, in fact, that the U.S. Forest Service has a continually updated Big Tree Register to keep track of them. To be considered a part of the behemoths, the U.S. Forest Service created the Lake Tahoe Basin Big Tree Register so that it follows all procedures that are used by the American Forestry Association (A.F.A.) to catalog the biggest trees in the nation. The A.F.A. publishes The National Register of Big Trees, which contains more than 700 champion native and naturalized tree species.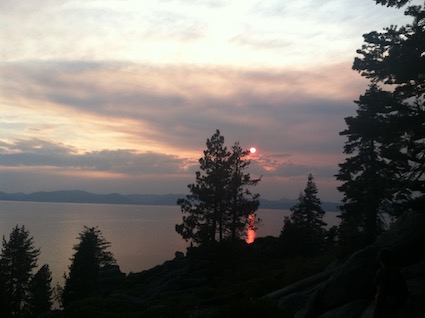 Taylor is a modern-day discoverer of the tallest trees on our planet. After studying forestry at Humboldt State University in the '80s, he has gone on to discover more than 50 titans of the forest (all measuring more than 350 feet tall), mostly redwoods. In 2006 he discovered the tallest known tree in the world, a stunning coast redwood (Sequoia sempervirens), which he named Hyperion. At the same time of this discovery, he also stumbled upon the second and third tallest redwoods, naming them Helios and Icarus, respectively.
To learn more about this fascinating journey into the land of giants, read Taylor's book called The Wild Trees. Written in 2007, it is a nonfiction book that shines light on a person who helps us appreciate our mammoth forest friends. 
Thank you to Taylor for finding the majestic giants in the Tahoe forests. May they be appreciated and respected for generations to come.
After spending time with our magnificent Lake Tahoe trees, be sure to check out Tahoe.com's Daytime and Nightlife sections to learn more about fun activities and events happening all around Lake Tahoe.
Photos courtesy of Michael Taylor and Shanie Matthews.