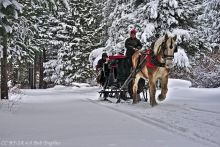 Lake Tahoe becomes a majestic winter wonderland during the holidays.
The holiday cheer that pulsates throughout the community is framed by snow-kissed mountains. Carolers and meet-ups with Santa and Mrs. Claus bring extra sparkle and joy to the calendar of events, and special outings provide treasured memories.
One of my favorite ways to get out and enjoy our spectacular wonderland during the holidays (or on any beautiful Lake Tahoe day, for that matter) is via sleigh. Whether by horse or dog, riding in a sleigh is a magical experience.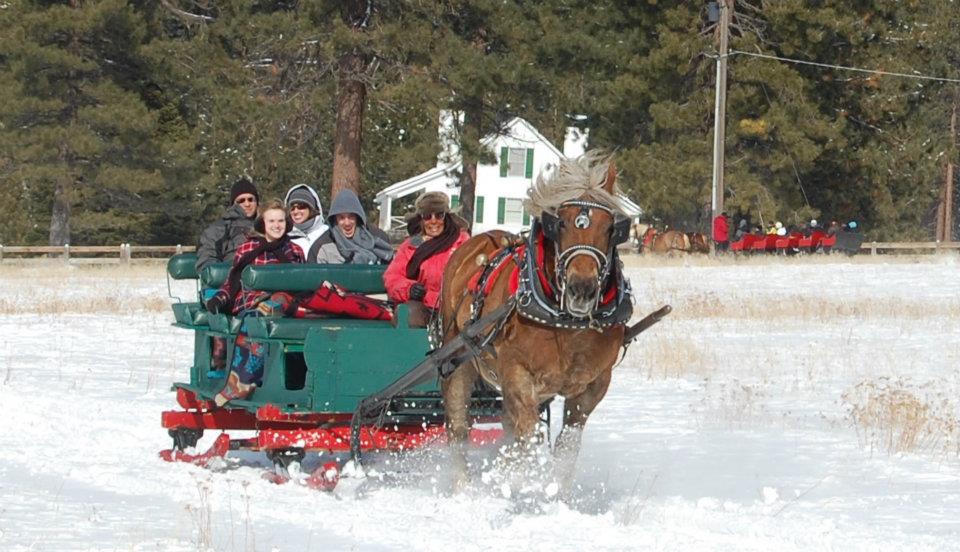 To help get you started I have put together the when, where and how on enjoying Lake Tahoe by sleigh. Let me know how your experience goes. I would love to hear from you. Happy Holidays!
Dress for the occasion
To assist in the enjoyment of the day, be sure to dress appropriately. Bring a hat and a pair of gloves. Have a nice, cozy jacket to snuggle into. Apply plenty of sunscreen. Most importantly, be sure to bring eye protection, as the sun on stark white snow is damaging to the eyes.
Give yourself the gift of a reservation
One of the most important aspects of a sleigh-ride adventure is taking the time to plan it in advance. Making a reservation at least 24 hours prior is greatly appreciated by the guide company and is mandatory in some cases.
Know that it's weather dependent
Enjoying the mountains by sleigh requires nice weather. It can be quite cold on snowy days, so the brighter the sunshine the warmer the toes. If you aren't sure if the weather is a deciding factor on your sleigh ride, don't hesitate to contact your guide to learn more.
It's a horse, of course
Lake Tahoe is blessed with a few different options for enjoying the wilderness by sleigh. A family-owned, local business that has been offering rides since 1967 is Borges Sleigh and Carriage Rides. Utilizing the natural landscape for a spectacular tour in the basin of Lake Tahoe, Borges Sleigh specializes in giving guests an amazing experience. Along the journey, the sleigh driver shares fun information, stories and poems as well as special moments of shared song. Another fantastic company offering horse-drawn sleigh rides (along with a plethora of other exciting outdoor activities) is Sierra Adventures. They offer curbside pick-up at your hotel to make the experience that much more enjoyable. Both companies offer adventures for a romantic outing for two or a larger group.
Experience the power of a canine
For me, dog sledding is where it is at. I absolutely love the power and thrill that goes along with being pulled by a team of well-trained sled dogs. Not only is it exciting, but also there is something awe-inspiring in watching the dogs' teamwork. Sierra Adventures offers dog sledding outings in addition to their horse-drawn sleigh rides. Another option is with Sierra Husky Tours. Located just a hop, skip and a jump from Tahoe in what is known as the Lost Sierra at Lake Davis, this dog-sledding experience is a more immersive excursion. Created for two people, it's a fantastic offering for those looking for a romantic outing. They also have an option for a family with two small children, though the family weight maximum is 400 pounds.
Please be sure to visit our Daytime and Nightlife event pages to learn about upcoming events that will pair perfectly with a day out in a sleigh.
Photos by Borges Sleigh and Carriage Rides and Sierra Husky Tours.