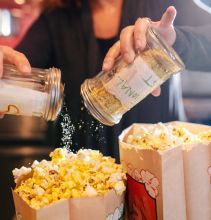 This week's blog post is dedicated to the captivating world of Tahoe Art Haus & Cinema.
Situated in the former Cobblestone Cinema in Tahoe City, Tahoe Art Haus & Cinema has become a beloved entertainment hub for the north shore of Lake Tahoe. Sister establishment to its neighbor Tahoe Tap Haus, Tahoe Art Haus is the only cinema draft house in the area, offering a unique movie-going experience that sets it apart from the rest. With a cozy lobby bar serving a variety of craft beers, ciders, wine and more, along with delectable non-GMO popcorn popped in coconut oil and flavored with an assortment of popcorn spices, Tahoe Haus caters to your every indulgence. Whether you're in the mood for major motion pictures, independent films, action sports flicks or environmental documentaries, Tahoe Haus entertains us with a little bit of everything.
Keep reading to learn more about this iconic part of the North Tahoe scene that deserves a visit at least once, if not many times.
Luxury and Indulgence Await
Step into the lobby of Tahoe Haus and you will be indulged in a sensory delight. The inviting lobby bar tempts you with a selection of nine craft beers and ciders on tap, including locally brewed kombucha, fine wines, Prosecco and a range of premium bottled beers. To accompany your beverage of choice, there is non-GMO popcorn, meticulously popped in coconut oil, that is enhanced with real butter and your own choice of flavors at the popcorn spice bar. But the real showstopper for those who enjoy a touch of high class with their cinema experience: You get to choose between their rocking leather seats with convenient cupholders or their spacious couches that comfortably seat 12. In total, there are 100 seats of comfort available, including ADA seating, making the feeling of luxury available to everyone while enjoying the magic of the big screen.

Photo: In addition to rocking leather chairs, Tahoe Art Haus offers seating on comfy sofas.
A Cinematic Wonderland
Tahoe Art Haus prides itself on offering a diverse range of films catering to all cinematic tastes. From major motion pictures to independent gems, adrenaline-pumping action sports flicks to thought-provoking environmental documentaries, their carefully curated selection promises to captivate and entertain. But the experience doesn't end with the movies alone. They also bring filmmakers, speakers and live music events to the forefront, creating a dynamic and socially engaging atmosphere that sets the cinematic experience apart from the rest. Tahoe Art Haus is where cinema comes alive in all its glory.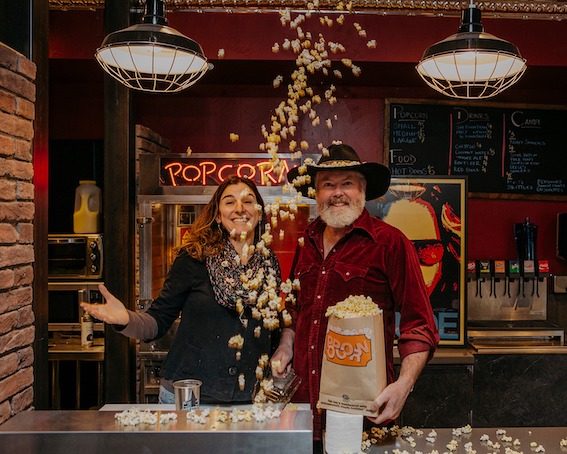 Photo: Tahoe Art Haus owners Melissa and Steve Siig are longtime locals who love giving the community a great time. Photo by Ryan Salm Photography
Exciting Events on the Horizon
Tahoe Art Haus has an array of special screenings and events that will leave you eager to mark your calendars. Some of the exciting movies lined up for the near future include the highly anticipated Guardians of the Galaxy Vol. 3, the gripping sci-fi thriller The Machine, the timeless classic Little Mermaid and the web-slinging adventure of Spider-Man: Across the Spider-Verse. Additionally, they have the upcoming Grateful Dead Meet-Up At The Movies 2023, a can't-miss event taking place from June 22 to 24. A weekly event that is a great way to get free treats out of the deal is to come by for a visit on Popcorn Saturdays, happening from 1 to 4 p.m.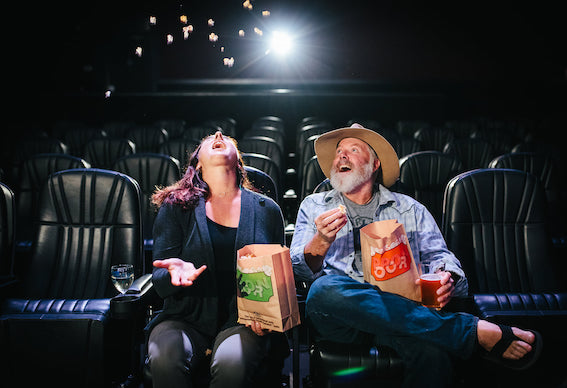 Photo: Celebrating the love of movies and good times at Tahoe Haus with popcorn-filled laughter.
A Cinematic Oasis
Tahoe Art Haus believes in creating an exceptional movie experience from start to finish. From their state-of-the-art digital projector ensuring crisp and vibrant visuals to their nine beers on tap, they elevate the experience in every way possible. And that includes admission. Tahoe Haus has created an exclusive membership program that not only shows your support for local, independent movie theaters, but also gains you access to a wealth of exclusive benefits. Here's a look at the different membership levels and the enticing perks they offer:
Granite Chief
$50
$1 off movie tickets for major motion pictures
$1 off draft beer/soda
Free admission on birthday
Jake's
$100 individual/$180 couple
$2 off movie tickets for major motion pictures
$1 off draft beer/soda
Free admission on birthday
15% off Art Haus merchandise
Rubicon
$250/$450 couple
$2 off movies tickets for major motion pictures
$1 off draft beer/soda
Half off popcorn all week
Free admission on birthday
2 guest passes
25% off on all Art Haus merchandise
Tallac
$500/$900 couple
$2 off movie tickets for major motion pictures
$2 off draft beer/soda
Free popcorn
Free admission on birthday
5 guest passes
25% off on all Art Haus merchandise
Free Art Haus Kleen Kanteen cup
Mt. Rose
$2,000/$3,500 couple
Free tickets to major motion pictures (reserve in advance)
Free soda
$2 off draft beer
Free popcorn
10 guest passes
25% off all Art Haus merchandise
Free Art Haus t-shirt, hat and Kleen Kanteen cup
1 private movie screening for a party of 12 during the day
Photo: Tahoe Haus popcorn is popped by hand and covered in real butter.
To learn about events happening in Lake Tahoe, visit our Daytime and Nightlife pages.
Photos courtesy of Tahoe Art Haus & Cinema