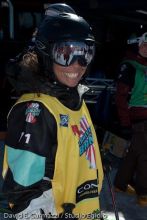 One of the things I truly love about living in Lake Tahoe is the plethora of things to do. From a ton of outdoor activities to a good assortment of live music venues around the Tahoe Basin, from family-centric events to community competitions that get all ages involved, Tahoe truly offers something to do for everyone.
This week is one of those weeks. From cultural theatrical plays to groovy concerts, if you want to get out and about while in Tahoe this week there are some great offerings.
Here are a few of my favorite….

                                                                                                                                                                                                                                                             The Vagina Monologues
Showing on both February 26 and 27 at the Beach Retreat & Lodge, this cultural showing is based on the famous play of the same name by Eve Ensler. A monologue script that showcases the effects of domestic and sexual violence on women, this particular showing is not only a play that educates. By checking out the showing and paying the nominal entrance fee (ranging in price from $20 to $60) you are giving to the safety of women as well as helping end violence against women. All proceeds from the play go to the Live Violence Free, CASA and Tahoe Youth and Family Services. The ticket includes both entrance to the play as well as a scrumptious dinner that comes in both a vegetarian or meat-lover choice.
The Rahlves Banzai Tour
If you want to see what it's like to go full boar on skis and snowboards while racing head-to-head with three other competitors, then you must check out The Rahlves Banzai Tour
February 27-28 at Kirkwood. Created by Olympian downhill skier Daron Rahlves, the race brings together the best skiers and snowboarders in the Lake Tahoe Basin to compete in a series of thrilling courses that leads racers over non-groomed terrain, moguls and jumps. I actually competed a few years back, and I can say firsthand that it is about the most exciting race that a person can participate in or be a bystander for. Plus, there is a great après party.
Galactic "Into The Deep Tour" with The Record Company and After Party with Earphunk
One of my all-time favorite groove, funk and New Orleans-type bands, Galactic, is coming to the Crystal Bay Club February 28. A styling group of musicians who know how to bring a crowd to their feet, Galactic plays up the horns, percussion and lively attitude. Many of their songs don't necessarily have lyrics but instead get you groovin' on the beat alone. This makes it a fun night for everyone, whether you've seen them before or not. The concert goes all night with an after-party led by another funkilicious band, Earphunk.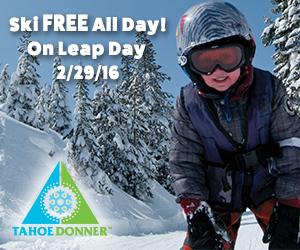 Tahoe Donner Ski For Free
Celebrating Leap Day in a way that many are not, Tahoe Donner is offering everyone a free day of skiing or snowboarding in celebration of this extra day of the year. Held on Monday February 29, the ticket is good for all day and for all abilities. What a great way to get the family out on the hill having fun for a minimal cost!
Squaw Valley Hosting AIARE Avalanche Level One Training
Squaw Valley is hosting an AIARE avalanche level one training course on March 1. The all-day event is being led by certified AIARE instructors that are highly knowledgeable on the various aspects of snow, conditions, aspects and elevations that all play into the game of avalanches on slopes. The course is taught both indoors with a lecture highlighting important points to know as well as outdoors giving hands-on time with the knowledge learned. As I mentioned last week, I'm a big believer that taking the time to learn about avalanches is a vital aspect of playing in the mountains. It can truly save your life or someone you care about.
This is just a small sampling of the fun Tahoe is offering this week. Be sure to check out the nightlife and daytime events pages to see what other action is happening this week in Lake Tahoe.