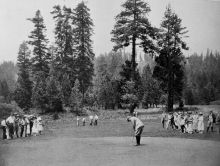 Lake Tahoe's history is colorful. From castles lining her turquoise water to the the landscape becoming a playground for the rich and famous (including the infamous Rat Pack with Frank Sinatra, Dean Martin, Peter Lawford, Sammy Davis Jr. and Joey Bishop), the Tahoe basin is a stage of mystery, intrigue and glamour. Within this atmosphere lies the Tahoe City Golf Course, a favored location that began its reign as a place of enjoyment a century ago. In 2018 the course commemorates its 100th birthday, an impressive feat.
Originally known as Tahoe Tavern Links, the course was once the end-of-the-line stop for the railroad, dropping guests directly off at the Tahoe Tavern. As golf gained fame, more land was set aside to create a bigger course. In 1917 Scottish female golf pro extraordinaire May "Queenie" Dunn-Webb was commissioned to design and build a 6-hole course complete with sand greens. In 1921 the course was expanded to a 9-hole, 2,765 yard course. This is the course that has since hosted players like Bing Crosby, Bob Hope, the Mills Brothers, Ken Venturi, Harvey Ward, Frank Sinatra, Dean Martin, Sammy Davis Jr. and Andy Williams as well as thousands of locals and visitors.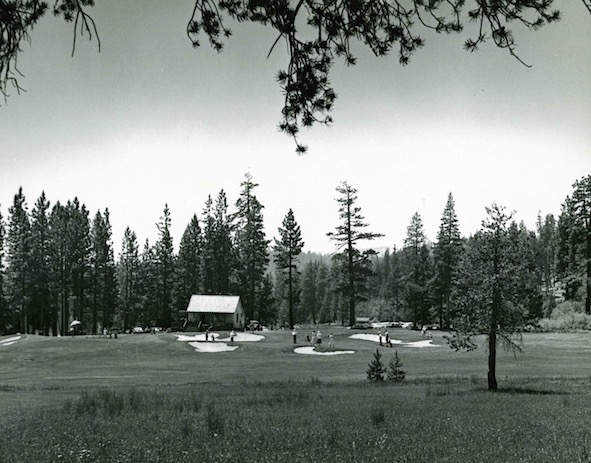 To celebrate this lengthy span, Tahoe City Golf Course is honoring two aspects of its history: being the oldest course in Lake Tahoe as well as being a course designed by a leading female and famous golf pro. To pay tribute to Dunn-Webb as well as other female athletes, pioneers and North Lake Tahoe history, the course designed an entire season full of events. The activities are filled with unique and imaginative ways that all ages can celebrate this monumental turning of the clock.
To give you an idea of what they have planned, check out these exciting celebrations planned for this summer.
~ To kickoff on the first weekend (Friday, May 11 to Sunday, May 13), Tahoe City Golf Course is turning back the prices on green fees,  returning to its initial price of 50 cents for a round of nine holes!
~ Friday, June 8 will be a day of competition for all ages utilizing the golfing tools of yesteryear. Implementing hickory stick putters as well as other throwback equipment, contestants will enjoy fun contests and a speech about the history of the course by Mark McLaughlin, an award-winning and nationally published author and Tahoe historian. This is a free event.
~ Saturday, June 9 is the send off of the Two Bills Heritage Golf Tournament, in which all proceeds benefit the Red Cross and Tahoe City Recreation Association.
~ To celebrate the ladies, Saturday, August 19 is an opportunity to meet the greatest female golfer of this generation, Annika Sorenstam. To support girls, Sorenstam will offer a junior golf clinic and demonstration as well as a Q&A and photo session. Afterward there will be an inaugural family golf tournament that encourages all generations to come together in teams for a special bonding experience.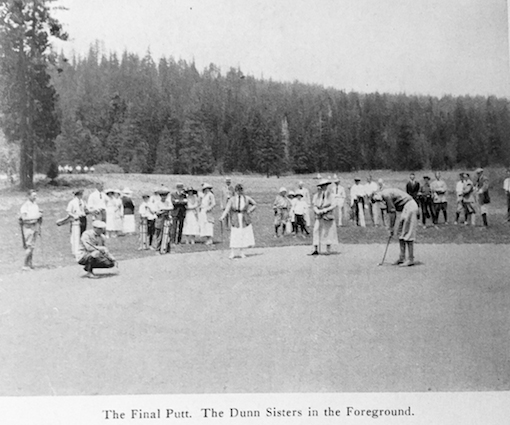 ~ For a gift that extends throughout the season, each Tuesday (except July 3) will be May Dunn Day, which gives ladies a special rate of just $19.18 for a 9-hole game. The course will also be showcasing golf historian Rick Lund's extensive collection of impressive memorabilia and golf equipment, with the prized piece being an actual junior golf club that was made by and carried by May Dunn-Webb herself.
To learn more about the Tahoe City Golf Course please visit their website.
And, as always, if you're looking for fun things to do around Lake Tahoe, check out our Daytime and Nightlife sections to learn about all the upcoming events.
Photos: Tahoe City Public Utility District