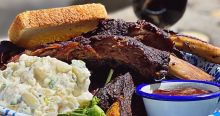 I've written a lot about the immense amount of outdoor adventure a person can have in Lake Tahoe. If you are taking advantage of all that the area has to offer, then there are two things for certain: Energy was expended, and now you know what it's like to be truly hungry.
Getting out and enjoying the mountains around Lake Tahoe burns up its fair share of calories. Luckily we are blessed with a full spectrum of dining options on both the north and south sides of the lake. In fact there are so many restaurants and eateries to choose from that determining which one to check out can be almost as difficult as deciding what activity you are going to fill your day with.
This blog post is dedicated to seven restaurants in our basin that serve up tasty food in a fun and enjoyable setting, helping to keep your energy up as you enjoy all this area has to offer. Click on the name of the restaurant to link to more information. Bon appétit! 
With dedication to supporting the local breweries of Northern California, longtime locals and community heroes Steve and Melissa Siig brought into being The Tahoe Tap Haus. A family-friendly dining experience that is all about community togetherness, Tahoe Tap Haus highlights 16 different breweries within a 100-mile radius of the restaurant. Their menu is packed full of fresh ideas on the Californian pub fare, giving options for all palates. The joint is set up in a spectacular location, nestled between the Cobblestone Shopping Center, a great selection of boutique shops, the sister business to Tahoe Tap Haus, the Tahoe Art Haus & Cinema, and the Tahoe City Commons Beach public park, where you can access sandy beaches, public picnic benches and a jungle gym for the kids to play on. Another bonus to the Tap Haus is their huge outdoor, dog-friendly eating area.
Do you ever have a yearning for good ol' comfort food? There's nothing better than delicious Southern soul food to make a person feel better about life. Serving up Alabama-style barbecue, Mo's Original BBQ in Tahoe City is the perfect place for a family feast. The menu is filled with yumminess in the form of pork, chicken, turkey, wings, ribs, seafood, smoked meats, fresh seafood, fresh homemade sides and desserts as well as a dozen draft beers to select from. Moe's has a stellar location with a deck that is literally sitting right over the beach of Lake Tahoe. They also offer a private party area as well as catering for any size event. A new aspect is that they now offer brunch Thursday through Sunday from 7:30 a.m. to noon. 
Za's is a longstanding favorite American-Italian eatery known for their delicious dishes. Now housed in an incredibly beautiful new location looking out over Lake Tahoe, the setting finally matches the delectable food offered. With some of the best views of any restaurant in northern Lake Tahoe, Za's is one of those places that hits all the marks. Great prices? Check. Casual, comfortable setting? Check. A menu that will blow your socks off? Absolutely! Chef and owner Jonny Roscher has traveled and trained the world over to learn to cook exquisite meals that offers a unique diversity to a restaurant's menu. With Za's new location comes also their new outdoor bar, an incredible offering that is, literally, set out over the water of Lake Tahoe. A seasonal offering open spring, summer and fall (weather dependent), the Lakefront SideBar supplies one-of-a-kind drinks with their famous SideBar Slush. You can also get scrumptious appetizers like ceviche, ahi poke or shrimp & avocado cocktail. Za's main restaurant has a large lunch and dinner menu filled with giant salads, creative apps and delicious burgers as well as Italian favorites like pizzas, calzones, pasta and Italian entrees. There are plenty of vegetarian choices on the menu as well as a kids' selection.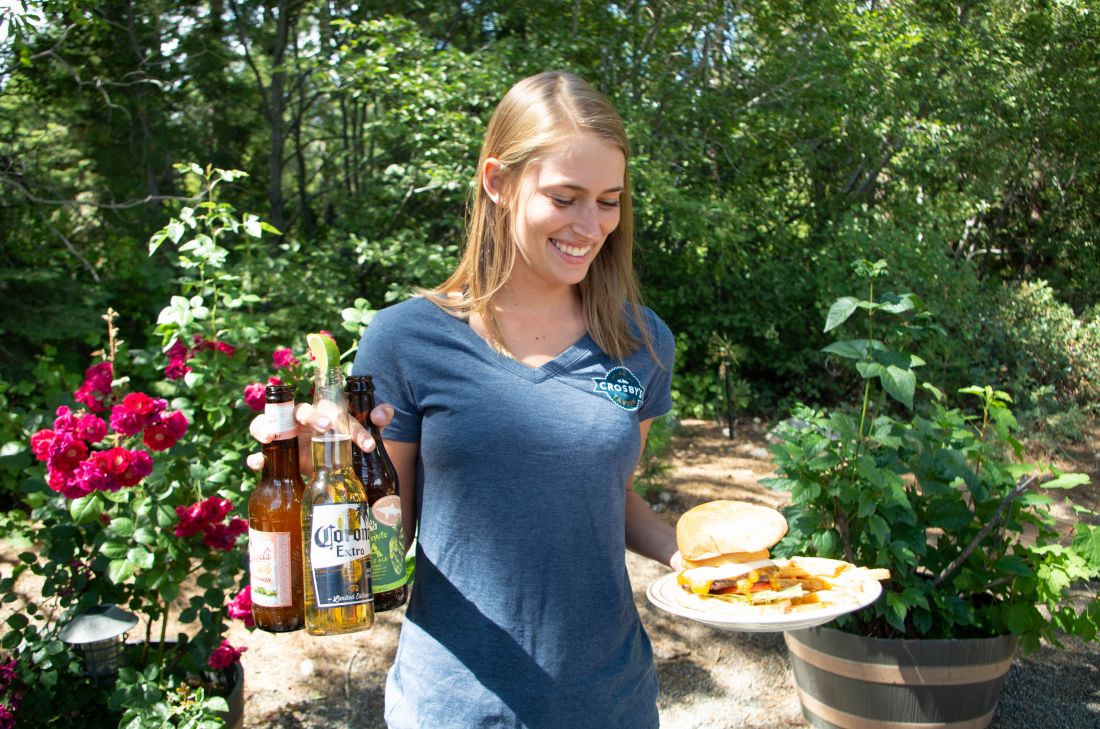 It's always a good day to grab a burger and beer at Crosby's Tavern. Photo courtesy of Crosby's Tavern
You would never guess that the little Christmas Tree Village of Incline Village is home to one of the greatest places to watch sports while enjoying a family-friendly atmosphere. Crosby's Tavern is a restaurant and bar with a huge selection of TVs for watching your favorite game. They also offer 10 different digital gaming machines for entertainment. Open seven days a week, Crosby's serves breakfast, lunch and dinner with a menu that runs the gamut. Having a global approach to their menu, the lunch and dinner offerings range in tastes from Greek to British, Mexican to American. They also offer soups, salads and kid-centric dishes. Their welcoming bar offers house-made cocktails, beer and wine, and they also have an outdoor seating area that is dog-friendly.  
This is, by far, my favorite place to go for an amazing salad bar. Situated literally on top of the beaches of Lake Tahoe, in Kings Beach, Jason's Beachside Grille is nestled in the heart of the bustling lakeside town. This family-friendly restaurant has a large menu filled with all of the American favorites, including prime rib, steaks, baked chicken, baby back ribs and salads as well as an ample kids' menu. They have a full bar too. Having dinner at Jason's, in my opinion, just puts the final touches on the end of a fantastic day.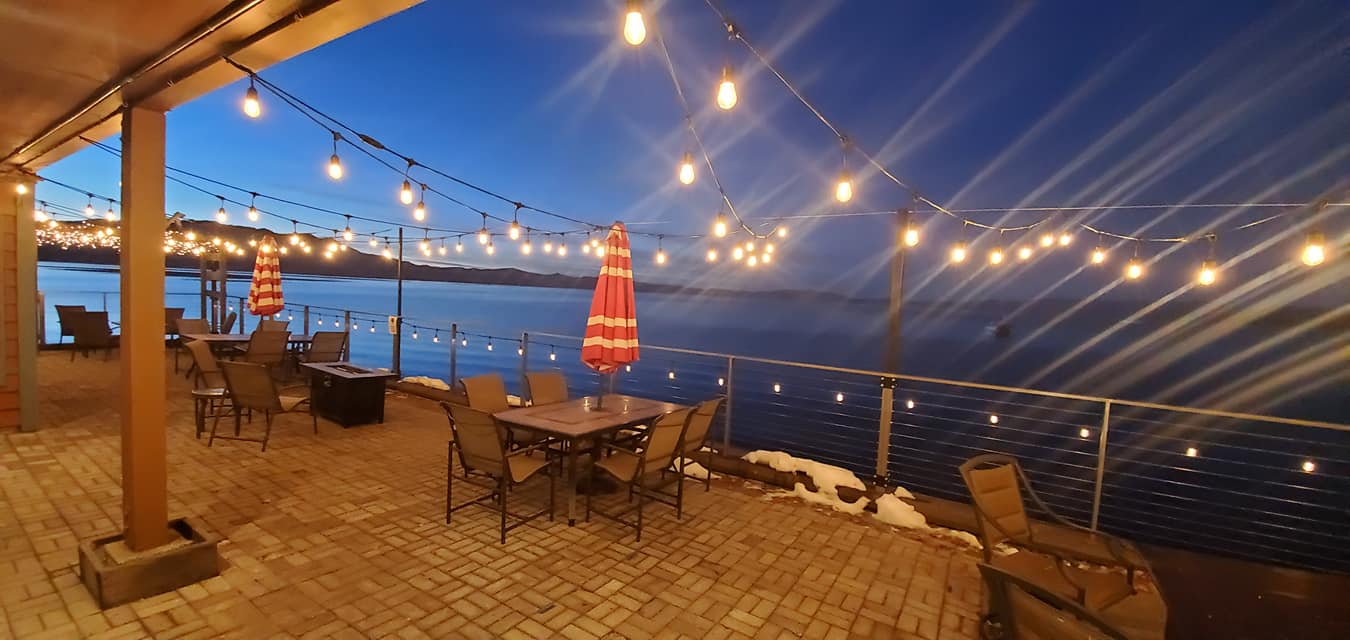 Taking in the beauty of Lake Tahoe with The Idle Hour. Photo courtesy of The Idle Hour
The Idle Hour is one of those incredible places that interlaces the enjoyment of wine tasting, the fun of an eclectic small bites menu and the special ambiance created by a gorgeous event space with lake views and a little retail therapy. Located in South Lake Tahoe, The Idle Hour is a unique offering for those who enjoy boutique wines, the relaxing environment of a deck overlooking Lake Tahoe and the atmosphere created by sweeping panoramas, elegant interiors and a staff that cares. With a menu offering freshly made pizzas, paninis and Abdallah chocolates, they have elegantly paired wines to match the flavors. Their shopping arena offers wine accessories, home decorations as well as yummy treats from South Bend Chocolate Company. 
Are you looking for that perfect place to take in the sunset while enjoying fine dining and exceptional cuisine? Boathouse on the Pier is one of those gourmet dining experiences that offers an impressive menu combined with an incredible view for a very special treat. Surrounded by the Sierra Mountains and on the shores of some of the most impressive turquoise water of Lake Tahoe, Boathouse on the Pier has an ambiance that is awe-inspiring. To match the incredible atmosphere, the menu offers dishes like their Citrus Salmon, Ahi Furikake and the community favorite Coconut Shrimp appetizer. It is important to note that the Boathouse is closed for a portion of the winter season. Please check with the Beach Retreat & Lodge to confirm availability.
Be sure to check out our Daytime and Nightlife sections for a ton of super fun activities to pair with your delicious restaurant experience. 
First picture courtesy of Tahoe Tap Haus