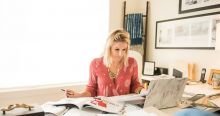 As a woman who has thrown her hat into the entrepreneurial ring many times throughout my life, I have a special admiration and affection for fellow females who have carved out their own niche in the world of business. An endeavor that requires tenacity, foresight and hard work, being your own boss is most definitely not all glitz and glamor. Speaking from experience, a successful business is a creation that comes as we walk the path of life and it has the ability to teach us not only when the stars are shining but also when the going gets tough.
The women who create successful businesses here in Lake Tahoe are incredibly inspiring to me. To help lift them up and celebrate how they are showing up when owning a business may be at its toughest, I thought I would dedicate this week to supporting six amazing women-owned Tahoe businesses. This is by no means all of the fantastic companies owned by Tahoe ladies, so if you have another favorite one that deserves attention, please share about it in the comments. The more we get the word out together, the better. 
Incline Village, owner

Shelly Rigisich
When a person thinks of sports bars, their first inclination may not be toward a woman owner, but that is exactly the case for Incline Village's top spot to watch your favorite sporting event. With Rookies' open and spacious setting, owner Shelly Rigisich not only created a favorite place for locals to hang out, but also put into reality a place that is there for the community when it matters. For example, she opened up her restaurant to feed the firefighters and first responders during the recent Caldor Fire experience. Beyond a place of support, Rookies also serves up delicious food, ample drinks and a gracious kiddy zone keeping the little ones busy while the adults keep their attention on the 30 high-definition TVs that decorate the place. Shelly has done an exceptional job in matching the restaurant's menu with the needs and wants of her patrons, serving up gourmet burgers, delicious pizzas, scrumptious breakfast items as well as salads, wraps, sandwiches and grinders (a sub that comes covered in a delectable marinara sauce). The bar is highlighted with a video poker section, and there is an outdoor patio area for taking in the starry night sky. If you're looking for live entertainment, Shelly has featured bands on Thursday nights. In my opinion, maybe one of the most inspiring aspects of Rookies is that Shelly offers it to patrons 24 hours a day, seven days a week, and minors are welcome until 10 p.m.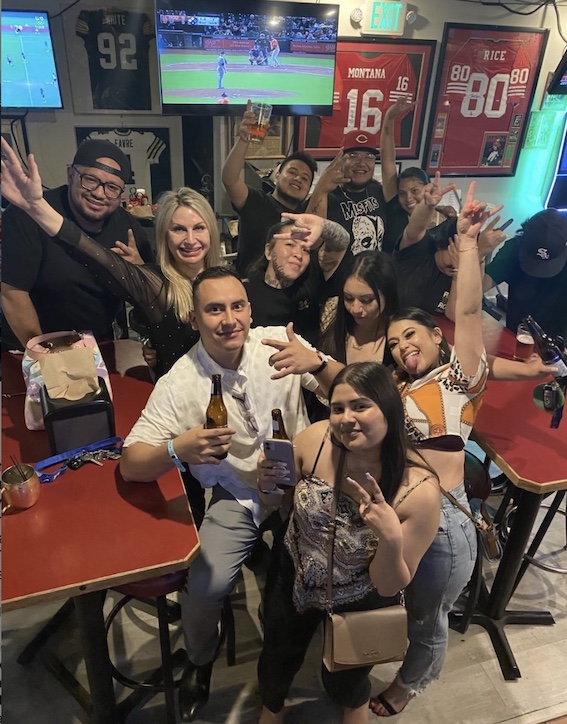 Shelly Rigisich showing her appreciation for the Tahoe community. Photo courtesy of Shelly Rigisich
Tahoe City, owner Olivia Franks
The owner of All Fired Up, Olivia Franks, is a woman who has brought out the fun side of life in Lake Tahoe. Her business is dedicated to imagination, creativity and thinking outside the box and it's a place to explore and celebrate our creative side – a part of us that may not get a chance to shine much. Olivia's welcoming space allows patrons to paint pottery and make candles as well as discover the art of designing mosaics, succulent gardens and canvas painting. She has also created the atmosphere to be perfect for those young in age or young at heart, giving a chance to play despite how old you are. All Fired Up is the perfect outing whether you are alone or in a group, making it a wonderful way to meet friends with similar interests. To make the occasion that much more enjoyable and to help the creative juices flow, Olivia invites attendees to bring their favorite wine or beer. Be sure to call in advance to reserve your spot, as space is limited.
South Lake Tahoe, owner Laura Forvilly
Lake Tahoe has an elegance about her that makes being on a cruise a luxurious experience. That is especially the case for Laura Forvilly's watercraft business, Lake Tahoe Bleu Wave. An opulent experience upon a classic yacht from 1966, this 70-foot cruiser is filled with exceptional amenities and accommodates up to 47 people. Laura has made certain that guests receive the treatment of affluence that they deserve, offering a stocked bar, a fireplace, a private lounge, a stateroom, a fly-bridge, an enormous party bow, climate-controlled indoor facilities as well as spacious restrooms. To accommodate any experience, Laura offers private outings that can be catered to your wishes as well as public outings and wedding cruises. The public excursions are offered regularly and come in the form of an afternoon tour or a sunset spin around Emerald Bay.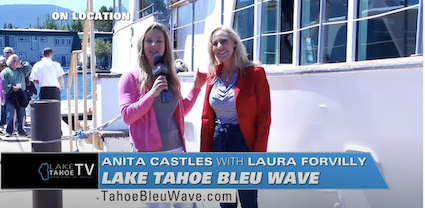 Laura Forvilly eloquently sharing the pleasures of yachting on Lake Tahoe TV. Photo courtesy of Lake Tahoe TV
South Lake Tahoe, owner Susan Anderson
When it comes to women-owned businesses, one that I feel is a shining example of greatness is Anderson's Bike Rental. And the reason is because the owner, Susan Anderson, brings nothing but positivity to her business. I recently enjoyed interviewing Susan, and her responses reminded me of the loving and welcoming atmosphere that can come from a woman being the boss. An incredibly engaging and inviting person with a knack for making you feel like you are the most important person in the world, Susan truly is a breath of fresh air. 
Tahoe City, owner Sahra Otero
Flowers make life better. Luckily for all of us on the north and west shores of Lake Tahoe, Sahra Otero's flower shop makes finding beautiful bouquets and floral arrangements as easy as stopping by her Cobblestone location. Taking over the business a little more than five years ago, Sahra brought fantastic shifts to what was Wanda's Flower Shop and is now Heartwood, making locally sourced flowers the focus and giving customers a large selection of purchasing options beyond flowers, including plants and gifts. 
Palisades Tahoe, Tahoe City & Truckee, owner Kali Kopley
There may not be anything better than a great glass of wine enjoyed with a Tahoe sunset. Local Kali Kopley made certain that this is a possibility for anyone in the Palisades Tahoe, Tahoe City or Truckee areas with her three versions of her Uncorked Wine Bar & Shop. The trio of shops offer an upscale offering of vino excellence, celebrating wine culture with the high-end ambiance and prime selection of wines offered. A genius when it comes to all things wine, Kali pairs her glass and bottle offerings of wine with cheese plates and other delicious appetizers that make the experience that much better. To help kick the fun factor up another notch, Kali has live music playing on the weekends at her Palisades Tahoe location. And to keep the memory alive for years to come, all locations offer enjoyable wine souvenirs. It should definitely be mentioned that Kali is not only an example of an entrepreneurial mastermind with Uncorked, but also with her two other restaurants, Petra and Soupa.
Please be sure to check out all of the events happening around Lake Tahoe on our Daytime and Nightlife event sections.