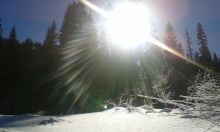 The call has been made.
Snow is in our forecast! 
This is a huge moment for all of us who feel a little slighted by the abrupt ending to last year's ski season. For all of us who endured the early closures, there was even a little more grinding of salt in the wound, per se, by how much it snowed after the closing of the lifts. To say the least, there are many of us who are chomping at the bit to get a little gravity-fed action of sliding on beautiful snow.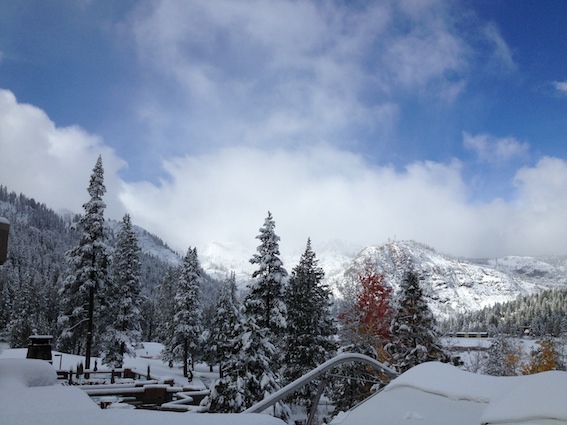 Although the excitement is palatable, there are some aspects to this upcoming ski season that are a bit different than years past Here are three important things that you need to know as we move into winter.
Our snow pack has some unpredictability to it.
Despite cooling temperatures and moisture in our forecast, the winter season – as far as the amount of snow that we are forecasted to get for the season – is a bit in the air. Normally, weather hounds have somewhat of an idea on what our winter future has in store. This year seems to be a bit of an anomaly in comparing it to the last 50 to 75 winters. This season is looking as if it doesn't really play by the same rules ... especially with it also being a La Niña year. La Niña is a phenomena in which there is a cooling of ocean temperatures that bring storms in a northerly to southerly route. Unfortunately, Tahoe sits in a position of being on the southerly tip of the northerly storms, giving us the unpredictability that we may or may not get hit. For example 2010–11 was a La Niña year in which we were hit strongly with huge storms after a mild fall of mostly 70 degree days. On the other hand 2016–17, also a La Niña year, was a big miss with a lot of the storms scooting just north of us despite the favorable atmospheric flows. So what does this mean? Basically, get your offerings to the snow gods ready. Our collective thought and gratitude for large snowfall may be the difference between an OK season and a great season.
Snowmaking is underway.
From Northstar to Squaw Valley, from Heavenly to Diamond Peak, the snow guns are in full operation. Knowing that there is no assurance that we will get Mother Nature's form of snow, the ski areas are taking full advantage of our recent cold nights to start prepping the ski slopes with manmade snow. What does this mean for you? Chances are – whether it is a gift from above or not – the ski areas will be open for Thanksgiving. For example, Northstar has already made the call that their opening day will be November 20. Squaw Valley is saying November 25.

Patience and understanding are key.
As coined by Liesel Hepburn of Squaw Valley Alpine Meadows, ski areas will be adhering to "responsibility codes" that have helped them maneuver through the summer with COVID. Actions such as social distancing, wearing masks and remaining home if feeling ill will all remain in implementation. In addition, some ski areas that are on the Epic pass will ask pass holders to reserve their day on the hill prior to showing up. For those on the IKON pass, patience will be the name to the game as restrictions to the amount of skiers on the hill will not be impeded, but operations, such as avalanche control, for example, will be done at a slower pace due to the challenges created by social distancing. Those who call Sugarbowl their riding home will be happy to know that the resort limited pass holder purchases to help with the COVID situation and to assist in the smooth running of mountain operations.
Be sure to check out all of the exciting events in our Daytime and Nightlife sections as we wait for snow to arrive. 
Photos by Shanie Matthews