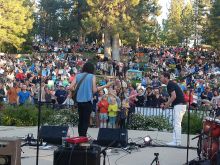 Lake Tahoe is a place where romance is born. With its stunning sunsets, gorgeous landscape and serene setting, it makes the perfect place to fall deeply (or deeper) in love. 
To pay homage to the love-factor that Lake Tahoe offers, I would like to suggest five delightful ways to enjoy time with that special someone.
Feel the ionic buzz.
For a little daytime action, try a hike up Shirley Canyon, located at the end of Squaw Valley Road. This stunning, single-track hike takes you up a canyon that is decorated with lovely waterfalls of all sizes. Taking this journey through ionized water vapor is sure to give a special sweetness to your day. Take this to the next level and pack a little picnic. Alice's Mountain Market, nestled in the Village at Squaw Valley, has everything you need to create a romantic meal for two, complete with Champagne. If you are feeling extra spunky, you can hike all the way up to the ski resort of Squaw Valley and take the tram back down to your car.
Catch a sunset at Commons Beach.
One of the treasures of Tahoe City is the ability to meander down to Commons Beach and take in a fantastic sunset, with no feeling of being rushed. In fact, depending on the level of the water, you can take a stroll down the beach (observing fields of lupine if you happen upon the right time of year) while enjoying the sherbet-colored sky. Afterward, you have a huge choice for dining options, all within walking distance. On the gourmet side of things you have Christy Hill and Wolfdale's; for a slightly less luxurious, but still fantastic, touch, try Jake's on the Lake. If you are keeping things a little more lowkey, try Bridgetender's, situated on the other side of Fanny Bridge.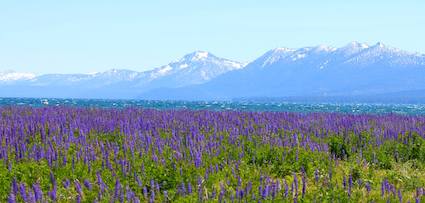 Groove to live music.
During the summer a plethora of outdoor, free live music offerings give an excellent framework for a spectacular date night. From Music on the Beach at Commons Beach in Tahoe City to the Music In the Park Wednesday shows at the Truckee Amphitheater at the Truckee Regional Park, various outdoor shows offer not only great local acts, but also regional food trucks serving up tasty grub and drinks. For hot musical acts in the winter, check out the Crystal Bay Casino or any of the large casinos on the south side of the lake.
Take a spin.
Lake Tahoe is flanked with amazing bike paths. There are miles of trails, and multiple businesses offer bike rentals to help take advantage of this great amenity. A recommended route: Rent bikes at the corner of Squaw Valley Road and Highway 89 at Squaw Bikes and then take a full-day cruise, beginning with a leisurely wandering through Tahoe City; then head down toward Homewood, stopping along the beaches and restaurants as you see fit.
Pick up a paddle.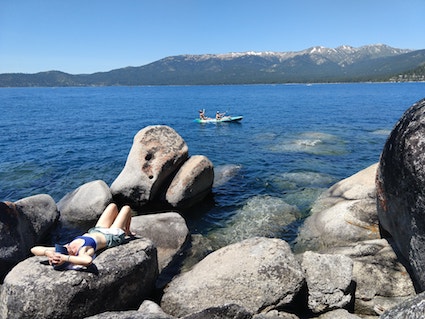 This may be my favorite way to spend some alone time with my honey. Give a call to one of the fantastic kayak guide companies around the lake for one of their evening excursions, which you can do privately or with a group. Take it up a notch and make sure that your guide brings a bottle of Champagne and exciting tales of Lake Tahoe to keep you entertained. If kayaking seems too tame, a lake tour via standup paddleboard provides an element of challenge to your date.
This is just a little sample of fun activities to entertain you and your loved one. Please be sure to visit our Daytime and Nightlife sections to learn about all the fun events and activities happening around Lake Tahoe.
Photos courtesy of Tahoe.com.