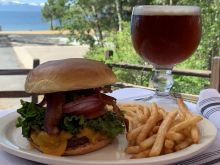 One of the things that I love about Lake Tahoe is the abundance of restaurants. From world-renowned gourmet dining to the ma and pa taco stand, Lake Tahoe is blessed with fantastically talented chefs who create recipes that are cherished throughout the region.
This amazing array of cuisine includes the American favorite – the classic hamburger. The options for finding the perfect cheeseburger are extensive in Lake Tahoe. Whether you are jonesing for a hangover helper or have decided that a gourmet burger is your desired entree, Tahoe has you covered. To help you find that perfect burger and fries, here are my top 25 dining spots that are sure to satisfy you. Which one is your favorite?
Photo: The Tahoe Burger at Jason's Beachside Grille in Kings Beach
Tahoe City
Sunnyside Restaurant & Lounge: Perfectly located on the west shore of Lake Tahoe, Sunnyside Restaurant & Lounge is considered one of the best spots for enjoying a burger on Lake Tahoe. Accessible via boat, bike or car, Sunnyside is a happening restaurant that actually has two sides to it: the gourmet dining aspect and the burger and fries aspect. This makes things simple for those in a larger group with a desire for different levels of menu options. Being situated right on the water, Sunnyside is a great dining option for those looking for a stunning view to accompany the experience. 
Jake's on the Lake: Jakes on the Lake is another gourmet dining option when it comes to burgers. Also with a stellar view of Lake Tahoe, Jake's is considered to be an absolute favorite for outdoor deck dining and for date night. Jake's is also a favorite place to meet up before going out for the evening as the bar area is quite large.
Fat Cat Bar & Grill: A small bar and dining experience located across the street from the lake in Tahoe City, Fat Cat is a bustling spot come evenings. Their menu is packed full of delicious dishes that are locally sourced, including Niman Ranch all-natural beef and Rounds Baker bread for their handcrafted burgers. They also offer pub-style appetizers, giant salads, tasty sandwiches, homemade pastas, ample steak and seafood entrees as well as delicious desserts. Fat Cat is also known for their happy hour specials and live music.
Fire Sign Cafe: A breakfast and lunch joint that has been considered a favorite by locals for decades (they have been around since 1978), Tahoe City's Fire Sign Cafe remains a beloved part of the community for one reason: Their food is absolutely amazing. A small eatery with a true local feel, this is the type of restaurant in which you become friends with your server because you end up coming back so often.
Rosie's Cafe
: If you are looking for that welcoming feeling of yesteryear, then you must check out Rosie's Cafe. A longstanding offering in Tahoe City, Rosie's is a restaurant built on comfort food like the cheeseburger. In fact, the motto for Rosie's is to fill the void between fine dining and fast food. Their menu offers the gamut from salads to burgers, from steak and seafood to vegetarian dishes, from pasta to pizza. They offer breakfast and lunch items as well. The atmosphere, though, is what makes Rosie's really special. Now decades in, Rosie's owner has slowly been adding antiques through the years, making it a place of nostalgia for all ages.
Tahoe Tap Haus
: A brewery situated in the center of Tahoe City and right across the street from Commons Beach, Tahoe Tap Haus is a place where great beers and burgers come together. Their burgers are created out of fresh, locally sourced ingredients and offer a fresh spin on a Californian ideal. There are 16 beer flavor combinations available, with half of the taste offerings coming from local breweries. Tahoe Tap Haus is a sister business to the 
Tahoe Art Haus & Cinema
, located in the same shopping center.
Bridgetender Tavern & Grill: The Bridgetender, located in Tahoe City, may be my personal favorite on this list. Why? Mainly because of the fun, local atmosphere and their to-die-for turkey burger. Their french fries are super tasty, too. In the summer there is a fantastic outdoor seating option that is right on the Truckee River, lending to a beautiful ambiance. One word of caution: It can be difficult to find a place to sit during busy meal times (especially in the summer), so try to come in during off hours if possible.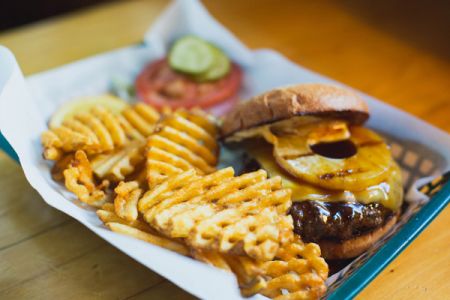 Photo: Hawaiian Terriyaki Burger at Bridgetender Tavern & Grill
South Lake Tahoe
Burger Lounge: Considered a favorite in South Lake Tahoe because of the scrumptiousness of their burgers, the friendliness of their crew and the fun atmosphere, Burger Lounge is a place for enjoying the good times. Known for luring return guests year after year, owners Juan and Loreen Sanchez listened to their patrons needs and included a diverse menu selection that includes seasonal, vegetarian and vegan options as well as allergen-free items. For larger groups and parties, they also offer private catering and special orders for community events. 
Izzy's Burger Spa: Are you looking for that old-fashioned charbroiled burger taste? Go no further than Izzy's. A quaint eatery with a fantastic atmosphere and a longstanding appreciation of burgers, Izzy's has been around since 1982. Known for their ample-sized hamburger and tasty fries, Izzy's has always been known for their family-friendly appeal. They also offer a safe place to store your bike, making it a favorite place to stop and get a bite to eat while enjoying South Lake Tahoe via bicycle.
Big Daddy's Burgers: Known for being tasty, quick and cheap, South Lake Tahoe's Big Daddy's Burgers is appreciated for helping a hungry belly feel satisfied. In fact, they are so loved by the locals that they have been awarded the Best of Tahoe Award for Best Burger. They offer a kids menu in addition to the standard burger fare. If you're running late and in a hurry, not to worry as Big Daddy's is known for quick service.
Lucky Beaver Bar & Burger: An absolute favorite for those living in and visiting Stateline, Lucky Beaver Bar & Burger has brought together fantastic burgers, a well-stocked bar and the fun of gaming to one place, creating an atmosphere that is hard to beat. Housed in the Old Bills Casino, the restaurant has given homage to years gone past while appreciating the good times happening now. Their burgers are assisting in this enjoyment and have a reputation for being the best in Nevada (and some say the country).
Chico's Burgers: If you are looking for a basic burger that is created with outstanding ingredients, then check out Chico's Burgers. Situated in South Lake Tahoe, their location is superb for a quick in and out. They also offer chicken sandwiches, burritos and tacos, helping to satisfy more than a burger craving. Their breakfast burritos are a recommended item, especially if you are in a hurry and need a filling meal.
California Burger Co.: Situated in the Heavenly Village in South Lake Tahoe, California Burger Co. takes burgers in a unique and lively direction. The restaurant has an offering of entertaining live music daily, there are more than 100 different choices of whiskey and 10 different draft beer options, and the menu includes sandwiches and handmade milkshakes. 
Sonney's BBQ Shack: A contest for tastiest BBQ sauce started out as a fun family affair nearly 30 years ago and has since turned into one of the favorite stops for a burger in South Lake Tahoe. Known for the "Best Dang BBQ Sauce," this little eatery is talented in delivering a tasty burger. With an approach of cooking all of their meats low and slow with oak, apple and other hardwoods, their meats are considered to be some of the best found in Lake Tahoe. Beyond burgers they also offer brisket and butts that have been smoked for more than 12 hours. In addition to individual meals, Sonney's offers catering as well as a shop to purchase the sauce.
Jimmy's Restaurant: Nestled within The Landing, Jimmy's Restaurant is a gourmet dining experience that happens to also have a burger on the menu. An opulent setting with incredible mountain and lake views, Jimmy's is the backdrop for culinary mastery. The menu features (beyond the burger) grass-fed beef, fresh seafood, organic vegetables and locally sourced ingredients. They also offer an extensive wine list as well as signature cocktails.
Cold Water Brewery & Grill: For a burger with a handcrafted brewed beer, try Cold Water. Considered to be one of South Lake Tahoe's most popular all-grain breweries, the restaurant is also known for its California-style comfort food, like a juicy burger. Their seasonal menu is a creative piece of art, with farm-fresh items that are prepared right in their very own kitchen on a daily basis. If you are looking to take your burger elsewhere to enjoy it, they also offer to-go 16-ounce beers from their brewery.
Five Guys: This is the only chain-type restaurant on the list, but the reason I've included it is that they serve you a burger your way. Located in South Lake Tahoe, they offer you 250,000 ways to customize your burger and more than 1,000 different milkshake combinations. All of their burgers are made with fresh ground beef, and their fries are cooked in 100% peanut oil. One more bonus: They offer peanuts to snack on while you wait for your burger.
Beach House: A tiny dining experience nestled on the shores of South Lake Tahoe, this relaxed beachside eatery is perfect for a burger, salad or to enjoy a glass of wine or craft beer. Their menu is small, but covers additional items like a fish sandwich, fish n' chips, chicken tenders and a Ski Bum Salad. One of the aspects that makes this place special is the incredible view offered while you enjoy your tasty burger.
Sno-Flake Drive In: Remembering back to the old days, this little drive-in eatery is one for nostalgia. The burgers are great (with 14 styles to choose from and all ingredients fresh and made daily), but what really makes this place shine is the handmade milkshakes. A few menu items that I recommend: the French Burger that comes complete with an ample serving of bleu cheese and barbecue sauce or the Tahoe Burger that is served with sautéed mushrooms and onions and topped with Monterey Jack cheese.
The Beacon Bar & Grill: A longtime favorite for all who love Tahoe, The Beacon is one of those restaurants that deserves a visit. With its location in Camp Richardson, the dining experience is one of luxury. The menu items are award-winning, and their signature cocktail, the Rum Runner, is a one that people come specifically for. Considered a longstanding Best of Tahoe winner (including Best Outdoor Patio) for many years running, The Beacon is one of those restaurants that must be visited.

Photo: Sno-Flake Drive In is a nostalgic burger joint in South Lake Tahoe.
Kings Beach
Char Pit: Maybe the winner of the longest-standing burger joint in Lake Tahoe, Kings Beach's Char Pit has been slinging burgers since 1962. A great place for enjoying the people watching that goes with the hustle and bustle of Kings Beach, Char Pit is also well situated for those enjoying the sandy beach of Lake Tahoe. Char Pit offers a great selection of burgers as well as signature sandwiches, ribs, hot dogs and menu items from the fryer. 
Jason's Beachside Grille
: Situated literally on the sandy shores of Lake Tahoe in Kings Beach, Jason's has been long loved and adored by locals and visitors alike. The menu is extensive and offers a huge array of choices beyond the burger. But the main reason that many love Jason's is their gigantic salad bar that offers all of the toppings anyone could desire.
Incline Village
Inclined Burgers & Brews: A burger joint that wants to improve the world one burger at a time, Inclined Burgers & Brews is helping Tahoe folks stay satisfied. Their menu offers the regular burger fare, plus salads, chicken burgers, breakfast items and a kids' menu, making Inclined Burgers & Brews set up to offer a little something for everyone. They are so appreciated that they were voted the Best in Tahoe by the Tahoe Quarterly for 2019.
Squaw Valley
Rocker@Squaw
: Situated in Squaw Valley, this favorite après ski spot is named after Squaw Valley iconic skier Shane McConkey and the ski design that he invented on the slopes of Squaw Valley. Rocker is known for its outdoor scene of "being seen" as well as the perfect location for watching people enjoying the gravity-fed fun offered by the ski lift, KT-22. Their menu is packed full of burger options and other local favorite dishes as well as 13 local and regional beers. They also offer 10 viewing screens for sports games (or ski movies when the time is right).
Truckee
Burger Me: Burger Me is that "cool" spot to get a burger if you are in the Truckee area. Their menu is huge; with options 
including
 beef, bison, chicken, turkey, lamb, ahi tuna, cod and 
veggie
 options. They also offer sweet 
potato
 fries, garlic fries or regular fries as well as hand-dipped onion rings. To top the meal off, they have handmade shakes and malts as well as soda, beer and wine.
​After enjoying a tasty burger, enjoy a fun event in Lake Tahoe. Visit our 
Daytime
or
Nightlife
sections to learn more.