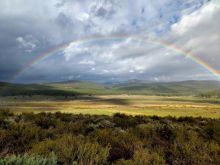 If you read through my blog posts, you know that one thing is absolutely clear: I truly believe Lake Tahoe is an amazing place.
With so many positive points, its exquisiteness can be overwhelming. The way that the mountains create a mesmerizing frame to an ever-changing face of a moody lake is reminiscent of Europe in many ways. From the trail system to the various ski areas, from the gourmet dining opportunities to the engaging people who call her home, Lake Tahoe is filled with fantastic surprises.
In respect to all of the intriguing aspects to this place, I thought a post dedicated to fun facts about Lake Tahoe was in store. So here you go. Here are 25 amazing aspects to Big Blue and her surrounding area.
Lake Tahoe is aging gracefully, clocking in at 2 million years old!

Lake Tahoe is unique in that it is endorheic basin. This means that it drains into the Truckee River and instead of flowing toward the ocean as most rivers do, it flows east into the mountains with a final destination in Pyramid Lake.
If you were to dump Lake Tahoe out into California, it would fill the state to a depth of 14 inches.
Lake Tahoe contains 39 trillion gallons of water, which is enough water to supply every human being in the United States with 50 gallons of water every day for five years.
A city the size of Los Angeles could be supplied with its water needs just by the amount of water that evaporates from the surface of Lake Tahoe each day (330 million gallons).
Lake Tahoe is one of the purest water lakes in the world, with the water coming in at 99.994% pure (this is close to distilled water that is 99.998% pure).
Lake Tahoe ranks amongst the world's 20 oldest lakes.
Our year-round, longterm population for the basin is 53,000 people. This number surges during the peak seasons and can hit 300,000 people.
Although many believe that the Lake Tahoe Basin is of volcanic origin, it actually was formed by faulting, (when fractures in the Earth's crust allow land to rise and sink).
The earliest recorded snowfall in Lake Tahoe was on September, 11, 1952.
Lake Tahoe is surrounded by five peaks that are over 9,000 feet, including Rubicon Peak (9,183'), Mt Tallac (9,735'), Pyramid Peak (9,985'), Mt Rose ((10,778') and Freel Peak (10,881').
The Tahoe Rim Trail offers 8 different segments within a 170-mile trail system.
The lighthouse located on Rubicon Trail was once considered the world's highest working lighthouse.
The surface of Lake Tahoe's water temperature varies depending on the season, ranging from 41 to 68 degrees F. Just below the surface at a depth of 600 to 700 feet the water stays the same 39 degrees, despite the season.
Crystal Bay is the deepest part of Lake Tahoe, measuring in at a staggering 1,645 feet below the surface (a depth that would swallow the Empire State Building).
One inch of the water of Lake Tahoe equals approximately 3.33 billion gallons of water.
In total there are 23,900 vertical feet to be skied in Lake Tahoe; all of that is accessed by 935 different ski runs and 184 ski lifts.
Lake Tahoe tap water has been named the best tasting tap water in the United States.
In an average tourist year, 2.7 million people visit the shores of Lake Tahoe.
There is reported to be a Loch Ness-type monster that lives in Lake Tahoe. Her name is Tessie.
Lake Tahoe is the second deepest lake in the United States. Crater Lake in Oregon is the deepest.
Lake Tahoe is 22 miles long and 12 miles wide.
The circumference of the lake measures 72 miles.
The surface elevation of the lake averages out at 6,225 feet.
There are 63 different tributaries that release water into Lake Tahoe, but only one release valve, being the Truckee River.
Many of these fun facts were offered by TahoeFund.org.
To enjoy all of these amazing aspects, check out the events happening around the lake in our Daytime and Nightlife sections.
Photos: Tahoe.com