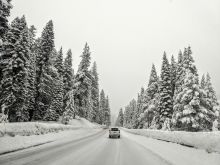 Lake Tahoe is getting pummeled by snow.
The last few weeks have brought feet upon feet to the Sierra Mountains. This is a wonderful thing for the long term, but for the short term it has created many trials and tribulations for travelers and locals.
With many of the ski areas shutting down operations because of the extreme weather as well as Interstate 80 (the main way to get in and out of town) closing down because of conditions, driving around the basin has been treacherous, to say the least.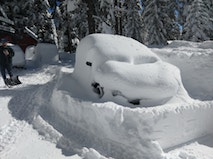 Knowing how scary it is to be caught on the wrong side of circumstances in an automobile on a icy road in a snowstorm, I thought I would share 11 snowy road driving tips. Please share these as they could save a life, or at least a lot of unnecessary trouble.
Make your plans close by. The number one rule of driving in the snow is this: Don't (if you can). Driving in the snow is something to be avoided at all costs. This is especially true when we are getting hit with 10 feet of snow. Just because you drive a new 4WD truck with studded tires doesn't mean it is meant to drive in crazy conditions. To help emergency personnel, highway patrol and all of those working in the snow, try to have your fun as close to your lodging as possible. The alternative may involve digging yourself out of a snowy ditch.
Take your time. If staying home isn't an option, then please drive very slow and cautiously, leaving a ton of space between you and the car in front of you.
Stay off the brakes. This may seem counter-intuitive, but brakes are not your friends in snow. Use your gearing to slow yourself down.
Do everything with ease. Try to do all actions as if you are moving through molasses. When accelerating or decelerating, do it slowly. Never slam on the brakes.
Braker, Braker. When you do have to brake, here's a little tip: Keep the heel of your foot grounded into the floor of your car at all times. To brake use the ball of your foot to apply the smooth pressure needed to brake in snow correctly.
Keep your momentum. One of the bigger no-nos when it comes to driving in snow is coming to a stop. That stop may just keep you in your place … a lot like quicksand. This is especially true when going up hills. It is important to note, though, you don't want to apply too much gas when traveling up hills, as this will make your tires spin.
Get proper snow chains. Whether or not you are traveling in a 4WD truck or all-wheel-drive car, you are going to want to carry chains with you at all times. The last thing you want is to travel halfway to your desired destination only to be stopped at a chain-control stop for being under-prepared.
Know your chain requirements. Speaking of chains, be aware that there are three different levels of chain controls in Lake Tahoe. Level one requires that chains, traction or snow tires are on all vehicles except 4WD. Level two requires chains or traction devices on all vehicles except for 4WD. Level 3 requires chains on all vehicles.
What to do when you approach chain control. It is mandatory to slow down and come to a stop if asked to by control. Speed limits in all chain-control areas are 25 mph. Oftentimes there are people available for hire to help put chains on at chain-control areas, though not always. Be sure to pull completely off the road to put your chains on.
Always drive with your lights on. Even in daylight hours, please be sure to travel with your headlights on. It helps considerably with others being able to see you.
Last but not least, never travel without extra warm clothing, food and a shovel in your car. The shovel alone can save you from experiencing hypothermia and frostbite.
Please be sure to visit our Daytime and Nightlife sections to learn about fun activities to do in all of this wondrous snow.
Photos by Tahoe.com