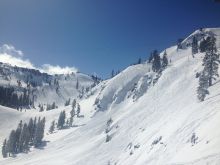 What a beautiful last few weeks! Lake Tahoe has enjoyed plentiful amounts of snowfall, which left in its wake a splendid amount of powder to play in.
All around the basin are fabulous ways to get out and enjoy yourself. Whether you are partaking in winter wonderland offerings like snowmobiling, xc skiing, snowshoeing, backcountry skiing, hiking, sledding or some other enjoyable activity, there is a level of knowledge that is important when it comes to enjoying fresh snow in the mountains. To keep you safe and your fun factor high, keep reading to learn 10 must-know tips for enjoying the splendor of the backcountry after a winter storm.
Layer it up. When it comes to warmth, your best friends are layers. Be sure to always have a light base layer that you can strip down to if you find yourself exerting yourself so much that you start sweating. The next layer (or layers, depending on the temperatures) should provide warmth, and your top layer should be a Gore-Tex type material that is breathable and waterproof.
Cotton kills. Not to be melodramatic, but this is an actual saying in the mountains. The reason cotton kills is because the minute it gets wet it is worthless. Not to mention, it takes a while to dry, forcing you to sit in wet, cold clothes, which very quickly can lead to hypothermia and, possibly, death.
Extra supplies save lives. You never know when your trip in the mountains could potentially become what we call an "epic". An epic is an adventure that nearly leads to never seeing loved ones again, or a trip so intense that death might have been a relief. To avoid an epic, always – and I mean always – carry a backpack with you. Within that backpack, at minimum carry water, food and an extra layer of clothing.
Be avalanche smart. If you venture out into the mountains after a big storm, a few items are mandatory, especially if you are going to be playing with any vertical relief or traveling at the base of mountains that have the potential for avalanche. Those items include an avalanche transceiver (otherwise known as a beacon), a collapsible snow shovel (for easy transport) and a snow probe. Of course, along with having the equipment, it is also vital to know how to use it all effectively for it to work. Take the time to take an avalanche course of some sort that will give you practice in dealing with a potential that exists if you are going to be playing in powder.
Don't layer your socks. This might sound counter-intuitive – the more socks, the warmer my feet, right? Well, actually no. The problem comes into effect from the wrinkle that will eventually arise when two or more layers of socks are worn. This little baby wrinkle can cause a huge amount of problems by cutting off circulation, causing cramping and cold toes. To keep your feet their warmest, find a well-insulated pair of socks that snuggly fit your feet, without binding the toes.
Give yourself extras. If you are traveling out into the wilderness, it is a great idea to carry an extra pair of gloves, an extra hat and even an extra pair of socks. More than once, these little jewels have come to my rescue while adventuring out in the mountains.
Vary your hydration. Although water is important, to help keep electrolyte levels in balance, be sure to bring along a bottle of Gatorade or a similar drink. This can help the body tremendously in working at its most proficient level.
Break 'em in. A big no-no in the backcountry world is to try out your new gear on a big adventure, without first making sure everything is working as it should on something easy. This is especially true when it comes to your ski boots. Ski boots can be torture devices, and the last place you want to discover this is three hours back in the mountains.
Let your loved ones know. If you are taking a stroll in the winter wonderland, please let someone know where you are going and when you expect to be back. This pertains to even short wanderings that aren't meant to be long. Sometimes things in the mountains don't always work out as we expect.
Have sun protection. This may be just as important as all the rest, especially for the eyes. The sun reflecting off freshly fallen snow can create a glimmer to the eyes that over an extended period of time can cause blindness. Wear eye protection! Snow blindness can occur over a day excursion and may not be noticeable at first, but it is a horribly painful experience once it sets in. Also, be sure to have a strong sunscreen, as the glare from the sun off the snow onto the skin is quite strong as well.
Be sure to take a gander at the plethora of fun activities happening in our Daytime and Nightlife sections.
Photos by Shanie Matthews