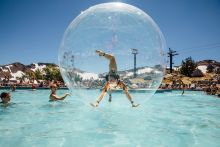 If you have yet to enjoy the splendor of the annual global festival called Wanderlust, then you must make it a priority this year. A gathering centered on the joy found through yoga, meditation, mindfulness and live music, Wanderlust is a fabulous opportunity to be surrounded by those who appreciate the sweetness of inner joy. A four-day get-together that pulls thousands of people to the Lake Tahoe area, the gala always happens in the Village of Squaw Valley. From July 19 to 22 the entire valley will be swarmed by those who love to move, groove and feel the bliss within. 
Are you still not certain if this is the year to partake in this joviality? Check out these impressive new offerings for 2018.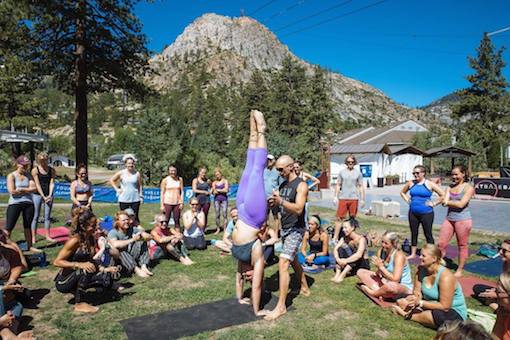 ~ The teacher line-up is beyond amazing! Each year brings a different array of teachers to Wanderlust. This year is especially exciting for me as one of my all-time favorite teachers, Elena Brower, will be coming to Tahoe. Her sparkle is reason enough alone to participate, in my humble opinion, but there will also be other yoga teachers like Gerry Lopez, Eoin Finn, Shiva Rea, Peg Mulqueen, Sat Siri Dougherty, Kadri Kurgun, Govind Das and Radha, Meg McCraken, Schuyler Grant, Noah Mazé, Chelsey Korus, Briohny Smyth, Caley Alyssa, Derek Cook, Joseph Barnett and Donovan McGrath. There will also be star local teachers offering their magic, like Sherry McConkey, Shari Beard and our Living in Lake Tahoe interviewee, Lauri Glenn.
~ Learn the benefits of HIIT. The impressive High Intensity Interval Training program is superb at taking your fitness to the next level. Learn the basics as well as how to be safe and efficient during HIIT workouts.
~ Let your artistic side shine. An exciting addition to Wanderlust this year is the inclusion of Jamie Gaviola and her stunning artistic ways. She will paint mandala patterns on participants' mats, helping to invoke an interlacing of art, meditation and the practice of yoga.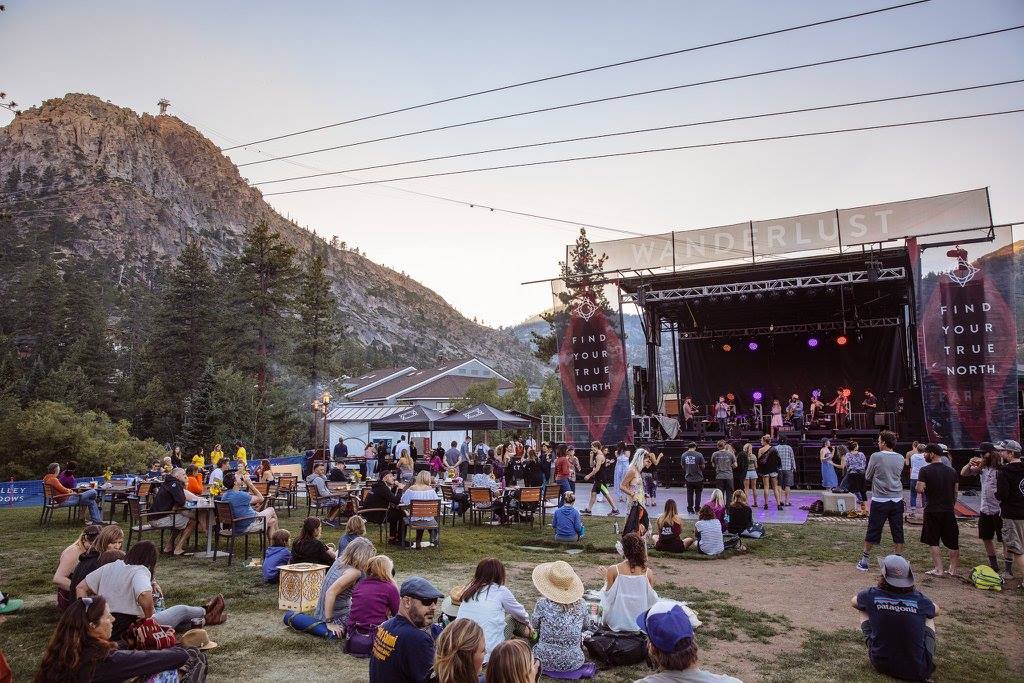 ~ Get your boogie on! For the first time ever, Wanderlust has created its very own house band assembled of Grammy award winners, funk all-stars, soul sisters and kings of blues. Eric Krasno, Danny Mayer, Louis Cato, Mary Corso, Allen Stone, Robert Randolph and Steve Swatkins will offer their toe-tapping shows on both Friday and Saturday evenings. Beyond the house band, there will be other impressive live music acts, including Garth Stevenson, Ron Artis + The Truth, October's Child, Roothub and SuperTallPaul.
~ Find your best self. This year has Rock Your Bliss joining in the celebration. Created by Mary Beth LaRue, this incredibly inspiring life-coaching company is ready and willing to help you dissolve those blockages that hold you back from creating your best self. 
~ Expand your life. Some of the most beautiful aspects to Wanderlust are the speakers. Each year there are different lectures, termed Speakeasy Talks. This year's speakeasy includes the witty and transformative Kyle Cease, the hug man, Ken E. Nwadike, Jr. and Lauren Zander, co-founder and chairwoman of the Handel Group, an internationally renowned life-coaching company. 
~ Get wined and dined. One of my favorite aspects to Wanderlust is the level of gourmet food and exceptional wines that are available. Beyond the scrumptious food court that plays homage to many local eateries, there is also the Farm to Table Dinner that is a festival in its own right. A family-style extravaganza, the buffet offers grilled meats and veggies as well as local and seasonal sides. To bring more love to the experience, there will be live music and plenty of time to enjoy the stunning views and your post yoga glow.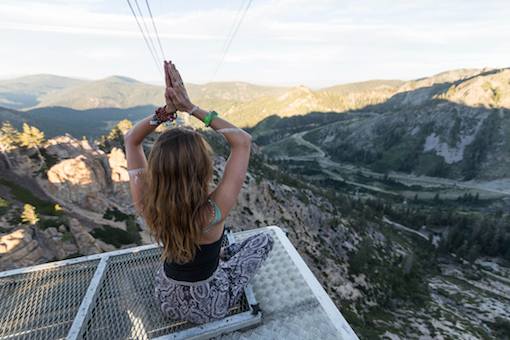 ~ Get amped! This year brings Donovan McGrath and his awe-inspiring Amplified Yoga, which combines deep house beats created by a live DJ, Kundalini technology, the breath, meditation and free-form movement to import you into a state of highest potential.
~ Feel the love outside. Enjoy the stunning scenery with local Quincy Young as you meander along scenic single-track trails. Along the journey she will share Tahoe stories and point out native flora and fauna.
~ Get your fix. A once-in-a-lifetime opportunity awaits you this year with FIXX coming to Wanderlust Squaw Valley. A breath-based asana class set to a unique and engaging soundtrack, FIXX is a purely Wanderlust activity that is normally only taught in their Los Angeles studio. 
~ Go deeper. Enjoying yoga without the nectar of meditation is like creating an amazing meal and then not eating it. Thankfully Wanderlust offers some great ways to dive deeper into your meditation experience with teachers like Light Watkins, Clio Manuelian, Aya & Tyler and Erin Ward.
Are you interested in learning about other activities happening in Lake Tahoe? Please be sure to check out our Daytime and Nightlife pages to learn more.
Photos: Melissa Gayle Photography and Wanderlust