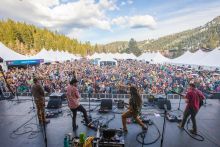 Excitement is in the air. And it's not because of all of the snow that we've been blessed with. The return of WinterWonderGrass is just around the corner!
A world-class music festival that disappeared for the last three years due to the pandemic, WinterWonderGrass is one of those experiences that shouldn't be missed. The seventh edition of WinterWonderGrass California will return to Palisades Tahoe from March 31 to April 2 with a lineup of 25 bands and four stages. In addition, 15 fifteen breweries will participate in beer tastings. The Beer Hall also will serve whiskey and spiked seltzer, and the festival grounds will feature a coffee bar, several food trucks, a kids' zone and more.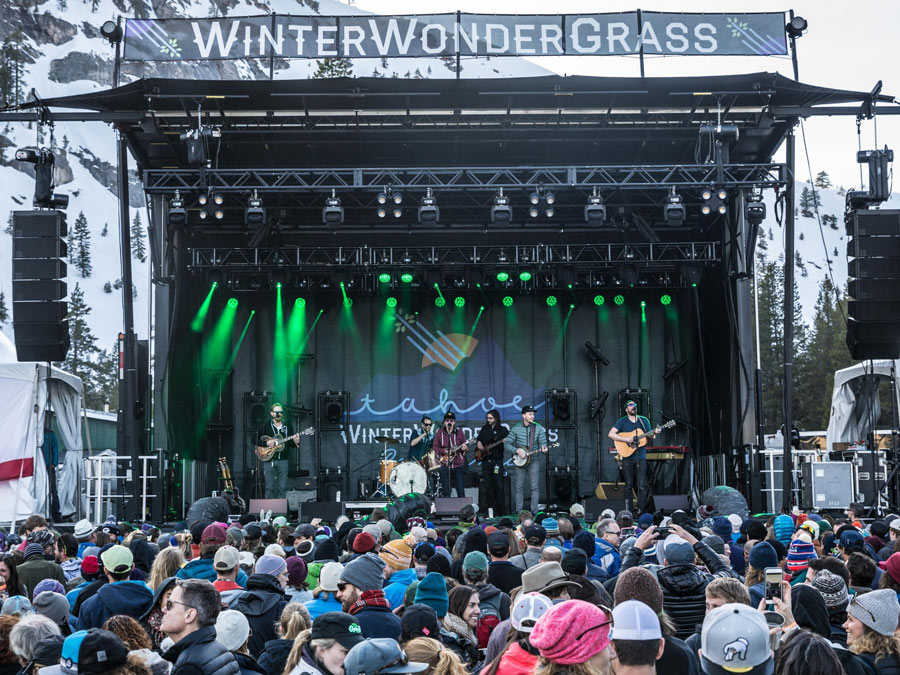 Accessing the WinterWonderGrass Line Up
The pre-party on March 30 is an excellent way to kick-off the festivities. The best part? It's a free event, so there's no need to worry about tickets. You can catch the concert at the Village Plaza without any hassle. What's more, you can enjoy even more free shows at the same venue during the festival weekend, including shows at Gold Coast on top of the mountain from 12 to 2 p.m. on Saturday and Sunday.
After the main stage performances are over, don't forget to check out the Grass After Dark late-night shows at various venues in the Olympic Valley. Keep in mind that you'll need separate tickets to attend these events.
The WinterWonderGrass California Box Office opens daily at 1:45 p.m., and you can enter the festival grounds at 2 pm. Be sure to take advantage of the free beer, whiskey, cider and seltzer tastings for guests aged 21 and older from 3 to 5 p.m. The festival also features an incredible lineup of music at the main stage that wraps up at 10 p.m. on Friday (March 31) and Saturday (April 1), with the festival concluding at 9 p.m. on the last day (April 2).
Get ready to immerse yourself in the world of bluegrass, Americana and roots music at WinterWonderGrass – it's going to be an unforgettable experience! To give you a tasting, here's a look at just 10 out of the 25 bands on the WinterWonderGrass line up.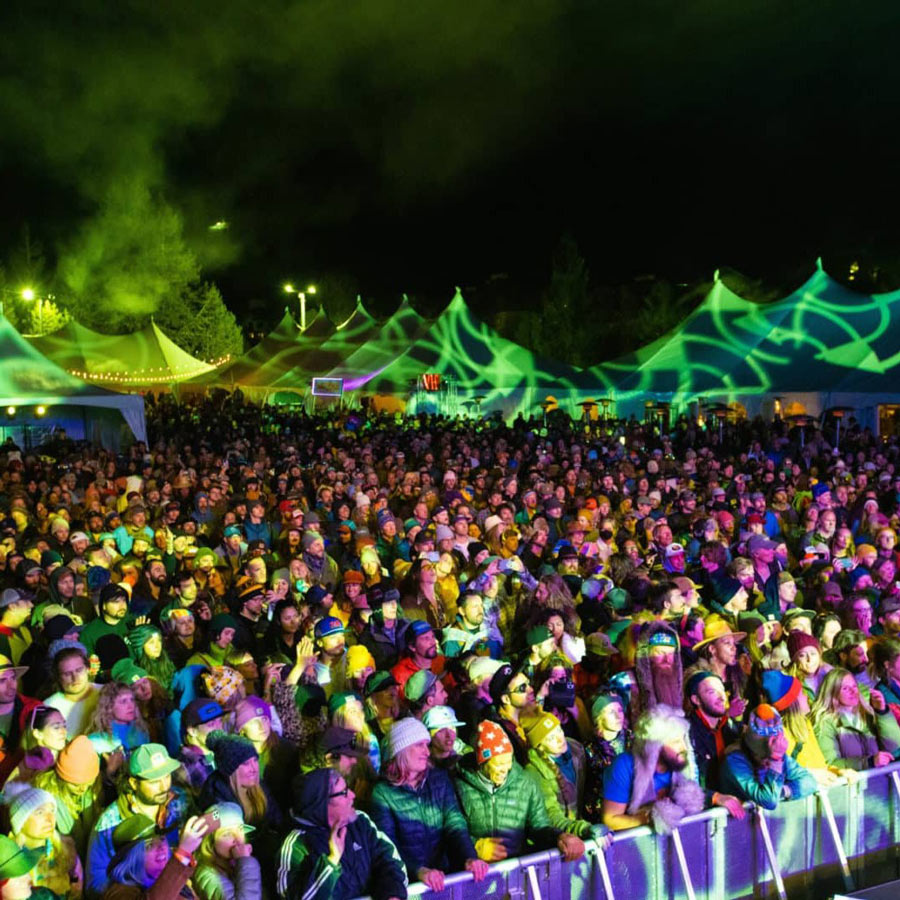 The Bands
Trampled By Turtles: Trampled by Turtles was formed in Duluth, Minnesota, in 2003 as a side project by frontman Dave Simonett after his music gear was stolen. He pieced together a new band inspired by bluegrass, folk and other genres that didn't rely on amplification. Their contemporary sound in the traditional bluegrass genre earned them a top spot on the bluegrass charts as well as crossover appeal with appearances at major festivals like Coachella, Bumbershoot and Lollapalooza. The band has toured with notable acts like Wilco and Lord Huron, and their latest album, Alpenglow, was produced by Jeff Tweedy of Wilco.
Greensky Bluegrass: Greensky Bluegrass, the first headliner at WinterWonderGrass in Edwards, Colorado, back in 2013, is making a comeback to the festival after three years. Hailing from Kalamazoo, Michigan, the band has gained critical acclaim from Billboard, Parade, NPR and Rolling Stone, representing the genre for a whole new generation. Their second #1 debut on the Billboard Top Bluegrass Albums Chart and third straight Top 3 entry, All For Money, marked their success in 2019. Greensky Bluegrass has come a long way from open mics and weekly sessions, fine-tuning a high-energy live show that resembles the full-on spectacle of arena rock.
Marcus King: Marcus King, a Grammy Award–nominated artist and performer, was born to play music. He performed for the first time at the age of eight alongside his family and has since logged countless miles on the road with The Marcus King Band, earning a reputation for his unmatched performance skills and dynamic live shows. King's solo debut album, El Dorado, produced by Dan Auerbach of The Black Keys, received a Grammy Award nomination for Best Americana Album and was widely praised by NPR, American Songwriter, Rolling Stone and more. He has shared the stage with Chris Stapleton, Greta Van Fleet and Nathaniel Rateliff and has performed at Stagecoach and other major festivals. In 2022 King released his latest album, Young Blood, a full-on rock 'n' roll record made with Auerbach that's sure to get audiences moving.
The Lone Bellow: The Lone Bellow, a Brooklyn-based band, is set to make their WinterWonderGrass debut, bringing with them their signature transcendent harmonies, serious musicianship and raucous live performances. The band first burst onto the scene in 2013 with their self-titled debut, quickly earning recognition for their talent. Three years have passed since their victorious Then Came The Morning was released, and the band has been hard at work on their new album, Love Songs for Losers. Departing from their past work with elite producers, the Nashville-based trio took on the task of producing the album themselves, resulting in a singular sound encompassing everything from arena-ready rock anthems to gorgeously sprawling Americana tunes. 
Molly Tuttle & Golden Highway: Molly Tuttle, an award-winning guitarist and insightful songwriter, is set to grace the WinterWonderGrass stage. Known for her signature sound and boundary-breaking songs, she will be performing tracks from her debut album, When You're Ready. Among her most personal work is the song "Crooked Tree," which she revisited during a trip to her grandparents' farm, where her earliest childhood memories were made. Despite doubts about whether the song fit the album, encouragement from Jerry Douglas and the idea to have her dad sing on it made it one of her favorites. With her expressive, crystalline voice and astounding flat picking guitar skills, Molly Tuttle is sure to make history at WinterWonderGrass.
The Main Squeeze: Formed at Indiana University in 2010, The Main Squeeze quickly made a name for themselves as a party band. Their self-titled debut LP in 2012 was just the beginning, as they followed up with the critically acclaimed Mind Your Head, produced by Randy Jackson. The band's third album, Without a Sound, was released in 2017 to great success. In 2020, they dropped their fourth full-length album, 12345, featuring their signature blend of funk, soul and rock. WinterWonderGrass is excited to welcome The Main Squeeze to the stage for a performance that's sure to get everyone grooving.
Neal Francis: Neal Francis, a new addition to WinterWonderGrass, brings a unique blend of outlaw country and self-awareness to the festival. His latest album, In Plain Sight, showcases this blend, mixing a sound that is both entrancing and honest. Produced by Grammy Award-winning Dave Fridmann, who has previously worked with artists such as HAIM, Spoon, The Flaming Lips and Tame Impala, the album features Francis working alongside Changes producer Sergio Rios, known for his work with artists such as CeeLo Green and Alicia Keys. With his debut album receiving critical acclaim from various publications and radio stations, including KCRW, KEXP and BBC Radio 6 hailing him as the "reincarnation of Allen Toussaint," Neal Francis is definitely an artist to watch out for.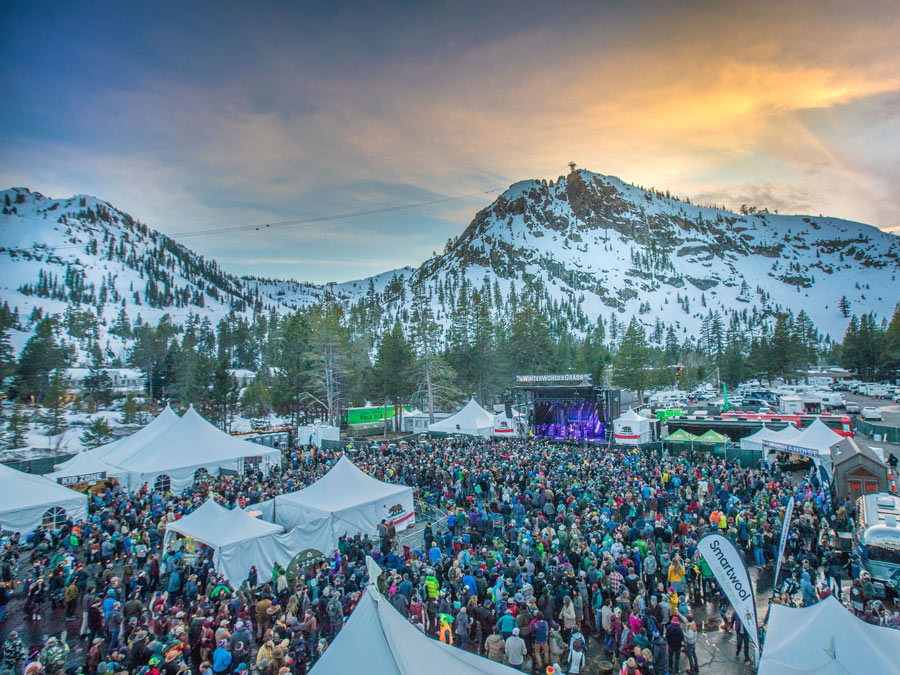 The Brothers Comatose: Bringing their unique West Coast twist on traditional bluegrass, country and rock 'n' roll to WinterWonderGrass, The Brothers Comatose are set to electrify the stage with their fierce musicianship and rowdy, rock concert-like shows. Comprised of brothers Ben Morrison (guitar, vocals) and Alex Morrison (banjo, vocals), Steve Height (bass, vocals), Philip Brezina (violin) and Greg Fleischut (mandolin), this five-piece string band is known for their sold-out shows at The Fillmore and appearances at festivals like Hardly Strictly Bluegrass. When they're not on tour across America, Canada, and Australia they host their own music festival, Comatopia, just down the hill from Lake Tahoe in the Sierra foothills. Get ready for a foot-stomping good time with The Brothers Comatose at WinterWonderGrass.
Della Mae: Della Mae, a string band based in Nashville, has been a dynamic live act since their formation in Boston in 2009. Their unique blend of bluegrass and Americana, combined with the individual musical styles of each member hailing from different states in the U.S. and Canada, make them a beloved band. They have won IBMA's Emerging Artists of the Year in 2013 and were Grammy nominees in 2014 for their debut album on Rounder Records. Rolling Stone named them among the 10 bands to watch for in 2015. Their efforts to spread peace and understanding through music have also led them to travel with the U.S. State Department to more than 18 countries. 
Lindsay Lou: Lindsay Lou is a rising star who will be bringing her soulful and poignant music to the WinterWonderGrass festival. As an undeniable powerhouse, she demands the listener's attention with her remarkable gifts as a singer, songwriter, musician and performer. With her unique ability to create an expansive and tangible soundscape, Lindsay Lou's voice embodies both fierce intensity and tender intimacy, leaving her audiences spellbound.
Learn more about the WinterWonderGrass festival as well as the other fun events happening around the lake by visiting our Daytime or Nightlife Pages.
Photos courtesy of Palisades Tahoe