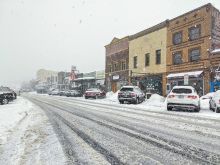 We were having an everlasting summer up here in Tahoe until yesterday. Mother Nature brought in a strong storm that is carrying with it a lot of wind and moisture as well as severe cold. The lows for the freezing temperatures are in the single digits, making this first round of snow very cold. With three more storms stacked behind this current example of winter's power, as we like to say in Lake Tahoe, "It's on!"
This combination of holidays and extreme storm conditions can spell out disaster if you're not careful. It's causing many car accidents on Highway 80 and the resulting closure of the interstate in both directions, so please proceed with awareness and caution. Here are five bits of advice to help you have a happier and safer Thanksgiving holiday in Lake Tahoe. Gobble! Gobble! 
1. Please be sure you are in a proper automobile for the situation. If we are getting snow, then it is mandatory to have an AWD (all wheel drive) or 4WD (four wheel drive) vehicle. Two-wheel drive cars can create havoc for you and others in quick fashion. Things happen quickly when you're driving in snow. You may think you are fine, and then all of a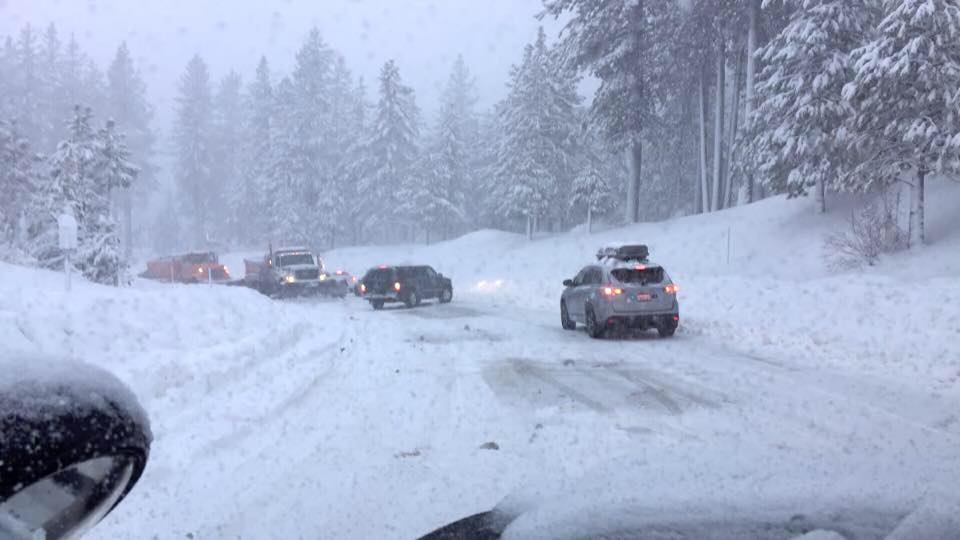 sudden you hit a slick patch on a corner or spin out on a hill, and the next thing you know you are sitting in the front seat of the car that was coming at you. This is a real scenario that I witnessed again for the millionth time just last night. A driver going around a corner in a stunning brand new Mercedes spun out on a corner, taking him into oncoming traffic. 
2. Have your automobile properly equipped. The other aspect of driving in the snow is that you can't skimp on a few things. The first, and maybe most important, aspect is to have good tires that are made for snow. Driving an AWD or 4WD with slick tires is basically the same thing as driving a 2WD. Another item not to scrimp on is a good shovel. This little item can be a savior (speaking from experience). Purchase a shovel that is metal and made for snow. The last thing you need is to break your shovel when you are digging out your car from a snow berm. (Because the snowplow mixes dirt and snow together, the snow that's pushed to the side of the road, i.e. snow berm, is some of the heaviest, shovel-breaking snow you will find!) Also be sure to carry a nice, warm blanket as well as water, a flashlight and extra food.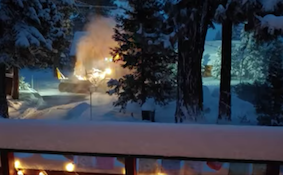 3. Make your outings close to home. If at all possible, try to keep all of your actions as close to where you are staying as possible. The less that we are all on the roads the better. It can be a fun experience finding that little local restaurant that you never knew existed right around the corner. Do a big food shop so you aren't forced to travel to the grocery store every few days.
4. Bring plentiful warm clothing. When I was growing up, one of the things that my parents really instilled in me anytime I was going into the mountains was to make sure I brought extra pairs of warm socks. With that I would like to add, I find it imperative to also have an extra warm hat as well as waterproof, insulated shoes. 
5. Enjoy the quiet. One of the breathtaking aspects of big storms in Lake Tahoe is the stunning silence that lies within the craziness of the storm. I highly recommend gathering your loved ones, dressing up in your warmest clothing and finding a place where you can take 15 minutes or so to experience walking in the midst of the storm. The feeling of nature's power is like no other, yet at the same time there is a deep calmness when you are enjoying the experience with loved ones. 
Wishing you a very grateful and thankful Thanksgiving! Thank you from all of us at Tahoe.com for your connection to Lake Tahoe.
Please be sure to check out fun events all around the lake for this Thanksgiving holiday in our Daytime and Nightlife sections. 
Photos courtesy of Truckee/Tahoe Local Road Conditions, Tahoe Weather and Tahoe.com