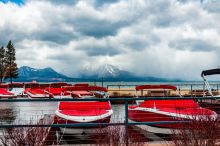 Lake Tahoe is one of those special bodies of water that makes you fall in love with her the first time you set eyes upon her azure glistening surface. The elegant framing done by the Sierra Mountains, the contrast of the emerald green water and snow-capped peaks draw many to her, some never to leave. 
Lake Tahoe mesmerizes. And in return she gives a feeling of serenity, peace and a deep appreciation for the beauty of Mother Nature. Time on her sublime surface is just good for the soul.
With spring here and summer just around the corner, I thought it timely to discuss what you need to know for getting out on Lake Tahoe. Keep reading to learn about where to go, what to do and where to enjoy her presence even more.
Where are the Marinas on Lake Tahoe?
Lake Tahoe has a variety of marinas and boat launches. The options for South Lake Tahoe marinas include the Camp Richardson Marina located on State Route 89, 25 miles north of Stateline; Lakeside Marina at the end of Park Avenue off of Highway 50; Round Hill Pines off of Highway 50 at Round Hill (there is no boat ramp available); Ski Run Marina located on Ski Run Boulevard (no boat ramp available); Tahoe Keys Marina off of Highway 50 and the Tahoe Keys Boulevard; the Timber Cove Marina situated at the junction on Lake Tahoe Boulevard and Highway 50; and the Zephyr Cove Marina located right off of highway 50 in Zephyr Cove (there is no boat ramp available). The area also offers boat ramps at Cave Rock north of Zephyr Cove, Sand Harbor Boat Ramp on State Route 28, 4 miles south of Incline Village and, lastly, the South Lake Tahoe Recreation Area & Boat Ramp located on Lakeview Avenue off of Highway 50. 
For the North Shore, check out Homewood Marina High & Dry off State Route 89, the Kings Beach Recreation Area located at the bottom of Coon Road in Kings Beach, Lake Forest Boat Ramp on State Route 28 north of Tahoe City, North Tahoe Marina in Tahoe Vista, Obexer's Marina & Boat Launch in Homewood, the Sierra Boat Company in Carnelian Bay, Sunnyside Marina on State Route 89, 2 miles south of Tahoe City and the Tahoe City Marina situated at 700 North Lake Boulevard.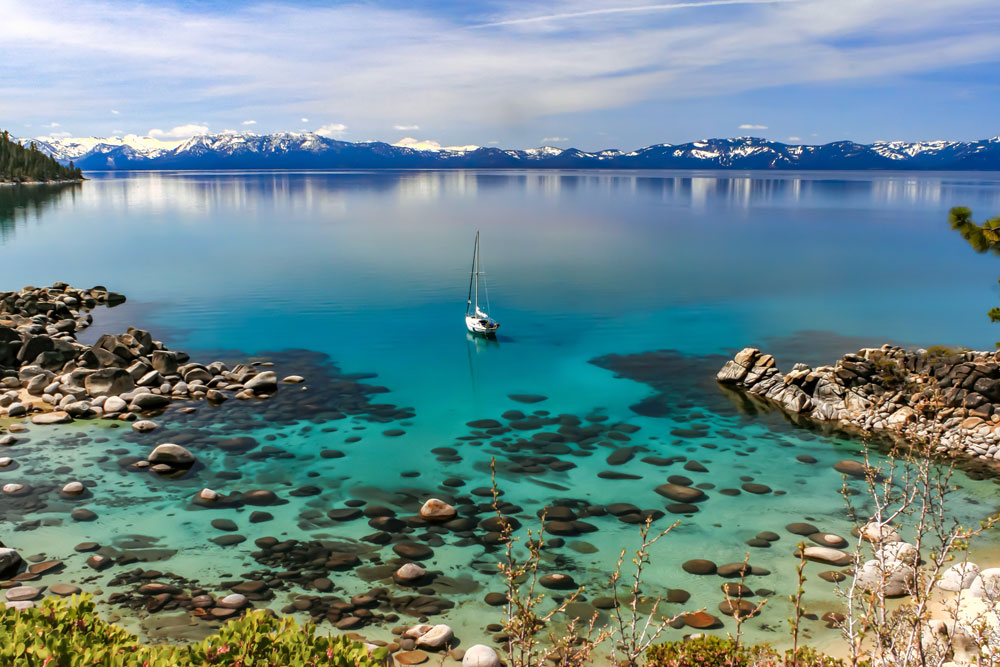 How much does it cost to launch a boat in Lake Tahoe, and is there a pass available?
Launching a boat on Lake Tahoe is serious business, mainly because of the focus of stopping invasive species from entering the waterways. To get your boat on Lake Tahoe you are going to need the Tahoe In and Out pass. This pass includes unlimited inspections during the calendar year for personal watercraft up to 17 feet (cost $60). For boats larger than 17 feet, the cost is $100. There are also Tahoe-Only passes. These are reserved for wire inspection sealed boats from previous seasons that will only be launched in Lake Tahoe. This pass costs $45. Single inspection passes are $50 for boats up to 17 feet or $75 for vessels larger than 17 feet.
Another fee to take into consideration is the Decontamination Fee costing $15 for a single system or wet ballast, $40 for multiple systems or wet ballasts and $200 if it is found that there are mussels attached to the vessel.
Where are the inspection stations for invasive species?
There are multiple places to get your boat checked out for invasive species. Boat inspections are currently available at Cave Rock State Park on the South Shore as well as at the Lake Forest boat ramp outside of Tahoe City, between 6 a.m. and 4 p.m. There are also roadside inspection locations at Spooner Summit, Alpine Meadows and Meyers that open on May 1. The Truckee inspection station opens on May 20. Donner Lake boat inspections are available only at Lake Forest.
Where do I get my Tahoe boat tags?
To make things simple,
Tahoe In & Out stickers
 are only available at roadside inspection stations as listed above.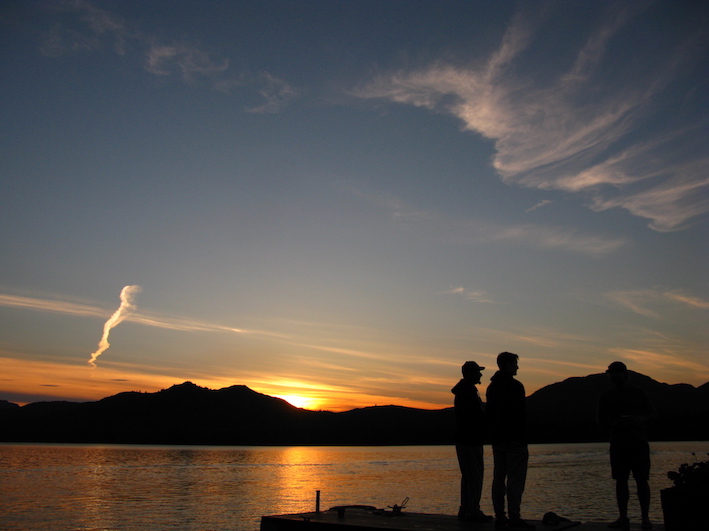 Where can I store my boat?
When it comes to enjoying a boat, most people think of the summer bliss, but to make your boat happy, you will need to find a safe home for it in the winter. For Lake Tahoe, the boat storage is found mainly through our local marinas listed above. Storage is usually done outdoors in dry racks, and pricing begins at $640 a month. If that is above your budget, other options include boat storage in Reno or Sparks, with prices starting at $275 a month, or in the Sierra Foothills for around $200 a month.
It's also possible to rent slips at some of the marinas. Prices start out around $2,000 a month, but they offer premium service. 
Where are the on-the-lake gas stations?
Most of the marinas offer gas options on the lake, though prices are expensive. Expect to find gas prices at a minimum of $6 a gallon.
What if I don't own a boat. Can I rent one?
A stupendous aspect of Lake Tahoe is the various places to rent motor boats. The majority of the marinas have options as well as high-end services that will meet you and even provide a boat captain if needed.
Are there any rules and regulations to boating on Lake Tahoe?
There are definitely some rules of the road (or waves in this case) when it comes to boating on Lake Tahoe. One that is being more tightly implemented is the no-wake policy that requires that no wakes be created by boats within 600 feet of the shoreline or 100 feet of a swimmer or boater. In these cases, boats must remain slower than 5 miles per hour. To learn about other regulations, please check out our article, Lake Tahoe Boating Rules and Regulations.
Are there restaurants with boat valet services? 
One of the most pleasing aspects of Lake Tahoe are the restaurants that offer valet boat service, giving you access to gourmet dining via your boat. You truly can't get any better than that. There are four main restaurants that offer this service, each providing its own unique atmosphere and ambiance. Sunnyside Restaurant & Lodge (also home to the marina) is a fantastic option for those who can't decide if they want to go for burger and fries or take it up a notch with a delectable surf and turf dish. Sunnyside covers all the bases with their two restaurants offered under one roof. Gar Woods Grill & Pier is most definitely a favorite for locals and visitors, not only because of their scrumptious dishes, but also for their internationally renowned frozen rum cocktail, the Wet Woody. West Shore Cafe, located across from Homewood, provides exceptional food, incredible service and a level of classiness that is hard to compare. Last, but most certainly not least, Chambers Landing is the oldest bar on Lake Tahoe. They are a fabulous option for the entire family with an all-ages menu and a kid's menu for the little ones.
Be sure to check out our
Daytime
and
Nightlife
sections to learn about fun events that will pair perfectly with a day out on the boat.
---