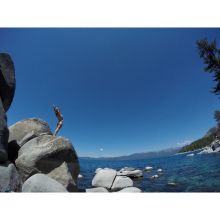 The decision is made: You are going to Lake Tahoe, but you only have 36 hours to enjoy her splendor. How do you make the best use of such a short amount of time? Figuring out what to do with that precious time in paradise is a real dilemma. There are so many great adventures awaiting that the deciding process can seem overwhelming.
So I thought it would be helpful to approach a 36-hour visit from a local's point of view. What would a local do with this cherished blink of time? Drum roll, please...
Arrival
Once you have arrived in North Lake Tahoe, chances are you are staying in Truckee, Squaw Valley, Alpine Meadows or one of the tiny communities along the lake, including Tahoe City. Upon checking in to your accommodation, your first move should be to get to the lake. Although the entire Lake Tahoe basin is a treasure, the real splendor lies in the varying hues of blue of the water and the engulfing feeling of the framing mountains that brings that certain sparkle. No matter what time of day you arrive, the lake will offer magic. If your arrival happens in the morning hours or early afternoon, check out the East Shore beaches such as Hidden Beach or Chimney Beach (or Secret Cove for the nudists in the family). All of these beaches require a small to medium walk, so come with a picnic, blanket and sunscreen and be ready to make a day of it.
If your arrival is in the evening, a great way to take in the splendor of Lake Tahoe is to enjoy a cocktail and scrumptious meal from one of the many upscale lakeside dining opportunities. A few that deserve recommendation include Jake's on the Lake in Tahoe City, where the food, views and people watching are spectacular; Sunnyside on the West Shore of Lake Tahoe, known for its easy approach via boat and its fish tacos; or Granlibakken, which is globally known for its rum libation, the Wet Woody.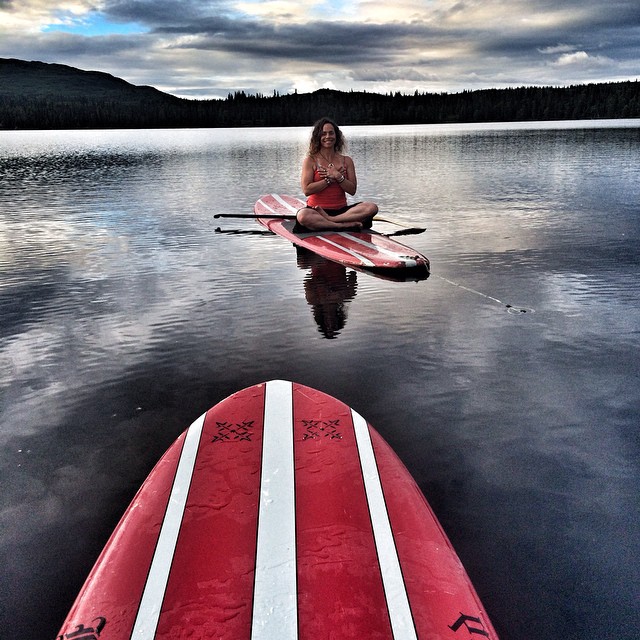 The Morning After
So you have arrived and played a little and your one morning in Lake Tahoe is upon you. A great way to start your day in Lake Tahoe is by paddleboarding. Various companies rent boards, and guide services can assist on an adventure. The feeling of peace that fills the space around you while paddling through early morning mist is a state of bliss all should experience. Follow up this yummy paddle with a view-enhanced yoga class, if in Tahoe City, at either The Yoga Room or Mountain Lotus. If enjoying the life in Truckee, you can enjoy a paddle on Donner Lake and then follow it up with a enjoyable yoga session at Yoga Studio Tahoe, Tahoe Yoga & Wellness Center or Namaste Holistic Healing Center.
Lofty Lunch
Feeling the bliss, it's now time to take this love into the forest. North Lake Tahoe has amazing trails that are enhanced with stunning views. The best bang for your buck with the least amount of effort is going to be Eagle's Rock on the West Shore of Lake Tahoe near Homewood. A mere 10- to 15-minute walk will gain you views of the entire lake. If you would like more of a mountainous feel, try Paige Meadows (also on the West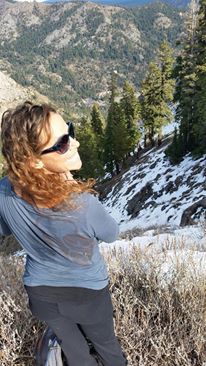 Shore), Squaw Valley's Shirley Lake trail system or Alpine Meadow's Five Lakes Trail. If staying in Truckee, check out the 8-mile Martis Peak Hike, Lock Leven Lakes off the Donner Summit Trail or the Donner Lake Rim Trail.
Before heading on your little excursion, be sure to stock up on tasty treats at some of the lunchtime eateries like the West Shore Market near Tahoma, The Dam Cafe in Tahoe City or the Full Belly Deli in Truckee.
Feel the Bliss
As the day turns to evening, wind down with a little people watching in Old Town Truckee or Tahoe City or enjoy the sunset once again with a view that overlooks Lake Tahoe.
Please visit our Daytime and Nightlife sections to learn about more fun events and things to do to fill your 36 hours of Lake Tahoe enchantment.
Photos: Shanie Matthews