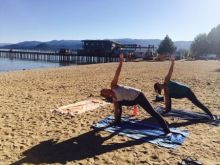 Self-care activities are vital during these times. With COVID numbers increasing and stress throughout the nation high, now is the time – more than ever before – to do things that help us feel uplifted and let the nervous system relax. This not only assists us in keeping good relations with the people we come into contact with, but also helps greatly in keeping our immune system strong.
To help our spirits stay up and keep a smile on our faces, I thought I would highlight some wonderful upcoming events that will assist us in invoking the relaxation response and stimulating the parasympathetic nervous system to assist in restoring health. Here are my top five picks for upcoming get-togethers that will help you in the short and long term. Click on the name of the event for a link to more information.
This multi-day event is superb for invoking the incredible healing powers of the mind through meditation. Meditation has been proven in countless research to improve focus and concentration, self-awareness and self-esteem, lower stress levels and anxiety, boost kindness as well as assist in pain management (whether physical, mental or emotional). With all of these personal benefits, imagine the benefits within society if we were all to practice a little bit of meditation on a daily basis. This fantastic gathering is a wonderful way to feel supported in one of the best ways that we can create self-care. Gr8-full Hearts 2-gether occurs on August 17, 19, 21, 24, 26, 28 and 31 as well as September 2 and 4. In this nine-day channeled video meditation and Reiki series, attendees will explore connecting to the heart and the world around us. All videos are able to be used after the event, and there are payment tiers to make it affordable for everyone. Not to fear if you missed the first few days as enrollment can be at any time. The following is a breakdown of the nine days of meditation: 
Day 1 – Heart and Sacral - Opening the heart to connect in with the infinite magnetic symbol that we are. The connection of heaven and earth through the human form. Coming into a bubble of safety by activating the sacral empowered by love.
Day 2 – Heart and Throat - How to speak with love to create good boundaries while still connecting to all levels of consciousness.
Day 3 – Heart and Root - How to establish your grounded, connected link of unity through the lens of love.
Day 4 – Heart & 3rd Eye – Practice breath and awareness to connect with your divine natural intuition.
Day 5 – Heart and Solar Plexus – Connecting to your inner power and awaking your "I am" capability.
Day 6 – Heart – Deeply engaging the love essence that lives in our hearts to safely share with the world.
Day 7 – Connecting to god and goddess as a singular energy signature. The yin and the yang, the complete circle of one.
Day 8 – Heart and Crown – Opening the expansive network and pathway to divine reflection.
Day 9 – Live event – Joining in unity with our inner spark and sending that knowing glow of love light and magic.
Connect with your breath and your internal wellness at Tahoe Beach Retreat & Lodge for their weekly yoga classes held outdoors on the sandy shores of Lake Tahoe. The classes are free for hotel guests or $20 otherwise. Registration is required to attend. Classes are on Saturdays until September 26 and begin at 8 a.m. Please be sure to bring a beach towel with you. All ages and abilities welcome.
If you have yet to try yoga on a standup paddleboard, then this is something that needs to be put on your bucket list. A meditative way to connect with water and nature, yoga on a paddleboard is a fantastic way to challenge your balance and mind. This all-levels yoga class is perfect for the experienced or newbie, as the lead instructor will teach you the basics with the ability to make poses harder as desired. The class will begin with a little paddle to get into the Zen of things, and then the class will enjoy a beautifully led series that will help you connect with a happier, healthier you. Classes are on Saturdays from 7:45 to 10 a.m. (meet up is at the Donner Lake Watersports on the west end of the lake, outside the park). The cost for the class is $47, which includes a paddleboard rental, or $37 if you have your own board. There is a 10-person maximum for taking this class, so it required to reserve your spot ahead of time.
For those in South Lake Tahoe, this is a beautiful way to connect with Mother Nature in all of her splendor while enjoying a class with amazing yoga teacher Lorilyn Haubrich. This $10 donation-based class is an all-levels class perfect for beginners (pre- or postnatal and injury recovery encouraged). Parking for the class is free; just let parking attendants know that you are attending Yoga with Lorilyn. There will be a healthy 6 feet of distance between attendees during class, and well-behaved and supervised children are welcome. Classes are Fridays, Saturdays and Sundays August 21 through 23 and August 28 to 30. The class begins at 9 a.m.
There's nothing as positive for the body as exercising outside to get the heart pumping and the blood flowing. Sweating it out is not only beneficial for stimulating the release of toxins, strengthening the immune system and regulating hormones, it is also one of the quickest ways we can get ourselves out of a funk and into a better state of mind. There is truly something magical about doing a cardio workout in the mountains, surrounded by trees. In Japan, they have a term for it: forest bathing.  Take advantage of this healing elixir by attending Squaw Valley's upcoming half marathon, or if you want something a little less challenging, try the 8-mile course. Both courses are considered to be fast and flat with the scenic paved route skirting the Truckee River. The race begins at Commons Beach in Tahoe City and finishes at the Village at Squaw Valley, with five aid stations along the way. The half marathon is on Saturday, August 30, with registration beginning at 6:30 a.m.
Please be sure to take a look at other fun and uplifting events happening around Lake Tahoe on our Daytime and Nightlife event sections.
Photos from Tahoe.com