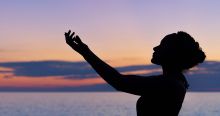 The first few days of 2022 have already come and gone. Time moves so swiftly. Have you made good on those new year's resolutions?
If you are looking for ways to start this new year off right, keep reading to learn about nine upcoming events that will help you keep things moving in a positive direction.
South Lake Tahoe
A Japanese healing technique, forest bathing is a form of rejuvenation for the body, mind and nervous system that is beginning to get more recognition in the United States. Join Felix Brosch as he guides you through a mediative experience surrounded by the lush forest of Lake Tahoe. Through gentle direction, Brosch will allow you the freedom to dive deeply into your own inner sanctuary while connecting with the healing properties of Mother Nature. This event is offered in partnership with Bliss Tahoe and runs every Tuesday at 2 p.m. until June. The cost is $50, and pre-registration is required.
South Lake Tahoe
An event that runs throughout the year, this yoga class is a playful opportunity for all levels of yogis to learn and practice using Iyengar Yoga Ropes. This supported and suspended experience is reminiscent of being a kid playing on the monkey bars or swing set, but it creates healthy body alignment. Considered to be of therapeutic benefit for neck and spine compression, bulged discs and SI, hip and shoulder injuries, the supported inversions utilize the benefit of gravity to gently and kindly lengthen and release areas that feel stuck. This is contraindicated for people who have experienced recent concussions or very high or low blood pressure, vertigo challenges or are in late pregnancy. Students must be older than 18. The classes are held at Tahoe Rising Yoga & Meditation Center and cost $25. They are held every Tuesday at 9 a.m. and Thursday at 5:45 p.m.; pre-registration is required.
South Lake Tahoe
Another highly recommended recurring event at the Tahoe Rising Yoga & Meditation Center, this class is all about alignment-based meditation in movement. It's taught by the talented Lorilyn Satyabhakti, whose detailed instruction will help you in proper physical alignment while deepening your focus and concentration when holding poses. This attention to focus creates a meditative mindset that allows profound personal growth, balance, strength and flexibility. The use of breathwork, or pranayama, is also included with this class, assisting the body in releasing toxins and regulating the various functions. Cost is $17 for drop-in or $150 for a 10-class card. Classes are on Fridays at 11 a.m. year-round.
Enjoying time in the great outdoors with those you love is what starting your 2022 off right looks like. Photo credit Carmen Carr
Truckee
If getting a sweat on is what you are looking for, then you must check out Tahoe Mountain Fitness' new BodyCombat workout. A high-energy extravaganza of punching and kicking, this all-out, martial arts–inspired class will burn 700 calories quickly. There is no contact with others and there are no complex moves to master, but there is a talented TMF instructor there to motivate and inspire you every step (or kick) along the way. First timer drop-in rate is $20 or $28 thereafter. Class packs and memberships are available as well. Check out this event on Saturday, January 8, at 8:15 a.m.
Tahoe City
Creating a mandala offers two gifts of positivity. First, there is something deeply relaxing about creating it. Second, its addition to your home offers a slice of serenity that lasts as long as the piece does. An ancient symbol that represents an ideal universe, the mandala represents the flow of existence ... of having a beginning, middle and end, which leads to another beginning. In this educational class held by North Tahoe Arts, Nicole Stirling helps you create your own mandala utilizing basic geometry and drawing tools. Students will learn how to draw the structural background, creating the foundation of the design, and will have time to draw and color individual patterns. This class is held on Thursday, January 13, from 6 to 8:30 p.m. Pre-registration is required; tickets cost $40.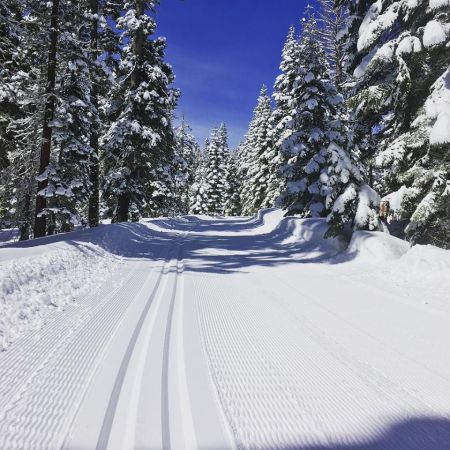 The Old Skool Course is ready for fun. Photo credit Tahoe Cross Country Center
Tahoe City
One great way to start the new year off right is to get out and ski all the new snow we have. To take advantage of our winter wonderland, join the Old Skool Klassic Race festivities at Tahoe Cross Country Center. Bringing back the yesteryear of only one groomed classic cross-country track, the center has created a fun and entertaining racecourse that takes you through the woods. The course will offer passing lanes for those on the fast track wherever the single track crosses the regular Tahoe XC trail system, adding to logistics and fun. Costumes that celebrate the theme "Old Skool" are encouraged. This is an all-ages event. A $20 suggested donation is asked of attendees, with all proceeds benefiting TCCSEA youth programs. All racers will also need a XC trail pass. The race is on Monday, January 17, starting at 10 a.m.
Truckee
Join longtime local Carmen Carr and get to know one of the locals who makes this place shine on a guided hike in which she shares her passion with the community. Offering monthly guided hikes and snowshoe trips, Carr educates attendees about the area. Meet at the Donner Pass winter parking area located a half-mile past The Inn at Truckee. This is a free event and is scheduled for Saturday, January 22, beginning at 9 a.m.
Tahoe Vista
One of the best ways to truly feel the serenity of this beautiful place is to experience the wilderness in the evening hours, when all is silent. Tahoe Adventure Company makes getting out there easy and incredibly special with its Full Moon Snowshoe Tours. These fully guided treks take you in to a beautiful forest while you enjoy the brisk mountain air and the golden light of the full moon. Vista stops, snacks and hot drinks are a part of the excursion. The price for this amazing experience is $85 per person, and there is an age limit of 8 years old. This event is held on on January 17 and 18, February 16 and 17, March 18 and 19 and April 15 and 16.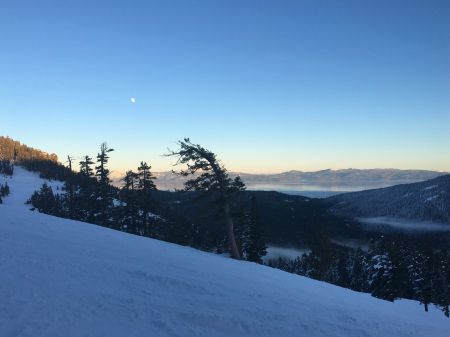 Gratitude and 2022 go hand in hand on full moon tours. Photo credit Tahoe Adventure Company
South Lake Tahoe
Getting outside does a body good, and if starting your 2022 off right is important to you then taking the time to experience the great outdoors with like-minded people through the Barton Wellness Outing should be on your to-do list. In association with Barton Health, this once-a-month gathering is led by a knowledgeable Barton Wellness Advocate, making the experience that much better. The outings are scheduled for Mondays, including February 7, March 7, April 4, May 2 and June 6. All sessions begin at 10 a.m. and are free.
Please be sure to check out other great events happening throughout the year on our Daytime and Nightlife pages.