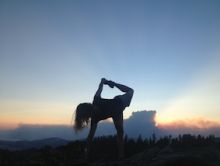 As is the case with communities around the country, Lake Tahoe is flowing with the times by moving many events from in-person to virtual. This is a major bonus for those who want to to be a part of the beauty of the area, but can't –for whatever reason – be in Tahoe. In my humble opinion, I treasure this progression of connection, despite our location. It's easier now, more than ever before, to show love to Lake Tahoe, even if she isn't in your near vicinity at the moment. 
With all of these virtual events in mind, I thought I would give attention to some fabulous, must-attend events that you will want to put on your calendar. Here's to connecting, no matter where you are in the world. 
In hopes of bringing more awareness to the forest fires that are engulfing the West Coast, Oakland writer and naturalist Obi Kaufmann is hosting a virtual journey through the burned forests of the Sierras. His hope is to help people understand fire ecology and fire history by sharing how our beloved land has gone through the transition of recovery after being burnt. As described by Kaufmann, "...this is your chance to journey into the charred woods of California's Sierra Nevada Mountains to explore firsthand the connection between art and science, the impact of climate breakdown, habitat recovery and restoration, and how we can minimize our human footprint to not only allow nature to heal itself, but create a brighter, more sustainable future for ourselves and the next generation." On Friday, September 25, Kaufmann, along with a crew, will take you on this once-in-a-lifetime virtual excursion. Tickets are sold on EventBrite and range in price from $10 to $145 (the latter includes his three books about California natural habitat). 
This is a super-fun event that lasts for an entire month. Created by the Tahoe City Downtown Association, Tahoe City Explorathon is a month-long digital, challenge-based event. Create your own team consisting of two to six people. Then sign up to participate in hundreds of "challenges" that encourage adventure, team bonding, discovering new places, supporting local businesses and having fun! Each team will earn points for successfully completing their chosen activities and then documenting the completion on the event app. The more activities you do, the greater your chance to win some fantastic prizes! Teams are asked to make a donation of at least $10 to play. This event begins on September 23 and runs through October. Please visit the event website for more details. 
For those who enjoy playing games with others, try South Lake Tahoe Virtual Game Night. Every evening from 7 to 10 p.m., people from around South Lake Tahoe virtually gather to enjoy different games together. You'll have the opportunity to try your hand at trivia, charades or Let's Draw (a Pictionary game with a little virtual twist). For those who want to get a bit more festive with your virtual hang out, they also have themed drinking games as well.
Move Mountains is a company in Incline Village that helps you move mountains in your own life. Move Mountains has individual and group programs that help attendees gain the knowledge and inspiration to be a mindful leader, using tools that embody attention, intention and action in every choice they make. They offer virtual meditation and mindfulness practices as well as leadership programs for the person that is ready to take their life to the next level.
One of the best yoga studios in Lake Tahoe, Namaste Truckee is offering classes virtually almost every day of the week. The classes range in difficulty and are done in such a way that you still have access to the instructor and have the ability to ask questions if needed. Yoga at home is a fantastic way to develop a positive habit that will assist you in decreasing disease in your future. Namaste Truckee asks that you sign up for classes at least 30 minutes prior to the beginning of class. You can see their calendar of classes here. 
To learn about other fantastic upcoming events, check out our Daytime or Nightlife event pages.
Photos from Obi Kaufmann and Shanie Matthews