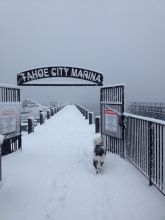 Lake Tahoe is, once again, a winter wonderland. 
The last week has been one of those seven-day extravaganzas that make snow dreams come true. The storm came in strong. It showed us the massive strength that comes with a true Lake Tahoe blizzard. And then it left, leaving in its wake a glorious landscape sparkling with the diamonds of millions of unique snowflakes.
The beauty bestowed upon Lake Tahoe after a winter storm is absolutely breathtaking, but if you are here during the fury of a storm, you may experience the wrath that can come with snowfall. Just this last weekend a friend of mine almost lost his life by getting stuck out in the snow as the storm was coming in. It reminded me of how easy it is to disregard the strength of Mother Nature, the speed in which she can hurt you if you don't play by her rules and the importance of knowing the dos and don'ts if you do choose to play in the Sierras during a storm. 
With another storm on the way, I think it's important to talk winter shop for a moment. Read on for vital information that may save your life, if not a lot of hassle. Here's to having a great time in winter's wonderland!
Travel smart in snowy conditions.
When deciding to travel in Lake Tahoe during storms, it is so important to realize that there is a lot at hand when traveling in the snow. First off, it is imperative to travel with a few things in your possession if you anticipate traveling in snow. For example, always have an extra blanket, a shovel, water, a flashlight and a way to make a fire (i.e. at minimum a lighter). It's also a good idea to have snacks on hand. It's pretty common for Interstate 80 to close completely during storms, which can force people to remain in their cars for hours, in a state of limbo. Having these items on hand can be a lifesaver. Secondly, it is crucial that you're traveling in an automobile set up for winter travel, meaning correct tires, windshield wiper fluid that is for 0 degrees Celsius and an overall well-running car.

It's also important to realize that traveling the roads is much, much different in winter than it is in summer. It might seem like a road that is passable in the summer is passable in the winter, but that is not always the case. Just this last week a traveler leaving from Grass Valley for Truckee (about an hour-plus drive) decided to take a detour when he found that Interstate 80 was closed due to snowfall. He relied on his GPS, which rerouted him onto Highway 49 and then onto Henness Pass Road, because the GPS considered it the shortest route. Unbeknownst to the man, Henness Pass Road is closed in the winter and not plowed. He attempted to drive to Lake Tahoe using this route, which resulted in him getting stuck. He was missing for a week but was able to survive the ordeal due to having the emergency provisions I discussed earlier. 
In knowing what routes are best to take, there are a few different websites that offer a plethora of information. The South Shore Transportation Management Association recently launched a new website the gives you webcams of Meyers, Echo Summit, Echo Lake and Twin Bridges – perfect for those interested in traveling to South Lake Tahoe. This website is great for construction delays as well as accessing links to CalTrans Quick Map, TahoeRoads and NV Roads. The goal of the site is to be a one-stop shop for people looking to drive around Lake Tahoe. Other sites to check out include LocalConditions and the official CalTrans website.
Wear the proper attire.
One of the most vital aspects to enjoying winter weather involves the clothing you are wearing. Enjoying a snowy landscape in jeans and a cotton t-shirt is a recipe for disaster. As the saying goes, "cotton kills." Try to avoid wearing any cotton if possible. The reason being is that it doesn't wick sweat away from the skin and is slow to dry, which will leave a cold layer against your skin and can contribute to hypothermia or, at the very least, being colder than needed. Also, be sure to have outer gear that is snow-proof. In the story I shared earlier about my friend, his major issue was that he decided to go out and play in the snow in jeans. All was fine at first, but it wasn't long before he was soaked. Within a few hours of him becoming wet, his legs began turning purple and his friends had to take drastic measures to save his life.
Other items that should be in your grab bag include gloves and a hat. They, too, can be so incredibly helpful when you least expect it. Another item that can't be forgotten is sunglasses or eye protection of some sort. Snow blindness, destruction of the retinas due to sun glare from snow, is a real and painful reality. And it is amazing how fast it can happen. Avoid the challenge of becoming blind just because you were out enjoying the snow by simply wearing a great pair of sunglasses. 
Lastly, be sure to have a good pair of waterproof shoes. Sorry to keep sharing horror stories, but back in college a friend of mine disappeared and was later found dead in the mountains around Mt Baker in Washington State because he chose to wear basic tennis shoes and didn't have the proper footwear for snow. 

Be choosy on your timing.
One of the best ways to avoid the disaster that can come from traveling during mighty Tahoe storms is to not be around while they are in their fury. By waiting it out a day or two, you are doing yourself and the emergency personnel a favor. Keep in mind that if there is a major storm and avalanches are frequent, roads will close, which results in food not making it to the grocery stores, gas not making it to gas stations and, often times, power poles being blown down, causing major power outages. If this is the case, please be mindful. It is best to let the storm ride itself out and then come up to enjoy the fun.
Stay safe out there!
To make your trip to Lake Tahoe perfect, check out our Daytime and Nightlife sections to learn about entertaining events happening all around the lake.
Photos courtesy of Shanie Matthews