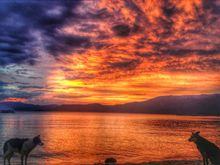 The winter season is coming to a close. You can really feel the coming energy of spring around here. The birds are beginning to show their twittering presence more. The snow is taking on its hero-like corn cycle, making skiing great for any level of skier or snowboarder. The weather is gorgeous and makes enjoying the outstanding views that much easier. Not to mention, the beginning signs of changing seasons get people out and about around the Lake Tahoe area, creating some super fun occasions not to be missed.
Here are a couple of activities that should definitely be put on the hit list….
Pints & Paddles Cruise

An every Wednesday affair, the Pints & Paddles Cruise is a stupendous way to take in the stunning sunsets that tend to occur this time of year. A happy hour lake tour that is considered to be one of the most optimum ways to enjoy a drink and music entertainment from Lake Tahoe favorites' Ike & Martin, I can't say I disagree. I admit I have enjoyed many sunsets with friends and family aboard the Pints & Paddles. The cruise is aboard the M.S. Dixie II and offers a full bar and tasty menu. The boat leaves at 5:30 p.m. from the Zephyr Cove Marina and returns at 7 p.m. Although it isn't required, buying your tickets early saves you $5 on the normally $20 ticket price. Contact Lake Tahoe Cruises for more information.
St. Patrick's Day Festivities
St. Patrick's Day is one of my absolute favorite ways to enjoy fellow Tahoe locals and the luck of the Irish at the same time. A great place to partake in the festive holiday is to visit Northstar Resort. An event that offers a scavenger hunt, face painting, balloon twisting and a skiing Leprechaun, the festival also provides live music, traditional food from Ireland as well as green beer and other drink specials. To keep things lively there is a patio party at TC's Pub. The event is on Thursday, March 17 starting at 10 a.m and going all the way through the day until 9 p.m. at night.
Styx

For those who like to enjoy great music, there is an excellent opportunity coming to us on Friday March 18. Styx, the multi-million record selling rock band is coming to the Montbleu Resort Casino & Spa. An internationally known group with a reputation for rocking out and getting people on their feet and enjoying their music, the Styx are sure to put on a fabulous show. The tickets range in price from $55 to $75. The event starts at 10:30 p.m.
Beacon Bar & Grill Snowshoe Cocktail Race

Are you ready for a fun time that is going to be certain to make you laugh? Then you need to check out South Lake Tahoe's Beacon Bar & Grill's Snowshoe Cocktail Race. This annual event, being held on Saturday, March 19, is a huge hit among locals and visitors alike. And how can it not be? Racing in snowshoes while carrying a full tray of drinks has got to create some hilarious results. Competitors run their booty off while making their way through an obstacle course with the goal of not spilling any drinks. The fastest racer with the cleanest run wins the loot. Sign-up begins at 5 p.m. with the race shortly thereafter. Snowshoes are provided for racers. 
Tainted Love
To finish the week off, a band that has been known to get a full audience dancing to '80s tunes is coming to the Crystal Bay Club at Stateline. A band that I have enjoyed over a dozen times in concert, Tainted Love brings out the beat and the vibe that only the that decade can create. It's highly suggested to come dressed the part. Costumes make the dance floor that much livelier. Tickets cost $25 or $45 for booth seats. The show begins at 9 p.m. This is a 21 and older only show.
This is just a small sampling of the happenings this week! Be sure to check out the day and evening event sections to find more fun stuff to do in Lake Tahoe.