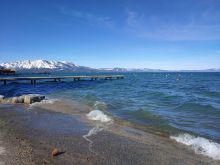 Tahoe.com and LakeTahoeThisWeek.com are committed to the health and safety of our staff, customers and communities.
This is an unprecedented time we're all facing – but we're facing it together.
The Tahoe.com team is following the guidelines of the CDC for frequent hand washing, limiting contact, staying home if sick, social distancing, etc.
As you can see, there is plenty of snow in Tahoe right now and there are still plenty of ways to enjoy being here. Get out and snowshoe, take your four-legged friend for a snowy walk, build a snowman, have a snowball fight, check out a book online from our local libraries and curl up by the fire, play board games, play a game of cards or simply just be together.
Our normal rhythm would be to tell you what's happening this week, and while many events and venues are closed temporarily, many restaurants and shops are adjusting their way of doing business. Some are open and some are open on a limited basis, offering curbside service or carry out, and some closed while we all move through this event.
Our goal and commitment remain the same, to provide visitors and locals with as much current, live information as possible. We are updating our site and content daily.
We encourage you to stay safe, stay connected to one another and take it one day at a time.