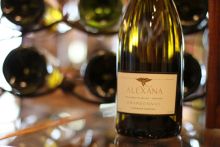 There's nothing quite like a fine glass of wine.
For many wine enthusiasts, a fantastic glass of wine measures up to the same pleasure that is experienced with a gourmet meal. In fact, one of the delights of enjoying wine is how each glass is an adventure into the unique smells and tastes offered by each bottle, much like delectable cuisine. Combine wine's natural abilities to release the feel-good brain chemicals of serotonin, dopamine and opioid peptides with all of its other alluring benefits, and it is no wonder that wine is favored by one in three people, according to the Wine Intelligence U.S. Landscapes 2020 report.
This love for wine translates to a need for specialty wine stores. Luckily for us in Tahoe, we have a handful of businesses dedicated to connecting customers with the best that wine can offer. Keep reading to learn where to find your next favorite glass of vino.
Photo: A glass of chardonnay never disappoints, especially when served at The Cork & More. Photo courtesy of the Cork & More
South Lake Tahoe
The Cork & More is a beautiful example of a store that is beloved by its community. Coming upon a half century of service to the South Lake Tahoe region, The Cork & More is more than just a wine shop, it is a Tahoe institution. Their connection to wine runs deep, beginning more than 40 years ago with tasting and assembling wines from around the world. This dedication resulted in a collection that is not found anywhere else, with prices ranging from $9 to where money is no object. The Cork & More is also known for their vintage bottles. You can try their many offerings at their tasting bar or enjoy their wines by the glass at one of their bistro tables. To match their incredible wine selection, they also offer a food market that resembles a boutique shopping experience in Napa Valley, filled with fine cheeses, specialty fare and gift baskets as well as a superb deli. For the holidays, The Cork & More also offers an entertaining seasonal decor section that should not be missed.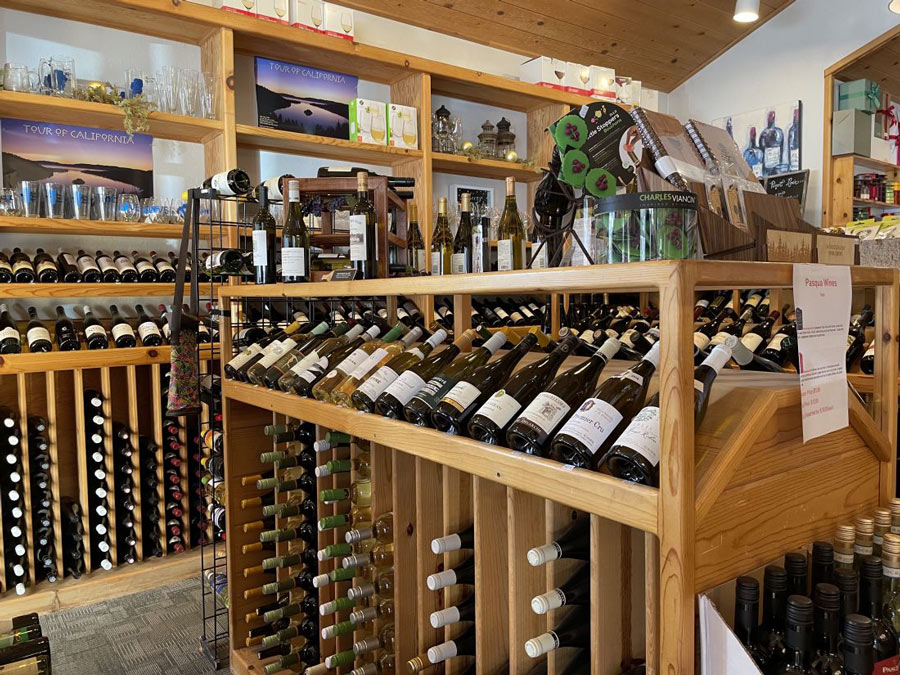 A vast selection of wine allows for all taste buds to find something they love. Photo courtesy of The Cork & More
Truckee, Tahoe City, Olympic Valley
Uncorked is such a favorite in North Tahoe that it had to expand beyond its start in Olympic Valley to the neighboring towns of Truckee and Tahoe City. The ambiance of welcoming yet high class invites customers to feel a true example wine culture ambiance. From bubbly to red to white, Uncorked offers wines that deserve awards and accolades. Wines are offered by the glass or by the bottle and can be paired with a tasty cheese plate the invokes the palate into an experience of euphoria. To help remember the experience, Uncorked sells fun memorabilia. The Palisades Tahoe shop is a great place to see live music on the weekends. 
South Lake Tahoe
Considered the best place to enjoy a sunset while experiencing the finer side of life with a glass of wine or bubbly, The Idle Hour is Lake Tahoe's only lakefront wine and bubbly bar. Serving up a continually rotating menu of wines and champagne, The Idle Hour focuses on boutique California producers as well as imported specialty wines and bubbly from around the world. There is a welcoming bar, balcony seating or outdoor patio for enjoying a glass of your favorite beverage while also relishing their luscious charcuterie boards, appetizers or tapas. The Idle Hour also offers a favorite event area that is ideal for social occasions, with a highly skilled staff and onsite managers to support your perfect evening.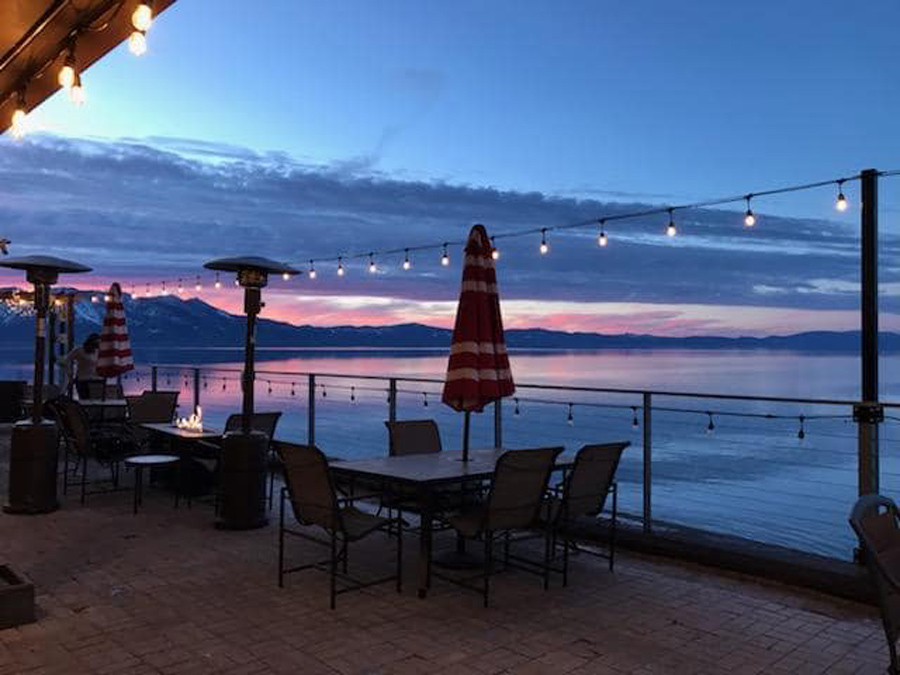 The sunset at The Idle Hour never disappoints. Photo courtesy of The Idle Hour
South Lake Tahoe
This may be my favorite way to enjoy wine and the beauty is Lake Tahoe. Tahoe Tastings is a boating tour that combines the best in wine with the enjoyment of cruising Big Blue on a classic wooden boat. The cruises are offered during the day as well as for sunset and will take you from Keys Marina to gorgeous Emerald Bay. While leisurely navigating the turquoise water of Lake Tahoe, you will also get the opportunity to sample a number of wines that were hand-selected for their superiority. The tours last two hours. This is an adventure for those 21 years or older unless booking a private cruise.
Tahoe Wine Collective
Tahoe City
Tahoe Wine Collective has taken specialty wine to a whole new level. Offering memberships, this forward-thinking business chooses prime wines that would be hard to find elsewhere. Focusing on Sierra Foothill American Viticultural Area (AVA) wines, each bottle is explicitly chosen to excite, surprise and inspire oenophiles to expand their knowledge and palate. Membership perks include six bi-monthly deliveries, 10% off all other purchases, 10% off bar tabs, complimentary pick-up party tasting flight, special member pricing for events, farm-to-table dinners, holiday celebrations and educational series as well as a must-attend Pick-Up Party on the third Saturday of each month, at which you get to enjoy a tasting flight for free while enjoying live entertainment and complimentary small bite pairings. There are two versions of the membership available. The 3-Pack membership allows you to choose three types of wine as well as enjoying all of the other benefits previously listed for $80 a month. The 6-Pack membership offers 6 bottles of hand-picked wines and the additional perks for $160 a month.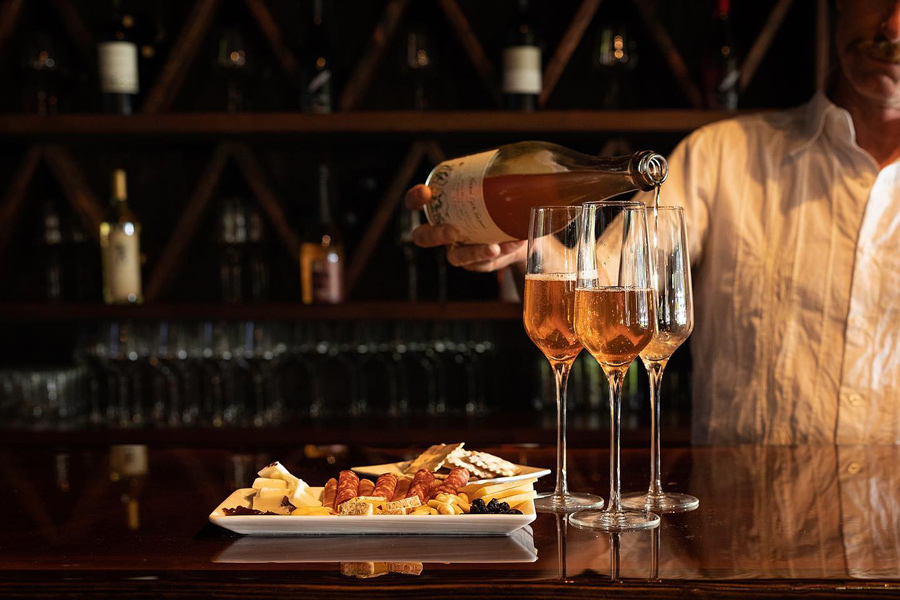 The experience at Tahoe Wine Collective is exquisite. Photo courtesy of the Tahoe Wine Collective
Incline Village
With a fun and contemporary ambiance that invites with comfortable couches and live music every Saturday evening, Glasses Wine Bar is a unique way to interact with your own glass of wine. There are two state-of-the-art wine dispensing machines for patrons to enjoy with each machine offering eight different wines each as well as eight more served from the bar. These 24 different wine varieties are offered by the glass in 2- 4- or 6-ounce servings, with the wine machines creating an opportunity to explore to your heart's content. To pair with the wine, there is a rotating selection of appetizers including cheese and charcuterie, crackers, nuts and seasonal fruits. But maybe what makes Glasses exclusive is their gift of leisure with a large selection of reading materials including books, magazines, short stories, fiction and nonfiction by authors such as Tom Robbins, John Irving, Chuck Palahniuk, Carlos Ruiz Zafón, Dan Brown, John Grisham, Robin Cook and Gabriel Garcia Marquez. There are also entertaining games to peruse, like Exploding Kittens, Game of Phones, Cards Against Humanity and Spot It. 
After enjoying a glass of fine wine, enjoy a moment of entertaining with one of the great events happening around Lake Tahoe. Learn more at either our Daytime or Nightlife pages.