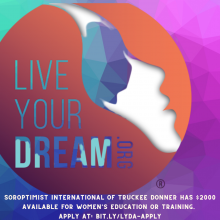 It's a known aspect of society that it is harder for a woman to rise in the business world than a man.
Interestingly, though, studies have found that it isn't necessarily the fault of the companies themselves, but rather it's oftentimes the fault of deeply ingrained beliefs. These societal belief patterns, often unconscious, perpetuate the belief many women have that they are not worthy or ready to apply for an upgrade in pay. Take for example Noble Peace Prize winner Donna Strickland. Prior to winning the lofty achievement, she didn't feel it was in her abilities to apply for professorship. It was only after winning the Noble Peace Prize, that she felt it was in her grasp.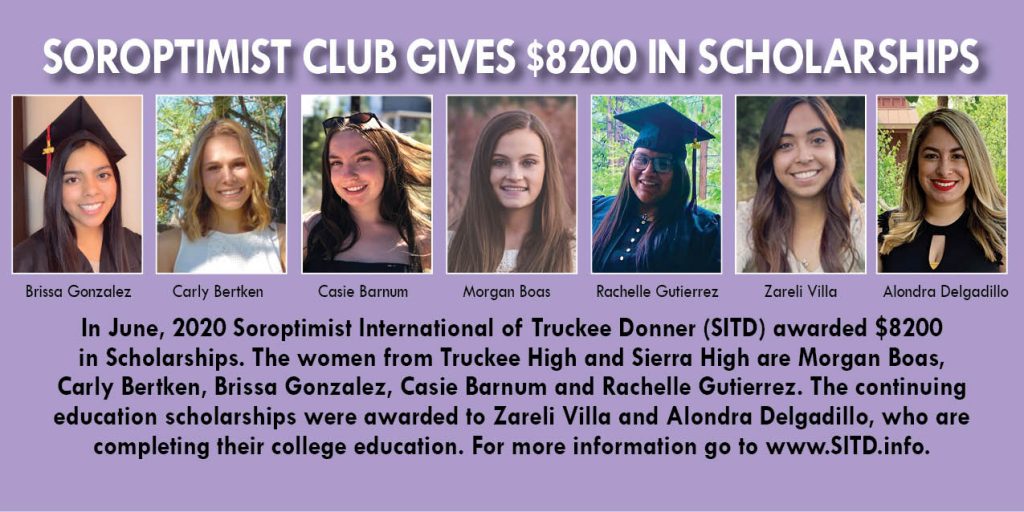 This unconscious belief pattern that women need to do more than men in the workplace is a stigma that our local branch of the Soroptimist International understands and wants to abolish. The Soroptimist International of Truckee Donner (SITD) is doing its part in giving women that extra hand needed by creating a financial grant of support.
The Soroptimist Education Grant, funded by our local Airport District, is a unique and special offering of financial assistance not only because it is aiding in the continuing education for females. This grant was specifically designed for women who have surpassed the normal college age. With the belief that most people don't know exactly what they want to do with their life when traditional scholarships are offered, this grant is for women who are learning their dreams a little later in life. 
The vision of Soroptimist International of Truckee Donner is to give women and girls all the resources and opportunities needed so that they may achieve their full potential and live out their dreams. With a mission of creating programs that support social and economic empowerment for women and

girls, their core values are enveloped in shifting the reality that Strickland brings to light. SITD believes that through working on gender equality, empowerment and education as well as diversity and fellowship, we will see the change that is needed.
The title, Soroptimist, is one of honor. With Latin roots, the word "soror" means sister and "optima" means the best, translating to the title of "the best for women." The gift of education is one of the greatest treasures that can be bestowed upon a female, helping her to elevate not only her own living situation, but all of those around her. In fact, article after article shows that education reduces poverty levels. So it is only fitting that an organization with such compassionate goals as Soroptimist creates such a supportive measure.
The Truckee Donner chapter of Soroptimist was created in 1971 and has been a positive influence in the Lake Tahoe area for five decades, providing support for hundreds, if not thousands, of women. Beyond grants and scholarships, the organization provides volunteer services and financial support both locally and internationally. Their prime goal is to improve the lives of women and children – with an emphasis on girls. The atmosphere that they encourage is one of support, friendship and fun. To create the financial means to develop these supportive programs, SITD donates all funds that they raise through fundraisers and community events. 

The Soroptimist Education Grant, the second year in its offering, is a $2,000 grant. The intention is to provide assurance to women that they are financially supported to make advancements in their training or education. In the past grants were given for paralegal certification, for example, or for assisting in transferring to a four-year college after a two-year program.
To apply for this grant, women are encouraged to get their application in by May 15. Please visit the SITD website to apply. If you are interested but would like to learn more before becoming involved, check out SITD's monthly club meetings held on Zoom. The virtual get-togethers are on the second Thursday of every month at noon. All are welcome and encouraged to participate. If interested, email info@SITD.info for the invitation link.
Be sure to check out other community-centric events around Lake Tahoe in our Daytime and Nightlife sections. 
Photos courtesy of SITD