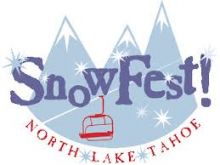 The beginning of March is always a festive time of year in Lake Tahoe. Why? Because it means SnowFest, a 10-day celebration that brings locals and visitors together to enjoy the beauty of falling snow and all the fun that comes with it. Lake Tahoe truly becomes even more so a place of pure adventure and enjoyment than it normally is. 
A wintertime festival that began in 1982, the celebration creates excitement in all types of forms. Do you like snow sports? How about a game of Whacky Human Bowling? Or are you an artist with snowflakes? Not sure. Give it a try with Snow Sculpting. There's also a Naughty Dawg pull that gets our canine friends involved as well as other fun races. All the ski areas get into the hoopla with each area offering its own form of playtime. 
From torchlight parades to full city parades, there are a ton of fun things to do for the family, couples and 20-somethings. One of the aspects that I love about this time of year is the evening excitement! You are bound to find a ton of live music acts and lots of opportunity to enjoy a little nightlife with friends and family.
Here's a small sampling of what SnowFest is offering.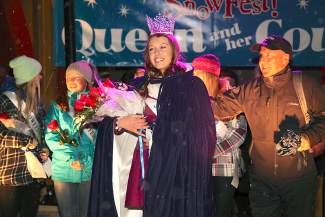 North Lake Tahoe SnowFest Opening Ceremonies
This year's SnowFest runs from March 3 to March 13 with the festivities beginning at 5 p.m. at Gar Woods Grill & Pier, located at 5000 North Lake Boulevard in Carnelian Bay. This opening ceremony is a big deal in the Tahoe area as it is the time when the annual Lake Tahoe Queen is crowned. A prestigious title that is sought after by up-and-coming Tahoe beauties, SnowFest starts off on the right foot each year with this entertaining community get-together.
Lipstick Lounge Thursdays at The Loft Live Theatre, Lounge and Dining
Also on Thursday, March 3 as well as every Thursday evening, The Loft Theater in South Lake Tahoe holds their Lipstick Lounge Thursdays. I love this easy way to get-together with the ladies in an amusing and comfortable environment ... and all a lady has to do is wear a little lipstick. In exchange for some kissable smackers, patrons enjoy a free glass of champagne, free music and a table-side magician show as well as free parking and half-off appetizers, well drinks, wine and beer as well as Magic Fusion Show tickets. Festivities begin 4 p.m. and run well into the evening. 
Bridgetender Rib Fest
The Bridgetender Rib Fest is an annual event that is paired with SnowFest at one of the most enjoyed burger joints in Tahoe City, Bridgetender. This event showcases the restaurant's expertise at cooking up tasty ribs. Their ribs have won awards and are not something to be missed during the SnowFest festivities. A great get-together for the entire family, it is also an outdoor event with live music and a great ambiance. The rib fest begins at 5 p.m. and runs until 8 p.m.
North Lake Tahoe Snowfest Parade
Another great way to get involved with the celebratory atmosphere of SnowFest is to join in on the community parade that struts its stuff down the main boulevard of Tahoe City. It is recommended to come early to assure that you find a good curbside seat. Also, be sure to bring a folding chair if standing for long periods of time isn't your cup of tea. The parade begins at 11:30 a.m. in downtown Tahoe City and lasts until around 1:30 p.m.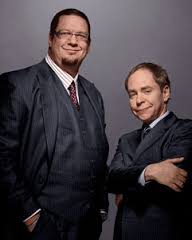 Penn & Teller
For those ready to get their laugh on, Tahoe has a great opportunity with the duo Penn & Teller coming to Harrah's in South Lake Tahoe. A comedic twosome that began their stick nearly 40 years ago, the duo has brought their own twist of amusing entertainment to magic and comedy. Known for their runs on Broadway as well as Emmy-winning TV shows, their unique approach to comedy always makes me laugh until tears are streaming down my face. What a great combination to all of the other fun happenings around the lake during the next 10 days.
Be sure to check out our day and evening event sections to get the entire lowdown on all the fun to be had at SnowFest as well as other happenings that shouldn't be missed.