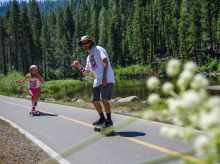 I am so excited that one of my favorite annual events, Skate the Lake, isn't being scrapped due to the COVID situation; instead, it's going virtual.
Skate the Lake supports survivors of breast cancer as well as the nonprofit B4BC. Founded in 1996, their mission is triple focused on preparing young people with education on early breast cancer detection, promoting the importance of maintaining a healthy, active lifestyle as the best means of breast cancer prevention and to provide survivor support for those affected by breast cancer. Skate the Lake, now in its 16th year, is one of their biggest fundraisers and has always been an extravaganza of fun. In the past the event was a 28-mile skate, bike or roll along the majestic shores of Lake Tahoe and the beautiful Truckee River. This year the Skate the Lake is being taken to each person's backyard.
With crisis comes opportunity, and B4BC is taking the COVID challenge in stride. By making the event virtual, B4BC is extending its reach far beyond Lake Tahoe and is now including the entire world. Their goal is to raise $30,000 by getting people involved, no matter where you happen to be during these interesting times.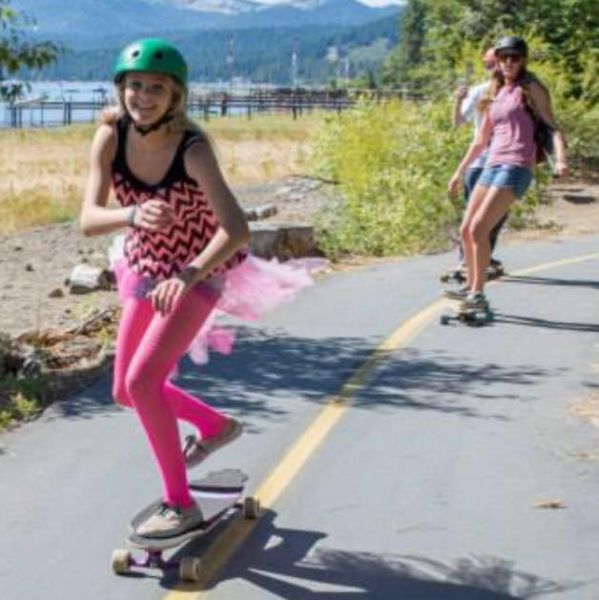 Right now is especially important for B4BC. The pandemic has caused the cancellations of many of their in-person fundraising events, creating a substantial revenue loss that directly affects their ability to educate on prevention and early detection as well as their survivor support programs. These donations count now more than ever to help this vital nonprofit pivot to a virtual world and preserve these programs to ensure they are available in the future.
So how can you participate?
Here's the lowdown ...
First, be sure to register here. Then create a fundraising page. 
Next comes the fun part. On August 29, join in from your corner of the world by skateboarding, biking or roller skating (or blading) around in your neighborhood. Take a video, share it on social media and hashtag it with #push4b4bc and #skatethelake. To help get you even more excited to participate, there will be swag bags and other enticing items rewarded to participants. The more money you raise, the more opportunity you have for winning fantastic prizes. The top three fundraisers will receive extra sweet prizes for their efforts. B4BC is asking each attendee to raise a minimum of $25 to be able to participate in the enjoyment. Prizes include some amazing items from companies like Yeti, Traeger Grills, Blendtec, The North Face, Pura Vida, Suja, Vans, GoPro, Smith, Gnu, Nikita, Dakine, Arbor, VonZipper, Tahoe Longboards and many more.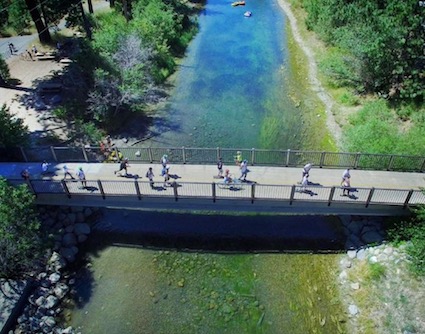 Those who register prior to August 17 will receive extra encouragement in the form of a one-of-a-kind B4BC face mask as well as a raffle entry for a Yeti Hopper Flip 12 cooler. Don't forget, the more a person raises, the better prizes he or she will win.
Those who aren't able to roll around their neighborhood but still want to show their support can purchase raffle tickets for $10 and still have the opportunity to win great prizes and support a superb cause.
Please be sure to visit Tahoe.com's Daytime and Nightlife sections to learn about other events happening around Lake Tahoe.
Photos courtesy of B4BC