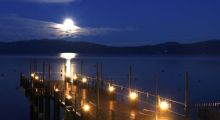 Can you believe that it really is the last week of summer? It is absolutely amazing how fast time flies! But with the closing of summer comes so many great opportunities in Lake Tahoe.
This is the time of year when you can go for a hike and not see another soul. Or ride a mountain bike single-track trail that is void of other riders. Or simply enjoy a secluded beach while relishing in a private picnic for two. This is a magical time of year in Tahoe, in my humble opinion.
Within this week's end-of-the-summer activities there is adventure, sexiness and community interaction. Keep reading to learn more.
Tahoe Food Hub Farm Truck Food Fair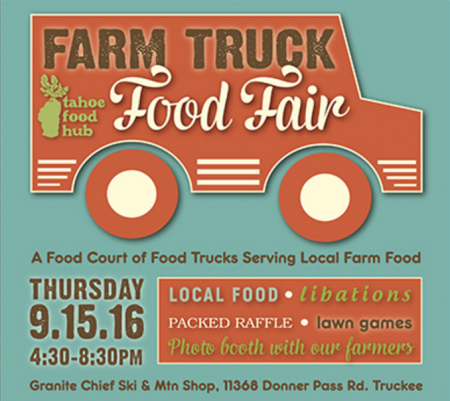 If you enjoy knowing where your food comes, experiencing tasty treats and supporting small, local farmers, then you must come to the Tahoe Food Hub Farm Truck Food Fair on Thursday, September 15. An outdoor extravaganza of farm fresh food made into delectable delights by local eateries, the Food Fair will host trucks from places like Squaw Valley's Mountain Roots, Truckee's Full Belly Deli and Reno's Electric Blue Elephant. There will be meat-eater options and as well as vegetarian fare. To get the groove flowing there will be live music offered by Tahoe's own Sneaky Creatures, a raffle, beer donated by Fifty-Fifty Brewing and lawn games. Located at the Granite Chief Mountain Shop parking lot in Truckee, the festivities are setting off at 4:30 p.m. and ending at 8:30 p.m. There is a suggested donation of $5.
Full Moon Celebration
West Shore Cafe & Inn is hosting its last Full Moon Celebration for the summer this Thursday, September 15. The lakefront establishment creates a fabulous opportunity to experience one of the best moon rise viewing spots in the basin, accentuated by top notch dinner options, a full bar and live music. For the finale Jeff Jones will be playing an enjoyable set that will pair nicely with the rising of the moon. The party is from 5:30 to 8:30 p.m.
Balls In The Ruff Golf Tournament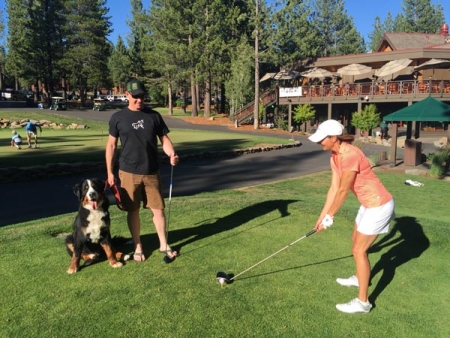 If you enjoy a game of golf while at the same time supporting homeless pets, then please be sure to sign up for Balls In The Ruff Golf Tournament. A Humane Society of Truckee Tahoe benefit golf tournament, this scramble-style competition is all bark and no bite, especially with a bunch of fun pet-themed contests included. The prizes are also pretty spectacular, with a $10,000 prize for a hole-in-one as well as a trip to Hawaii for another lucky player who gets a hole-in-one. The tournament begins at noon on Friday, September 16. There is a $150 registration fee, which includes 18 holes of golf, a golf cart, a golfer goody bag and an awards dinner.
Tahoe Sierra Century
For those of us who enjoy getting a little sweaty with our Lake Tahoe adventures, the Big Blue Adventure's Tahoe Sierra Century is sure to be a great time. There are 30-, 60- and 100-mile bike routes set throughout the iconic and hilly Sierra, interlinking North Lake Tahoe with Truckee. This is an exceptional opportunity to see the beauty that this place bestows. The views are truly more breathtaking from the seat of a bicycle. To make this event even better, the proceeds will raise funds for Music at North Tahoe Schools. The race is on Saturday, September 17, starting at 7 a.m. from Squaw Valley. Festivities will end around 4 p.m. Pre-registration is required.
Thunder From Down Under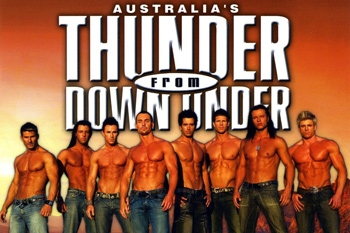 Hey ladies, are you ready for a night out filled with excitement and fun? Harrah's Tahoe is letting the gals go crazy with Thunder From Down Under. Considered "Australia's hottest export," Thunder From Down Under is touted as the world's most desired male revue. A whole host of hot men from Australia will be lighting up the stage for all of us ladies. It shall be a night to be remembered, that's for sure! This is an event for people 21 and older. The stage will be ablaze on Saturday, September 17, beginning at 6:30 p.m.
To learn what else is going on this week and other weeks in Tahoe, check out the day and evening event sections.