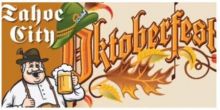 The end of September is upon us. The first sightings of snowflakes have already shown themselves in our surrounding mountains. With the first signs of frost the trees respond by showing their changing colors. The squirrels are busily harvesting their nuts for the coming winter.
Fall is such a stunning time of year in Lake Tahoe. This is the time to really appreciate the serenity and beauty that this wonderland offers. This is also the time of year when there are some great parties to attend. These two ends of the spectrum are a great way to get the best of both worlds. 
This week, in particular, is a week of celebration ... celebrating the season of harvest as well as the beginning of fall with a little bit of German flavor. What am I talking about? Read on to learn more…
Harvest Ball
Start your fall off right by attending the Harvest Ball in South Lake Tahoe. This all-ages event is an excellent chance to meet locals while dancing to the 17-piece Tahoe Dance Band. Complete with appetizers, desserts, beverages, a free door prize ticket and raffle, this event is sure to be a swirl of a good time. The dance is being held at the South Lake Tahoe Senior Center on Friday, September 30. The dancing begins at 5 p.m. Tickets cost $10 or $5 for people younger than 21 years old.
22nd Annual Oktoberfest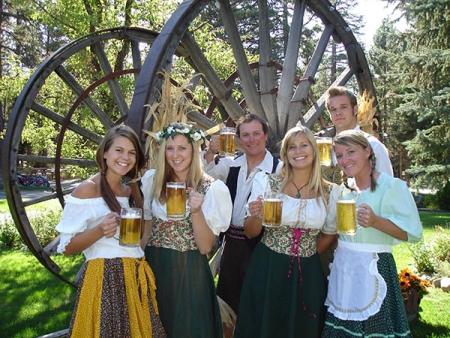 One of multiple opportunities to get your Oktoberfest celebratory vibe going this Saturday is the 22nd Annual Oktoberfest celebration at Camp Richardson. This version of the German festival is a family-friendly extravaganza that includes souvenir beer mugs, a face painting booth for the kids plus a bouncy house and bungee jump as well as a beer and wine garden, a scrumptious array of German food and live music by the Gruber Family Band. The event is free, and festivities begin on Saturday, October 1, at 10 a.m.
Tahoeberfest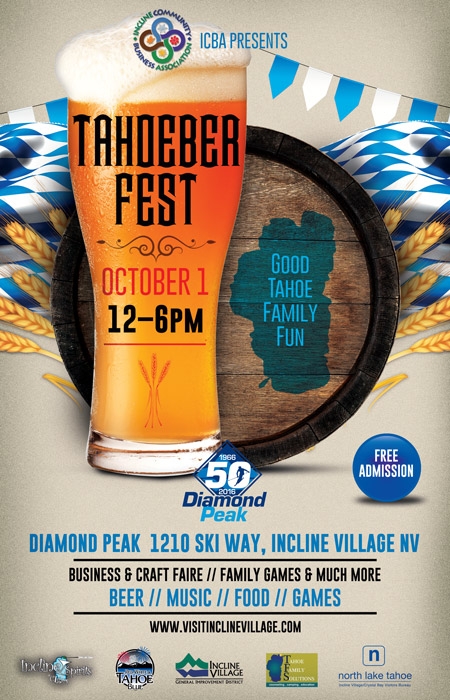 Diamond Peak Ski Resort is also offering a German appreciation day with their Tahoeberfest. Another family-centric event, the base lodge is host to a huge beer garden, food trucks complete with authentic German Bratwurst, fun activities and games for the kids as well as a live German Oompah Band. Tahoeberfest is a free festival being held on Saturday, October 1, beginning at noon and running until 6 p.m.
Tahoe City Oktoberfest
Another local favorite Oktoberfest celebration is the Tahoe City Oktoberfest. Touted as the most fun of the festivals happening around the basin, the Tahoe City Oktoberfest is a party for those ready to eat some real German cuisine while enjoying the fun lakeside. Happening at Layton Park nestled next to the Gatekeeper's Museum, this event is perfect for enjoying Lake Tahoe's beaches and taking in the beautiful sunset while partaking in the festivities. Tahoe City Oktoberfest will offer beer, brats, games and live music as well as a welcome environment for both human kids and canine kiddos. Take the fun a little further by wearing your best German outfit and win the 2016 costume contest. This is also a free event. The party is on Saturday, October 1, from 12 to 6 p.m.
TED Talks at The Loft Theater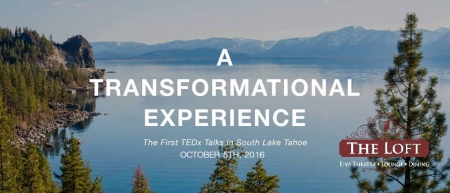 An incredibly exciting activity happening this week in Lake Tahoe is a TEDx conference. TEDx South Lake Tahoe is an offshoot of the influential and educational TED Talks series, a collection of speeches done by world leaders speaking on inspirational subjects. The purpose of this TED talk is to bring together leading thinkers and doers in the world and Tahoe community in the hopes of creating positive change. The speakers will range in attribute, from entertainers to business leaders, from community members to educators, creating a scene of opportunity for a better future. The TEDx talk is held at The Loft Theater on Wednesday, October 5, from 4 to 9 p.m.
This is just a little sample there is to be had here in Lake Tahoe. Please visit our day events and nightlife sections to learn more.