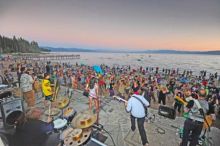 Labor Day weekend is here! With the arrival of the last big party opportunity of the summer comes chances galore to have a great time. This week in particular is host to many Labor Day celebrations in the forms of get-togethers and impressive shopping deals.
Here's my top five pick for events this coming week.
Music on the Beach
If you haven't yet participated in Kings Beach's free outdoor concert series than the time is now. This Friday, September 1, is the last of the summer's Music on the Beach lineup, with The Wrinkle giving the final concert of the season. The music is accompanied with Alibi Ale Works, a local craft brewery offering exceptional beers. There will be wine, soda and food available as well. The tunes start flowing at 6 p.m. Be sure to bring a blanket, low-back beach chair and maybe a picnic to make the experience that much better.
Labor Day Tent Sale Extravaganza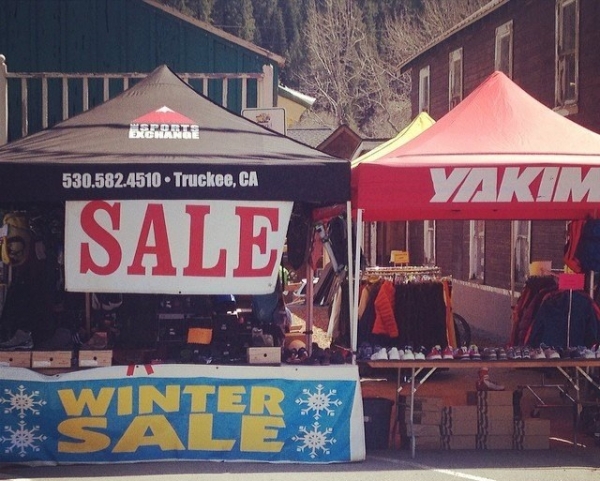 One of the best aspects to Labor Day around Lake Tahoe is the great outdoor gear sales that happen. One such event that offers a plethora of money-saving deals is Tahoe Sport Hubs' Labor Day Tent Sale Extravaganza. Considered the biggest sale of the year, it offers treasures like brand-new 2018 ski and snowboard gear, footwear and cold weather items. There will also be discounts up to 70% on winter and summer items like clothing, bathing suits and other summer gear. The sale happens the entire three-day weekend from 9 a.m. to 7 p.m.
Glow Golf Family Night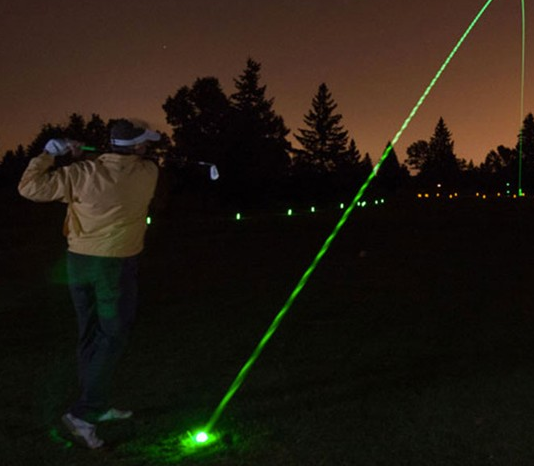 Another super-fun Labor Day event for the entire family is Tahoe Donner Golf Course's Glow Golf Family Night. An annual event that includes a delicious dinner at The Lodge Restaurant & Pub as well as lots of cool prizes, Glow Golf Family Night is a great time no matter what your age. The event is on Saturday, September 2, beginning at 5 p.m.
Labor Day Bash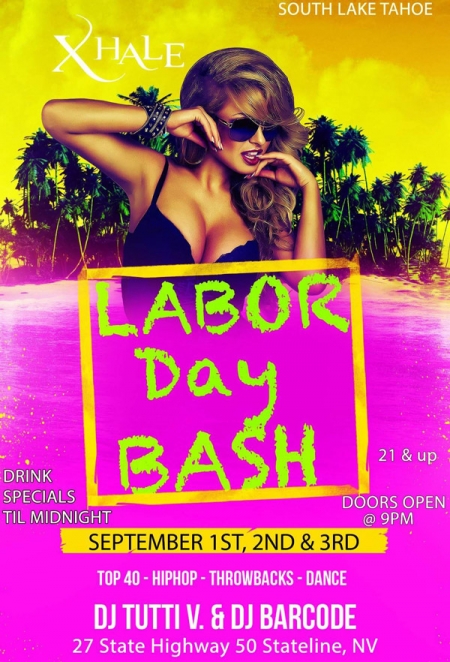 Xhale Bar & Lounge's Labor Day Bash is hosting a sexy way to get your Labor Day party on with its Labor Day Bash. A party purely for those ages 21 and older, this is a three-day event that includes DJ Tutti V and DJ Barcode spinning top 40, hip hop, throwbacks and dance tunes. There will also be drink specials until midnight and incredible people watching. Friday, Saturday and Sunday (September 1, 2 and 3) will all see the music busting at 9 p.m., and the party lasts until the sun comes up.
Labor Day Lasers at Lakeview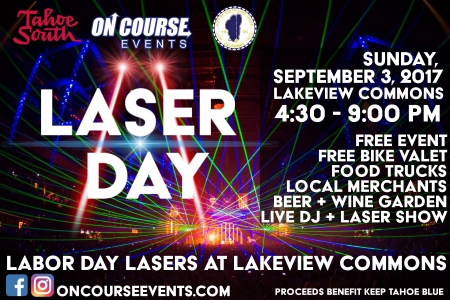 Tahoe South is hosting a wonderful family-friendly celebration with their Labor Day Lasers at Lakeview. This event will light up the sky with an impressive custom laser show that is partnered with a live DJ. This free event happens at the Lakeview Commons at El Dorado Beach from 4:30 to 9 p.m. on Sunday, September 3.
Please visit our daytime, nightlife and community pages to learn about other fun activities happening around Lake Tahoe.
Photos: Tahoe.com