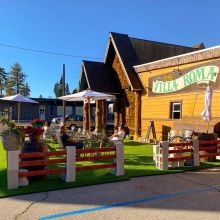 One of the silver linings of our new reality is that it is creating some fun and innovative dining options. From newly added outdoor dining spaces to restaurants offering special dining that includes your four-legged best friend, Lake Tahoe is taking today's twists and turns in stride, knowing that in the end, adversity and challenges make us stronger and better!
Here's to the local businesses that are rolling with the punches and shifting, innovating and creating a healthy option for visitors and locals. To pay homage to their efforts, I thought I would highlight some of the local dining options that are welcoming diners – with masks on, of course.
New Outdoor Dining Spaces

Fire Sign Cafe
Fire Sign Cafe is a favorite for locals to enjoy breakfast or brunch, whether after a big night of partying or an early morning workout. Their meals are huge, the staff is as kind as they come, and the vibe is what Lake Tahoe is all about, with its quaint interior and cabin-style appearance. It also is blessed with a surrounding of lush, beautiful grass, which is where they have taken their outdoor dining. All of the 10 tables are set up 6 feet apart and have a woodsy ambiance. You truly can't beat this lovely, shaded outdoor dining that is just a hop, skip and a jump from the shores of Lake Tahoe.
Teps Villa Roma 
 
If you are looking for fantastic Italian food, look no further than
Teps Villa Roma
. This family-owned eatery has been an important part of the South Lake Tahoe restaurant scene for more than 45 years. They've always offered delicious dishes and live music, but now, in the current state of affairs, they have a lovely outdoor patio area that lets you enjoy the spectacular Lake Tahoe weather as well. Teps is the type of business that you leave feeling better than when you came in.
Alibi Ale Works
The crew at Truckee's
Alibi Ale Works
has created their very own beer garden in response to social distancing and the enjoyment of beer. Not only is it a place to mingle and enjoy, but it is also the place to get a brain workout at their Trivia in the Garden every Wednesday.
Moody's Bistro, Bar & Beats
Moody's, in Truckee, has taken its classy ambiance outdoors with its new luxurious outdoor dining area. Feeling more like entering into a land of movie stars and high society then merely a mountain-town upscale restaurant, Moody's has done an exceptional job of turning a challenge into an opportunity.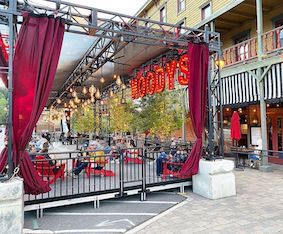 Whitecaps Pizza
Whitecaps Pizza, located in Kings Beach, has gone above and beyond to help guests take advantage of the new course of operations by creating a beautiful picnic area on the sandy shores of Lake Tahoe. Perfect for taking in the most spectacular views that the area offers while enjoying a slice, brew and company, the setting is idyllic with its white sandy beach, towering trees for shade as well as tables and chairs for comfort
.
Crosby's Tavern & Gaming
Crosby's Tavern
realized that our furry friends needed to be included in the outdoor love and have opened their back patio for those who enjoy fresh air and wagging tails. 
Longtime Outdoor Dining Favorites
Tahoe Tap Haus
Those who enjoy the simple pleasures of good views and good brews must visit
Tahoe Tap Haus
. A place that many locals call a second home, Tahoe Tap Haus has a spacious interior seating arrangement as well as a nice outdoor patio that offers views of Lake Tahoe.
Emerald Bay Bar & Grill
South Lake Tahoe's
Emerald Bay Bar & Grill
is known for its sports bar atmosphere and great American food in a festive arena and fantastically large patio that has a cozy fire pit as its centerpiece. This not only adds in ambiance points, but also makes for an excellent place to enjoy a casual evening in the sweet Tahoe evening air.
Lake Tahoe Aleworx
With its two locations on either side of South Lake Tahoe,
Lake Tahoe Aleworx
is perfectly situated to be enjoyed after fun days on the lake, in the mountains or at the casinos. Ample-sized patios are enhanced with a fire pit at both locations. Dogs are also allowed.
Bridgetender Tavern & Grill
Maybe one of the all-time favorite restaurants for anyone who lives in or visits North Lake Tahoe,
Bridgetender
has it going on when it comes to outdoor dining. Situated right on the bike path that frames Tahoe City, the setting is lovely and easy to get to if walking or biking. The outdoor area is also friendly to four-legged companions.
R
iver Ranch
If you are floating the Truckee River, it is a no brainer that you have to enjoy some food and drink at the let-out location of River Ranch Lodge and Restaurant. Offering a giant outdoor deck that hangs over the Truckee River, this is a place that has been known to host many a wild party during the summer months. They also are home to a concert series on the deck on Thursday evenings from 8 to 11 p.m., dependent on health regulations per COVID-19. River Ranch is also a dog-friendly establishment. 
Please be sure to visit our Daytime and Nightlife event pages to learn about fun activities to pair with your outdoor dining.