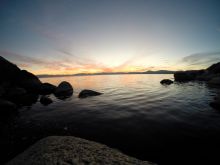 Can you feel it?
Can you feel the excitement in the air?
Tahoe is electric with the anticipation of winter coming. The community is full of activities to get you psyched up for the coming snowfall. Whether it is through getting outdoors and getting the heart rate up or by taking in ski film premieres that showcase the craziness of our local heroes, there are options galore for making this your best autumn ever. Check it out!
Homewood Ski Film Premieres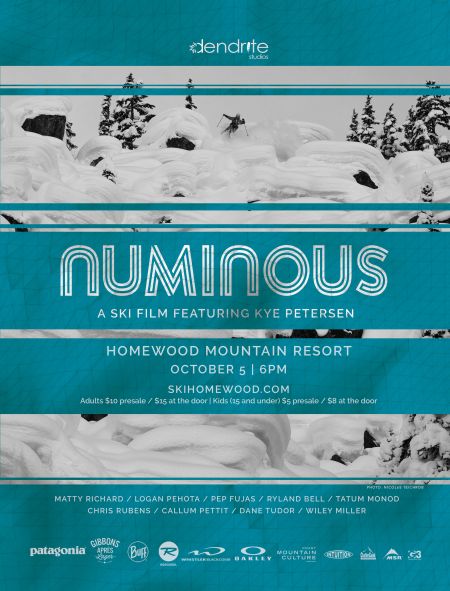 You know that the snow is soon to fall when the line up of ski film premieres begins. Homewood Mountain Ski Resort is participating in the stoke with their ski film premiere showings of two movies: "Numinous" and "Room for Improvement." Both films are done by local film crew Janky Films, and they give homage to local skiers and snowboarders riding Tahoe resorts and backcountry as well as lines in South America. The ski flicks feature riders like Jed Kravitz, Hentry Holdsworth, Pete Kukesh, Andrew Putnam, Hazen Woolson, Keenan Hawkings, Eli Sobel, Anthony Santos, Chris Hounsell, Sam Wallace, Connery Lundin, Mike Legay and Keith Dillon. The showing is on Thursday, October 5, beginning at 6 p.m. Tickets cost $15 at the door or $8 for kids 15 years old and younger.
"A Liar's Cruise" on the Tahoe Gal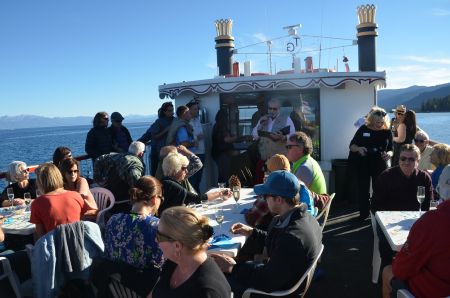 Sierra State Parks Foundation is hosting a community event called A Liar's Cruise. Taking place on the Tahoe Gal, this is a wonderful opportunity to participate in a fundraiser supporting the Sierra Parks Foundation and the restoration of the South Boat House at Sugar Pine Point State Park. The evening will be filled with exciting tall tales, delicious champagne and tasty appetizers. Plus there will be beautiful views while cruising the West Shore to Sugar Pine Point State Park and back. The cruise is on Saturday, October 7, from 4 to 6 p.m. Tickets for the affair cost $75 per person.
Pumpkin Themed Champagne Brunch
Are you ready to celebrate autumn in style? Head to The Ritz-Carlton's Champagne Brunch with a pumpkin theme. A seasonally focused brunch that offers a stunning chilled seafood display, a carving station, salads, cheese and charcuterie as well as scrumptious breakfast favorites, this brunch is also paired with an unlimited supply of Moet and Chandon champagne as well as a Bloody Mary Bar. The restaurant Manzanita will host the event on Sunday, October 8, from 11:30 a.m. to 2:30 p.m. Tickets cost $69 for adults and $19 for children ages 3 to 12.
Pho for Project Mana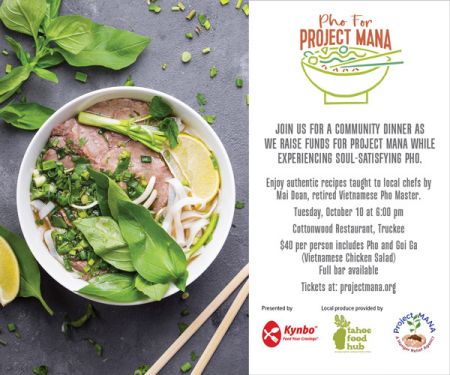 For those who enjoy giving back to the less fortunate, please join the Cottonwood Restaurant in Truckee in a supportive evening for Project Mana in the form of Pho. Pho for Project Mana is a community dinner that raises funds for Project Mana using soul-satisfying pho created by local chef Mai Doan, a retired Vietnamese Pho Master. Tickets cost $40 per person for this October 10 event. The dinner begins at 6 p.m.
Donner Party Hike
One of Lake Tahoe's iconic stories involving snow was one of tragedy. Hear the stories of rumbling wagon wheels and heroic pioneers that attempted to cross Donner Summit only to be met with feet of snow, stopping them in their tracks and forcing them into the world of cannibalism. This tragic story of tenacity and strength is being appreciated in a weekend offering of hiking, story telling and shared appreciation for our history. This free event is coming up next week on both October 14 and 15.
Please visit our Daytime, Nightlife, Community and Annual Events pages to learn about other fun activities happening around Lake Tahoe.
Photos: Tahoe.com