Wow! Can you believe we are already into November! It's amazing how time flies!
Tahoe is seeing its fair share of weather and precipitation, helping to get the soil ready for a plethora of coming snow (let's keep praying for those flakes to fall). The wet weather is also making the dirt perfect for some stellar mountain biking and incredible beauty in the backcountry hiking trails. 
Another fun aspect to the shift in seasons is the opportunity to celebrate the harvest of autumn. There are some great celebrations happening this week that will be a blast to partake in. Here's my top five pick for this week.
Fall Feast Week 
Camp Richardson and the Beacon Bar and Grill are hosting a delectable offering of celebratory food in the form of their Fall Feast Week. The entire week of November 4 to 13 will offer a tasty four-course meal that is inspired by autumn comfort food, with each course being nicely paired with beer and wine. Dinner begins at 5 p.m. each day. The entire meal is $45 and includes such impressive gourmet masterpieces as creamy ginger butternut squash soup topped with a spicy pecan crème fraiche, a grilled sweet potato and bacon salad and pistachio crusted halibut. Drinks are not included in the dinner price. It is highly recommended to make reservations prior.
28th Annual Tahoe Chocolate & Wine Festival

The Tahoe Safe Alliance and Hyatt Regency are putting on their 28th Annual Tahoe Chocolate & Wine Festival. A beautiful celebration of elegance, fantastic chocolate and boutique wine, this festival also supports this important community nonprofit that protects women and children in violent domestic situations. There will also be an auction offering items as well. The event costs $125 per person and is on Saturday, November 5, beginning at 6 p.m.
Friday Night Fever

There's no better way to celebrate than to dance the night away. Thanks to The Loft Theater we can do just that. Offering a weekly disco dancing party, their Friday Night Fever celebration is perfect to get your boogie on. This disco party is every Friday night until April 7. The DJ starts spinning classic and new school dance tunes at 9 p.m., and the disco gets rolling around 10:30. This is a 21 and older event.
Fishing Charters
Another spectacular way to enjoy the beauty in Lake Tahoe and all winter long is by partaking in Tahoe Sport Fishing's fishing charter. Their guides and boats will take you to secret spots that will get you close to a beautiful variety of freshwater fish including Mackinaw, Rainbow Trout and Brown Trout. They offer five-hour trips in the morning and four-hour excursions in the afternoon. They supply yummy snacks, hot drinks, pastries and sodas and assist with the needed CA and NV fishing licenses. The charter costs $120 per person for the morning trip and $110 per person for the afternoon outing.
Truckee Ski & Snowboard Swap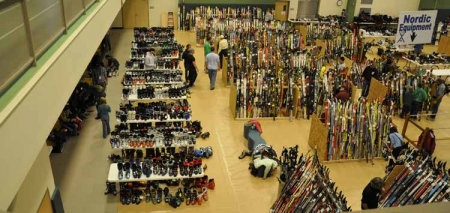 If you didn't get a chance to get your hands on some cheap ski or snowboard gear via the local gear swaps that happen around Lake Tahoe in the fall, than you must attend the Truckee Ski & Snowboard Swap on November 6. If you would like to sell gear, be sure to come by for the merchant check on Friday, November 4, from 5 to 7 p.m. The event itself is on Saturday, November 5, from 11 a.m. to 4 p.m. There is a small admission price of $2, and kids younger than 12 are free. Proceeds from the swap go to the Truckee Youth Sports Programs, which support organizations like Buddy Werner, girls volleyball and youth basketball.
Be sure to check out all of the other events happening today and in the future by visiting our day and nightlife pages.