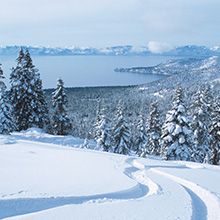 Lake Tahoe is a gorgeous region filled with a vast array of fun activities. How do you get the best out of the area? By knowing the ins and outs and up-to-the-minute happenings that only a local can know. That's exactly what Tahoe.com and LakeTahoeThisWeek.com are here for.
Whether you're a first time visitor, a regular vacationer to Lake Tahoe or a local, the Tahoe.com site, which includes complete information on every town and area around the lake, and the LakeTahoeThisWeek.com, which brings you daily updated content on events, programs, sales, restaurant specials and more, is your information portal for all things Lake Tahoe. And each week longtime local Shanie Matthews highlights need-to-know happenings, including events, festivals and concerts in her LakeTahoeThisWeek.com blog. Her friendly, fun to read blogs give you the necessary beta to create an itinerary filled with excitement. With the combination of South Lake Tahoe, North Lake Tahoe and Truckee, there is an abundance of things to do here. Shanie gives you the insider's scoop on what is going on to make your day, evening and night sparkle with the joy that only Lake Tahoe can create.
Take, for example, the winter season that brings fun events like Snow Fest that celebrates the beauty and fun that comes with the falling of snowflakes or the summer celebrations like Shakespeare's Festival or Wanderlust. There are also a whole host of outdoor concerts in the summer and indoor music shows in the winter that Shanie will highlight for you. She'll also let you know the low down on holiday events, athletic competitions and seasonal get-togethers. And to give that extra touch of insider's secrets, Shanie will also share those special gatherings that she loves as well. Through her blog and the LTTW site, you won't miss a thing!
One of the greatest aspects to Lake Tahoe is the connected aspect of our community. And that is what the LakeTahoeThisWeek.com blog is all about. Although it may be written by Shanie, it is a blog for you and by you (if you so desire). Shanie would love to hear from you. Thoughts? Have an event to include? Something have you perplexed? Give Shanie a shout…consider her a blog writer, local and friend.