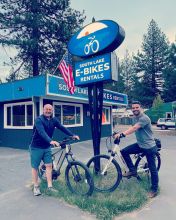 It is great to see Lake Tahoe in full swing again. The beaches are filled with joyous kids appreciating the outdoors. The trails are filled with wanderers taking in the beauty of the surrounding forests. The evenings are filled with sounds of laughter and sharing as people enjoy outdoor restaurants. The sidewalks are once again a place of companionship as friends enjoy the experience of window shopping our many inspiring boutique shops.
Coming back to a place of normalcy is finally happening in Lake Tahoe, and for all of us who call her home, we are so appreciative of this emerging reality.
With this return to normal operations, we are also seeing an emergence of new businesses throughout our townships. One of my favorite aspects of this area is the small businesses that we have throughout our communities. They truly make this place special. The imaginative locals who create businesses are answering a specific need that gives this area its unique sparkle. 
Knowing how each entrepreneurial mission takes immense work, tenacity and passion, I thought I would showcase a few newcomers to the scene, helping you know how they, too, are making Lake Tahoe the special place it is.
South Lake E Bikes 841 Emerald Bay Road, South Lake Tahoe, CA (530) 600-0012
Located in South Lake Tahoe off of Emerald Bay Road, South Lake E Bikes is bringing the newest way to ride to Lake Tahoe in the form of electric bikes. Riding an electric bike makes the entire experience of cycling that much more fun ... and a little bit easier, making it perfect for connecting with the beauty of Lake Tahoe via bike. Offering high-end electric bikes, South Lake E Bikes is set up to make riding simple for the entire family. Whether you want to ride Lake Tahoe's miles of paved bike paths or you are looking for a more technical adventure that involves single-track trails and dirt, this family-owned shop has everything you need. Looking for a little advice on where to go as well? Not to worry! South Lake E Bikes crew are all seasoned veterans at the riding game and are happy to share their knowledge.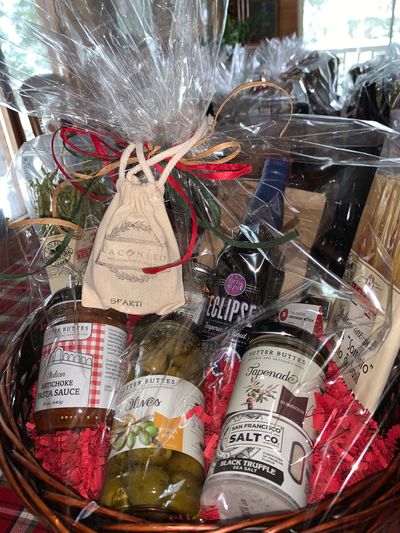 A gourmet basket offering delectable tastes from all over the world courtesy of Tahoe Gourmet Baskets. Photo courtesy of Tahoe Gourmet Baskets
Tahoe Gourmet Baskets 760 North Lake Boulevard, Tahoe City, CA  Phone: (530) 584-2172
If you are looking for that thoughtful gift that is unique and shows that you really care, then a no brainer is a gift basket. A fun way to show someone you care by creatively bringing together an assortment of little treasures, gift baskets are not only fun to give, but may be one of the funnest gifts to open. Now we can easily give gift baskets here in Lake Tahoe with the newly opened boutique shop, Tahoe Gourmet Baskets. Specializing in gourmet gift items, the baskets are filled with snacks, oils, vinegars, mustards, spreads, jams, coffees and much more. The owners, Spencer and Deborah, built the business on the adoration of sharing amazing products that they have found from their travels throughout the world. The gift baskets, each one specially made for your occasion, are available in all different sizes and are completely customizable. They offer corporate baskets as well. 
San Miguel Tahoe Store 895 Tanager Street, Incline Village, NV (775) 232-3631
There's nothing better than locally grown and sourced food. The farm to fork movement is not only important for the small-scale farmer, but for your own health as well. For the Incline Village community, they are in for a treat because a new grocery has come to town that specializes in local produce as well as the tastes of Mexico. San Miguel Tahoe Store is the quintessential mom-and-pop grocery. Well-stocked and offering a wide variety of items, the miniature market has pretty much anything you need to make a scrumptious meal. In addition to their locally sourced produce, meat and cheeses, they also offer freshly baked items such as pastries, breads and cakes. They also offer yummy lunch plates like tacos and other beloved recipes from Mexico as well.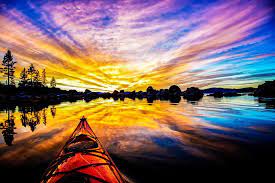 The magic of kayaking at sunset on Lake Tahoe. Photo courtesy of Tahoe Multisport
Tahoe Multisport 797 Southwood Boulevard #10, Incline Village, NV 89451 (775) 750-7386
It's no secret that Lake Tahoe is an outdoor adventurer's paradise. But there is one challenge when it comes to being an outdoor adventurer ... the equipment can be expensive. Not to fret. Tahoe Multisport has all the gear you need to make your next outing absolutely fantastic. Considered a one-stop shop for enjoying all the fun that Lake Tahoe offers year round, the store prides itself on offering nothing but top-of-the-line gear as well as the guiding expertise to go with it, if you need that extra helping hand. Completely outfitted for a variety of activities, including kayaking, paddleboarding, mountain biking, road biking and backcountry skiing, Tahoe Multisport is ready to help you bask in the glow that is created from Lake Tahoe adventure.
Toulouse 
901 Park Avenue, South Lake Tahoe 96150 
(530) 600-0060
We are so blessed in Lake Tahoe with our amazing restaurants. All throughout the basin are high-quality, tasty eateries that are built on the dreams and hard work of the locals that own them. This is certainly the case for a newcomer to the restaurant scene, Toulouse. A spin on the great tastes of New Orleans, Toulouse is a dining experience built on the collaboration of four friends and a dream that was conceived over a span of 30 years. Their shared passion for the restaurant business brought to reality a delicious offering where, in their words, "... tourists feel at home, locals are at home and everyone is surrounded by family and friends." And in a time when the need for reconnection is of an all-time importance, Toulouse is exactly what Lake Tahoe needs.
Please be sure to check out our
Daytime
and
Nightlife
sections to learn about fun and exciting events happening throughout Lake Tahoe.