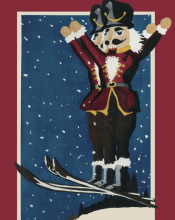 Can you believe that Christmas is here? Lake Tahoe has that special joyful bustle that makes the holidays special ... even with the added accessory of a mask. The snow-kissed mountain peaks, communities decorated with holiday lights and the joy of being with loved ones is helping to soften an otherwise interesting, and intense, 2020.
To help you have a joyful holidays season, I thought it fitting to highlight some upcoming activities and get togethers that should be on your hit list. Let's finish 2020 off with a smile on our faces and joy in our hearts. Here's wishing you the absolute best this holiday season and for the coming new year!
Tahoe Nutcracker
As a girl who grew up going to The Nutcracker every holiday, this is one of my favorite ways to get festive. This year – in some ways – is extra special. Why? Because it's free! The Tahoe Nutcracker is going to be streaming gratis until Christmas to anyone who signs up. So mix up your favorite holiday beverage, sit back and enjoy a classic that will add that extra sparkle to anyone's holiday experience. 
Holiday Dinner with Love
The Cork & More is making it easy to enjoy tasty food while spending quality time with your loved ones. Pre-made dinners for families or couples are made with special attention to detail and health consciousness and are fit for a holiday feast. The dinners come paired with a special bottle of wine. Just call in and order your luxurious tasty meal at (530) 544-LAKE. It's requested that orders are made for a minimum of two people.

Holly Arts Fair is a spectacular opportunity to buy treasures from local artisans. The finds at this little fair can't be beat. Members of the Artisan Shop as well as nine guest artists are offering a huge selection of handmade art, fine crafts and holiday specials. You will find one-of-a-kind gems like original art, prints, fiber arts, mosaic, jewelry, sculpture, art glass, wood, ceramics, photography, note cards, eclectic wall hangings and more. One of the best aspects to this fair is that there is a little something for every type of person and for every budget, while at the same time many of the items are reflective of the Tahoe environment and lifestyle. This event is happening every day until January 7.
On the wavelength of homemade goodies, Tahoe Art League is also hosting a crafts with presents that will make your loved ones feel loved. Happening in South Lake Tahoe at the Tahoe Art League Gallery, the show runs December 26 and 27 and January 2 and 3 from 11 a.m. to 4 p.m. About 13 different Art League members will offer their wares at this free exhibit. Some of the exemplary craftsmanship that will be showcased includes oil paintings by Donna Babcock, Tommy Walker, Loretta Bookhammer and Cheryl Lawson, woodturned vessels by Roger Haynes, silk dye and mixed media by Egon Klementi, watercolor by Lois Loveless and Liana Zambresky, photography by Barbara Lewicki, relief painting by Cathryn Powell, ceramics and handmade frames by Stephen Sandor, hand-dyed silk scarves by Walt Stevenson and stunning jewelry by LoRita Ungar. It is kindly asked that masks and social distancing are respected.

A fabulous way to get outside and enjoy the snow is to go for a sunset snowshoe tour. Tahoe Adventure Company guides fantastic, safe excursions that provide that extra connection to Mother Nature the holidays. There is something extra special about seeing the pink alpenglow of the setting sun on the mountains that frame Lake Tahoe. If you can't make it during this time period, not to worry. This is an every Friday excursion. The cost is $75 with the destination dependent on the weather and snowpack. The outing includes snowshoes, poles, experienced guides, talks about the local history as well as snacks.
Make it Za's!
Legendary Za's in Tahoe City is giving a little gift to help lighten the mood for the final moments of 2020 – their New Year's Eve Special! Filled with prime rib, king crab legs, bottles of bubbly and lots of other yumminess, their entire delectable New Year's Dinner is offered to go, so you can enjoy it at your own private ringing in of 2021. You can't get much better than that! Dinners range in price from $30 to $50. They are also offering 20% off bottles of wine. It is asked that orders are made by December 27.
Happy Happy Holidays from all of us at Tahoe.com!
Pictures from Tahoe.com