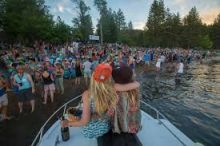 One of the greatest aspects of summertime in Lake Tahoe is the opportunity to enjoy fantastic live music outdoors in a beautiful setting. With the COVID-19 situation still active, one would think that maybe this favorite activity is lost, but thanks to the organizers of Music on the Beach, this is not the case.
Now in its 14th year, the annual outdoor concert series is a favored way for locals and visitors to enjoy the beauty of the lake while dancing and feeling the joy that comes from excellent live music. The free series of concerts happens in Kings Beach, drawing music lovers from throughout the region, and organizers are not going to let a pandemic hold them back from keeping spirits high. 
Music on the Beach: Virtual Vibes 2020 will be kicking off Friday, June 26. The live outdoor shows will stream live online from 6 to 8:30 pm and will be available to watch at NorthTahoeBusinss.org.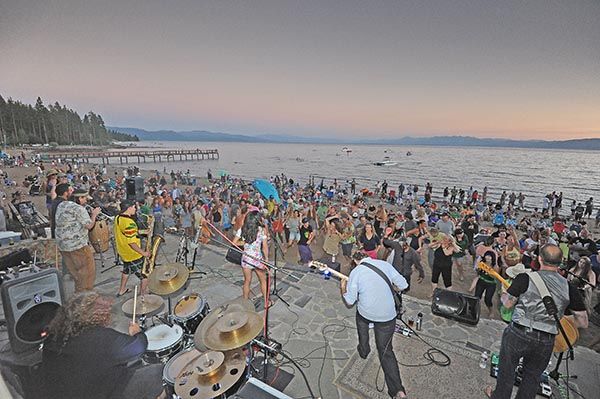 Music on the Beach: Virtual Vibes 2020 will include five free concerts, presenting a wide variety of music genres with local and regional performers. The lineup features a fun array of music, including Peter Joseph Burtt & the Kingtide on June 26 (with special guests Kai & the Monsters), The Sextones on July 10, Vokab Kompany on July 24, The Blues Monsters on August 7 and Sneaky Creatures on August 28. 
Start your 2020 summer weekends off right by listening and dancing to free live music from the comfort and safety of your own home. Make the evening that much more special by grabbing some delicious takeout from a local Tahoe restaurant to enjoy with the music. It sounds like a date-night opportunity to me! If you don't have access to the internet, no worries. The concerts will also be available to listen to live on 101.5 FM Truckee Tahoe Radio.
The Music on the Beach concert series is a fantastic way to get to know our local businesses. Virtual Vibes 2020 is sponsored by Chango Presents, Gonsalves & Co., North Lake Tahoe Resort Association, North Tahoe Public Utility District, Tahoe Legacy Homes, Tahoe Quarterly, Bervid Custom Building, Boys & Girls Club of North Lake Tahoe, Ogilvy Consulting, Red Wolf Lakeside Lodge, Tahoe Forest Health System, 101.5 FM Truckee Tahoe Radio, Moonshine Ink, Tahoe Weekly, the Rotary Club of Tahoe City and, yours truly, Tahoe.com.
Photo: Sneaky Creatures, Ryan Salm Photography
For more information, visit NorthTahoeBusiness.org or call (530) 546-9000.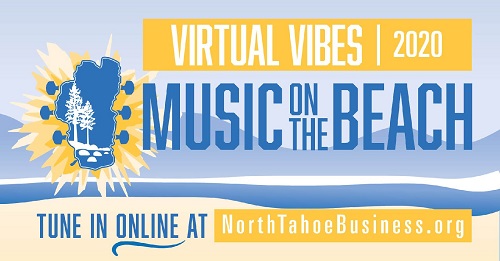 Be sure to visit our Daytime and Nightlife sections to learn about other virtual and in-person events happening around Lake Tahoe.